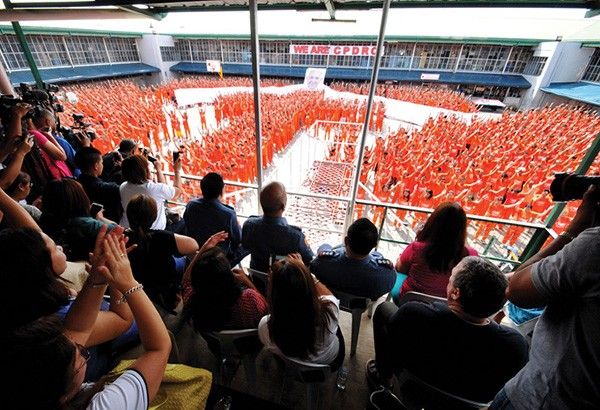 The Cebu Provincial Detention and Rehabilitation Center "dancing inmates" form a cross during a special dance routine at the jail facility in January 2015. The performance was the inmates' way of welcoming Pope Francis to the country.
REYNAN VILLENA, file
De Lima seeks Senate probe on Cebu jail inspection
MANILA, Philippines — Sen. Leila de Lima on Tuesday filed a resolution seeking an investigation into why inmates at a Cebu provincial jail were made to strip naked for an inspection for contraband.
On February 28, inmates of the Cebu Provincial Detention and Rehabilitation Center were made to strip naked as authorities scoured their cells for drugs and mobile phones.
Photos of the inmates naked and gathered in what looked like the prison's courtyard spread on social media and raised concerns over rights violations.
In a statement on Tuesday, De Lima denounced the operation as degrading and inhumane and filed Senate Resolution 312 for a probe into the operation conducted by members of the Philippine Drug Enforcement Agency, the Philippine National Police and the Armed Forces of the Philippines.
"The conduct of how the State handled the situation reflects not of the inmates' humanity but our own," De Lima said.
She compared the inspection to how captives of concentration camps were treated in Nazi Germany "wherein human rights were belligerently violated and trampled upon."
"It is the duty of the State to value the rights of all human beings," De Lima said.
PDEA regional director Yogi Filemon Ruiz, who led the operation, said in
a report on The Freeman
that they did not violate any human rights when they ordered the prisoners to strip.
"There was no intention to degrade. The intention there is for the protection of our personnel and the detainees. The search was done in an orderly and peaceful manner," he told reporters in a press conference.
He said the inmates were made to strip because they might have bladed weapons hidden in their clothes.
He said a similar operation at the Cebu City Jail last August was not criticized.
De Lima said Tuesday that the state should not be "tight-lipped" in the event of human rights violations even those supposedly done for "the greater good."
The former Justice secretary then called on the Commission on Human Rights, which she used to chair, to bring the officers and officials involved in the operation before the bar of justice.
The CHR can only recommend prosecution but does not itself have prosecutorial powers.
"Citizens should be educated that incarceration does not strip prisoners of their human rights," De Lima said.
She added that inmates still need to be treated as members of society even in detention.