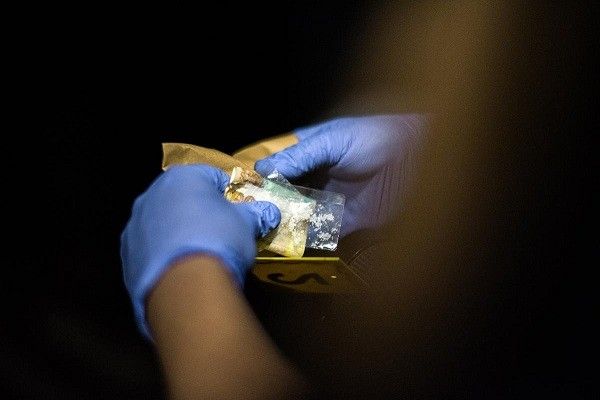 A small sachet of shabu, a form of methamphetamine, is found wrapped in a 500 peso bill found in Jayson Reuyan's pocket after he was killed. Five masked armed men broke into a house in Bulacan in an alleged drug buy-bust operation by the police, Jan. 13, 2017.
Human Rights Watch/Carlo Gabuco
PNP dares Human Rights Watch to show evidence of cop abuses
MANILA, Philippines — The Philippine National Police (PNP) has challenged the Human Rights Watch to present evidence to prove its claim that police officers planted evidence against individuals suspected of involvement in illegal drugs.

Senior Superintendent Dionardo Carlos, the PNP spokesman, said that they hoped that the New York-based Human Rights Watch (HRW) would be able to share with the police the evidence they used in writing its report.

He said that the allegations that the HRW made were serious and the group needed to prove these through evidence, eyewitness accounts and affidavits.

"We hope we can (have) the evidence they have so we can pursue yung sinasabi nilang nagkamali. Kailangan ho namin talaga e yung mapanghahawakang ebidensya," Carlos said in a press briefing at Camp Crame, the headquarters of the PNP.

In its 117-page report titled "License to Kill: Philippine Police Killings in Duterte's 'War on Drugs,'" the HRW said that the police repeatedly engaged in extrajudicial killings of drug suspects and later claimed self-defense.

The report also criticized police officers for planting evidence to show that the suspects fought back.

According to the rights group, there were 24 similar incidents that resulted in 32 deaths which were reported by the media.

"The cases investigated in this report suggest that police involvement in the killings of drug suspects extends far beyond the officially acknowledged cases of police killings in 'buy-bust' operations," the group said.

The report also noted that those killed were not big-time drug peddlers but rather people at the bottom of the drug chain.

The HRW also said that President Rodrigo Duterte and PNP chief Ronald Dela Rosa could be held liable for crimes against humanity.

It said that Dela Rosa, Solicitor General Jose Calida and Justice Secretary Vitaliano Aguirre II also urged killings in the drug war, effectively blocking meaningful efforts to investigate police officers involved in the killings of drug dealers and users.

In particular, Dela Rosa encouraged vigilante killings against drug dealers, according to HRW. Dela Rosa is a close associate of Duterte and was the chief of police of Davao City when Duterte launched his similar drug war there when he was still its mayor.

"On August 27, 2016, he told a gathering of thousands of surrendering drug users: 'Let us help each other. But don't forget those drug lords. They know where they will go. You want me to kill them? I'll kill them. You can kill them [also] because you are the victims. Pour gasoline on their houses and burn them. Show your anger,'" the report said referring to Dela Rosa.

Dela Rosa also branded Senate efforts to investigate the killings as "legal harassment" and claimed that such probes would "dampen the morale" of the police.

Carlos, the PNP spokesman, said that they are open to any investigation especially of those suspected of committing violations.

"If they say so, then they provide the evidence, the affidavits and the accounts. Sa amin po wala ho kaming itatago, pag mali aayusin, pag nagkaroon sila ng violation of law kakasuhan," he told reporters.

Carlos also clarified that the PNP did not want its campaign to be bloody. He said that drug operations became bloody because their targets put up a fight and police officers needed to protect themselves.

"Again yun pong sitwasyon is not created by the PNP. The chief PNP kung maaari lang bloodless, maayos. Unfortunately yun pong nagiging target are the ones creating that scenario. We will only protect ourselves when the lives of our police officers are in danger," he said.