Duterte echoes Trump: Media is 'dishonest'
February 8, 2017 | 11:26pm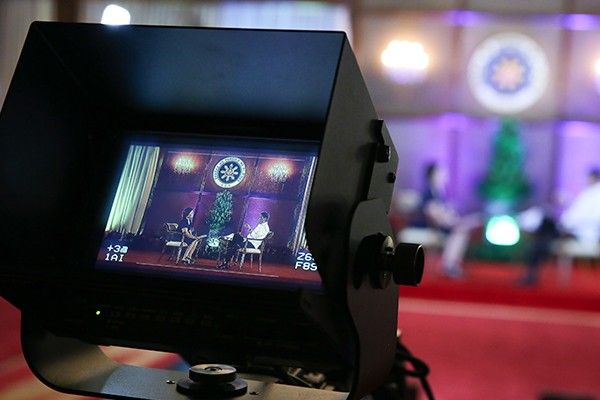 MANILA, Philippines — President Rodrigo Duterte has not gotten over the negative publicity he got during the election as he advised the public Wednesday not to believe the media, which he claimed are distorting his statements.
"Huwag kayo masyado yung media media maniwala diyan (Don't believe the media that much)," the president said during a housing summit in Quezon City.
"Sabi nga ni Trump, e dishonest (As Trump said, they are dishonest)," he added, referring to US President Donald Trump's allegation against the mainstream media.
Duterte recalled the reports about his supposed failure to declare P211 million in his statement of assets, liabilities and net worth, which came out a few weeks before the May 9 polls.
He said television stations like ABS-CBN carried the report, which he described as "trash."
"Nakita mo yung election? Ano binuhos ng mga TV? (You saw the elections? What did the TV carry?) ABS-CBN naniwala sila sa basura (believed in trash)," the tough-talking president said.
"Kaya nang nanalo ako, sabi ko sa AMLC, p***** i** kayo, sibakin ko kayo lahat. Di ko kayo appointee pero filean ko kayo ng kaso. Bakit di kayo nagsabi ng totoo? (After I won, I told the Anti-Money Laundering Council sons of b******, I will sack all of you. You are not my appointees but I will file cases against you. Why did you not tell the truth?)"
Duterte said he only has P5 million, which he said was given to him when he was a lawmaker.
"I only had P5 million, sobra ko yun nung congressman ako. Nagbyahe kami binigay. Nadeposito ko sa pinakamalapit na bangko. (It was excess money when I was a congressman. It was given to us when we were traveling. I deposited it to the nearest bank)," he said.
Duterte, who also admitted Wednesday that three out of five of his statements were just wisecracks, said the media continues to distort stories until now.
"Parang talagang sinasadya, pati ngayon iniiba talaga nila (It seems deliberate. Until now they are twisting stories)," he said.
Duterte also assailed former Sen. Francisco Tatad, who wrote in his column last month that Duterte went to a cancer hospital in China recently.
"Isa pa itong Tatad na halimaw, yung nag announce ng 1081 di ba? (This Tatad is a monster. Isn't he the one who announced Proclamation 1081?) I declare martial law. Now he is trying to gain respectability before the eyes of the nation," the president said.
Duterte denied he has cancer and even predicted that Tatad would die ahead of him.
"Because I was annoyed, I said yes, I went to China. It's true I went to a hospital. I underwent circumcision again," Duterte said.
"Tang in*** Tatad, baka ikaw yung supot. Pag ginanon mo ako misko anong crowd babastusin talaga kita (Son of a b**** Tatad, maybe you are the one uncircumcised. Do that to me and I will disrespect you before any crowd)," he added.
"Pinalinis ko, yung maganda. Ngayon maski kahit paminsan-minsan na lang maganda na yung hitsura (I had it cleaned. Now, even if I just do it from time to time, it now looks good," he said, apparently referring to the sexual act.