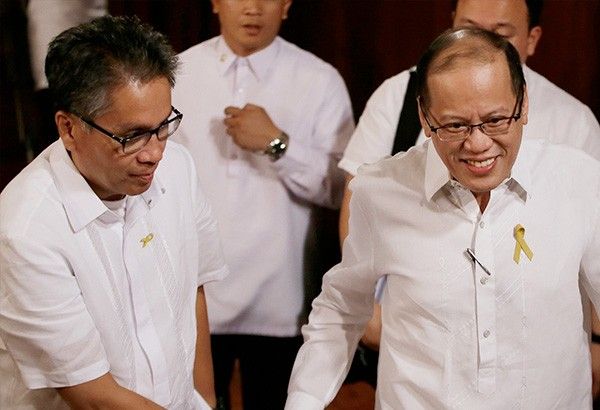 Former Interior Secretary Mar Roxas and former President Benigno "Noynoy" Aquino III are facing graft and plunder charges for the alleged shipment of 3,500 metric tons of gold bars to Thailand.
Philstar.com/File
Aquino, 6 others face complaints over supposed gold shipment
MANILA, Philippines — Graft and plunder complaints have been filed against former President Benigno "Noynoy" Aquino III and six other officials during his administration for the alleged shipment of $141 billion in gold to Thailand.
Also facing the charges are former Justice Secretary Leila de Lima, former Interior Secretary Manuel "Mar" Roxas II, Bangko Sentral ng Pilipinas Governor Amando Tetangco Jr., former Finance Secretary Cesar Purisima, Treasury Department chief dealer Lorelei Fernandez and Sen. Franklin Drilon.
The complaint was filed based on a purported BSP circular that was first seen on social media.
According to the supposed BSP circular, about 3,500 metric tons of gold was shipped and deposited at the Bank of Thailand.
The complainants, Rogelio Cantoria and lawyer Fernando Perito, said that the gold bars could be retrieved and returned to the BSP if those were properly and legally processed.
According to the purported circular, the gold bars weighed 12.5 kg/bar and had a purity of 99.999 percent.
Aquino, De Lima, Roxas, Tetangco, Drilon and Purisima allegedly approved the certification of the shipping in December 2014.
Thailand's Centennial Energy Company and the Philippine government under the Aquino administration agreed to produce funds in exchange of the gold bars for humanitarian projects.