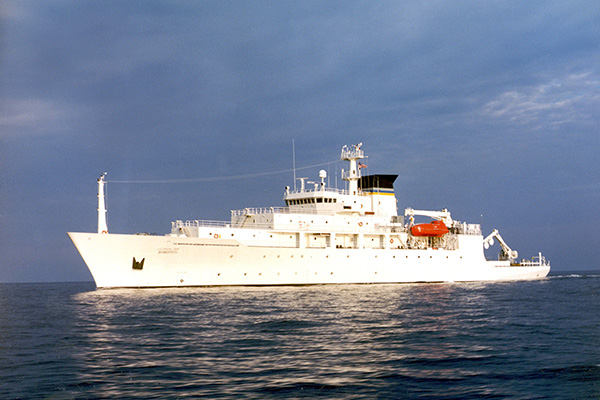 In this undated photo released by the U.S. Navy Visual News Service, the USNS Bowditch, a T-AGS 60 Class Oceanographic Survey Ship, sails in open water. The USNS Bowditch, a civilian U.S. Navy oceanographic survey ship, was recovering two drones on Thursday when a Chinese navy ship approached and sent out a small boat that took one of the drones, said Navy Capt. Jeff Davis, a Pentagon spokesman. He said the Chinese navy ship acknowledged radio messages from the Bowditch, but did not respond to demands the craft be returned. CHINFO, Navy Visual News via AP
Philippines' rights foremost amid South China Sea drone seizure, says solon
(philstar.com) - December 19, 2016 - 12:01pm
MANILA, Philippines — Kabayan Rep. Harry Roque on Sunday said both the United States and China did not act in ways that respect the rights of the Philippines following an incident in the South China Sea.
Roque, an international law expert, noted that it was within the Philippines' exclusive economic zone, 50 nautical miles off Subic Bay, where China seized a United States oceanographic drone.
He said that the two naval forces should cease activities in parts of the sea where the Philippines has sovereign rights.
While the US may have freedom of navigation in the EEZs of other states, "such act must be exercises with due regard for the interests" of other countries, Roque said in a statement.
He also described China's move to retrieve the unmanned vehicle "suspicious."
"The Philippines maintains its sovereign claim over various features within the West Philippine Sea and it has no interest in allowing its territory to be used as a battleground between the United States and China," Roque said.
The incident occurred near Scarborough Shoal, declared a rock with only a 12-nautical mile territorial sea by the United Nations Convention on the Law of the Sea arbitral tribunal, within the scope of the Philippines' EEZ.
On Thursday, the Chinese navy seized the drone, which the Pentagon said was being operated by civilian contractors to conduct research. China claimed personnel seized the drone to ensure "safe navigation of passing ships," but that it intends to return the drone after determining it was an American device.
Legal for US, illegal for China
Julian Ku, another international law expert and professor at Hofstra University in New York, noted that while the US, backed by UNCLOS, can conduct any kind of operations in EEZs, there is no legal basis for China to seize the US Navy device.
Ku cited an UNCLOS article stating that warships and other government ships operated for non-commercial purposes retain their immunities under customary international law.
"This absolute sovereign immunity from seizure would be applicable even within China's territorial waters," Ku wrote on Lawfare.
"China has seized a vessel belonging to a foreign government in clear violation of any possible theory of international law it could offer," he added.
Bonnie Glaser, a senior adviser at Washington-based think tank Center for Strategic and International Studies, said that while China claims the drone was in its "jurisdictional waters," it was in an area outside its nine-dash line claim over the South China Sea.
The UNCLOS tribunal in July rejected China's nine-dash line as having no legal basis under international law. It granted the award to the Philippines in its arbitration case against the Asian giant. — Rosette Adel with Camille Diola