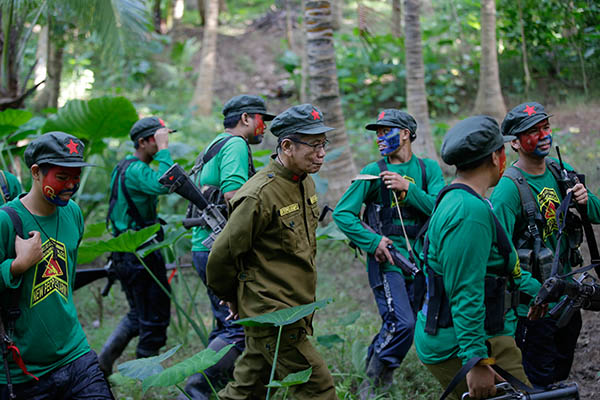 In this Nov. 23, 2016 photo, New People's Army's new regional rebel commander and spokesman Jaime Padilla, center, who uses the nom de guerre Comrade Diego, walks with young guerrillas after having their photos taken at their rebel encampment tucked in the harsh wilderness of the Sierra Madre mountains southeast of Manila, Philippines. Young Filipino rebels represent a new generation of Maoist fighters, who reflect the resiliency and constraints of an insurgency that has dragged on for nearly half a century through six Philippine presidencies. Crushing poverty, despair, government misrule and the abysmal inequality that has long plagued Philippine society were their best recruiter, according to the guerrillas. AP Photo/Aaron Favila, File
Lorenzana rejects Reds' condition for cease-fire
Jim Gomez
(Associated Press) - December 13, 2016 - 6:38pm
MANILA, Philippines — Defense Secretary Delfin Lorenzana on Tuesday rejected a demand by communist guerrillas for government troops to withdraw from rebel-influenced communities in the countryside for the insurgents to extend a monthslong cease-fire.
Lorenzana said troops would continue to be deployed in all rural areas where they have to suppress lawlessness and added that the New People's Army guerrillas cannot claim any part of the country as their territory.
"They always say we are encroaching on their area. What areas are they talking about?" Lorenzana said.
"The president says you don't have any area," he said, addressing the Maoist guerrillas. "This is the Republic of the Philippines."
The Communist Party of the Philippines warned Duterte last week that the guerrillas may be forced to end their cease-fire and resume fighting if he doesn't suspend the government's counterinsurgency program and withdraw troops from rebel-influenced areas.
If Duterte fulfills the demands by January and releases what the insurgents call political detainees through an amnesty, the rebel party said it can guarantee the cease-fire's extension.
Duterte has separately declared an indefinite cease-fire, and the truce declarations by both sides have helped foster peace talks brokered by Norway.
New People's Army guerrillas, however, will be forced to engage troops if the president presses the military's deployment of troops in what the rebels claim as "guerrilla zones" in the countryside, the outlawed party said in a statement.
While no fighting has erupted since both sides declared separate cease-fires in August, the Maoist guerrillas have complained that troops continued to be deployed in rebel areas to carry out surveillance and other counterinsurgency operations in what they say are violations of the government's own truce.
Lorenzana said he favored proposals for separate cease-fires declared by the government and for the rebels to be strengthened into a signed joint truce with mutually agreed terms that he hopes could restrict rebel crimes being continuously committed, including extortion.
Duterte has also said he would no longer support the release of more insurgents after he worked to free several rebel leaders, adding that he would maintain his position even at the risk of the peace talks being terminated by the guerrillas. The rebels, he said, has asked him to free 130 detainees.
"I conceded too much too soon," Duterte told troops Sunday at a military camp. "I'll lose my cards. I always release."
"I said, 'That's my limit. Now it's up to you if you'll terminate it ... I've freed all your leaders,'" Duterte said.
Battle setbacks, surrenders and infighting have weakened the rebel group, which is blacklisted as a terrorist organization by the United States.
A confidential Philippine government assessment obtained by The Associated Press says the guerrillas declined to 3,800 fighters with more than 4,500 firearms in the first half of the year, with about 700 of the country's 42,000 villages affected by the insurgency.