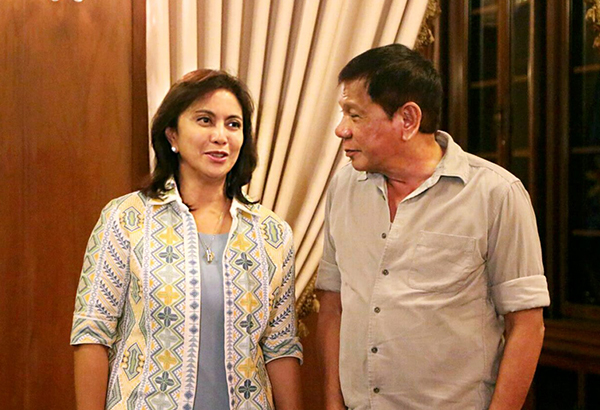 Vice President Leni Robredo has repeatedly denied allegations by President Rodrigo Duterte's allies that the LP is working to unseat him so she can take over his position, being the second highest official in the land. STAR, file
Rody will finish term – Leni
Helen Flores
(The Philippine Star) - December 10, 2016 - 12:01am
MANILA, Philippines - As far as Vice President Leni Robredo is concerned, President Duterte will remain in office until the end of his term in 2022 as the Liberal Party, which she chairs, has no plan to unseat him, contrary to the scenario raised by his supporters.
Robredo's assurance came a day after the President gave her the same assurance – that she would finish her term amid an electoral protest filed by former senator Ferdinand "Bongbong" Marcos Jr.
"Kung totoong may 'oust Duterte' plot, ngayon pa lang bubwelo na ako (If there is really an 'oust Duterte' plot, this early I would be gearing up)," the Vice President told reporters.
She said she renewed her appeal to her partymates that they support the administration's good policies and oppose those that are detrimental to public interest, such as the deadly war on drugs and the moves to reinstate the death penalty.
"I even asked my partymates to be supportive of the government policies that we agreed with," she pointed out.
Robredo said Duterte has only been in office for less than six months, yet some are already trying to create a destabilizing situation.
"I don't think it's good that we're here again talking about ousting a leader," she said.
Two Philippine presidents were ousted through people power – the late dictator Ferdinand Marcos in 1986 and Joseph Estrada in 2001.
Robredo has repeatedly denied allegations by Duterte's allies that the LP is working to unseat him so she can take over his position, being the second highest official in the land.
"I always say before, until now, I don't have that dream (to become president). I just want this administration to succeed," she said.
"But for this administration to succeed, it should listen to dissenting voices. When you dissent, it doesn't mean that you want to become the president," she stressed.
Robredo said Duterte has the mandate of the Filipino people and she has the obligation to support him.
"But we will be encouraged more to support the government if our voices are being heard," she emphasized.
While grateful to Duterte for his assurance, Robredo said she hopes the President would also reassure the public that there would be no clandestine political moves that could spark further uncertainties.
"I heard that, and I thank him for that. But I hope the reassurance will be given as the days, months and years go by," she said, noting that the camp of former senator Ferdinand Marcos Jr., whom she defeated by a slim margin, is making noises of his coming to higher office in 2017.
On the administration's proposed federal form of government that has no position for vice president, Robredo said it does not matter to her as long as it would be beneficial to Filipinos.
Robredo last Monday resigned as chair of the Housing and Urban Development Coordinating Council after the President, through Cabinet Secretary Leoncio Evasco Jr., told her to "desist" from attending Cabinet meetings.
Duterte's spokespersons had said the President had lost his trust in the Vice President.
But in an interview in Albay, Duterte stressed there was no plot to unseat Robredo and that he had no quarrel with her despite his decision to exclude her from Cabinet meetings.
'Stop campaigning'
While Duterte sounded rather conciliatory, his ally Sen. Alan Peter Cayetano had harsher words for the Vice President, whom he asked to "stop campaigning" and instead focus on helping the administration create jobs and reduce poverty.
He also asked Robredo to speak out against the failures of the Aquino administration, and the alleged involvement of some LP members in corruption and drugs.
"There's much more, but in a nutshell I challenge you to stop campaigning and thinking of the presidency and help attract investments, build infrastructure, create jobs and redistribute wealth in our country. Let's do it together," Cayetano said.
Cayetano shot back at Robredo in a post on his Facebook account after the Vice President challenged him to speak up against the Marcoses and the burial of the late strongman Ferdinand Marcos at the Libingan ng mga Bayani.
"Thank you for the challenge. Let me assure you I am doing what I can in the manner that I believe I can be most effective," Cayetano's post read.
The senator pointed out Robredo herself remained quiet on several issues hounding her LP allies and the Aquino administration.
Cayetano particularly called on Robredo to scrutinize the past administration over its failure to suppress the country's drug problem, which he said "got so bad and out of control."
He also urged Robredo to demand the resignation of her partymates involved in the illegal drug trade, as well as expose and condemn other LP personalities' involvement in graft and corruption, particularly in the previous administration, and "help the government ensure that those who broke the law, regardless of their political color, will be put in jail."
"Let me return the favor and also challenge you with the following... Ask for justice for the SAF 44. Ask for justice for 'tanim-bala' victims. Ask for an investigation and justice on MRT anomalies... Ask for an investigation why, despite expensive fees in the airport in the past administration, no CCTVs were purchased and installed," Cayetano said.
He also asked Robredo to allow the Philippine Center for Investigative Journalism and other news outlets to look into her list of donors and undeclared expenses during her campaign for the vice presidency. – Paolo Romero