NBI: It was a rubout
December 7, 2016 | 12:01am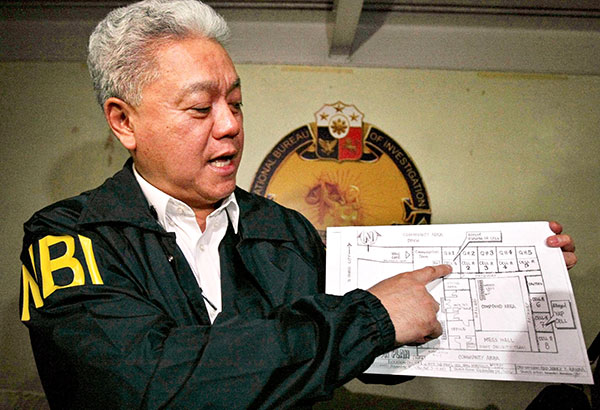 Cops in Espinosa jail raid charged with murder
MANILA, Philippines – Albuera Mayor Rolando Espinosa initially greeted the police team. Then he pleaded with them not to frame him. Moments later, the lights in his jail cell went out and gunshots were heard.
Yesterday, the National Bureau of Investigation (NBI) announced that Espinosa was executed by members of the police Criminal Investigation and Detection Group (CIDG) in Eastern Visayas who went to his jail cell ostensibly to search for guns and drugs.
"It was a rubout," NBI spokesman Ferdinand Lavin told reporters yesterday. "There was criminal intent and a conspiracy. It was a premeditated killing; the victims were helpless."
The NBI has filed murder charges against the CIDG team that served the search warrant on the mayor, who was then detained at the sub-provincial jail in Baybay, Leyte.
The serving of the search warrant before dawn last Nov. 5 resulted in an alleged exchange of gunfire and the death of Espinosa and another drug-linked inmate, Raul Yap.
NBI assistant director for Eastern Visayas Rugy de Vera said based on statements of inmates at the jail's Cell 2, they heard Espinosa greeting the police team from his cell, Cell 1, then pleading for his life and asking not to plant anything against him at around 3 a.m. on Nov. 5.
Cell 2 inmate Donald Palermo said moments before gunshots were heard from Cells 1 and 7, lights at Espinosa's cell were switched off by the policeman who shot him. Palermo later identified the officer as Chief Insp. Leo Laraga.
At the Senate hearing on Espinosa's killing, Laraga admitted that he fired shots at Espinosa.
Some policemen were also allegedly positioned in front of Cells 2 and 3 and signaled thumbs down, after which no more gunshots were heard.
NBI's De Vera added that based on the inmates' statements, before the shots were fired, some inmates were instructed to go out, with some going to the quarantine area, except for Yap, who was left inside Cell 7 and was later found dead.
The investigator said based on the inmates' testimonies, a policeman wearing surgical gloves and holding an unidentified caliber weapon was seen entering the detention facility after the gunshots, and no longer held any gun when he came out.
Jerry Abiera, NBI director in the Eastern Visayas region, maintained that the NBI's investigation found that only the policemen fired shots inside Espinosa's cell.
Based on the sketch of Espinosa's detention cell, gunshots came from the entrance of the cell.
Also, two bullet holes were found behind the place where Espinosa was supposedly killed.
Abiera explained that one hole was found on the wall of Cell 1's comfort room, which was 3.15 meters away from where one gunshot came, and another was found on a wall near the double-deck bed, around 2.3 meters away from where another gunshot had originated.
"There were even hair strands on the hole near the double-deck," Abiera noted. "Based on the bullet holes, it would be impossible that Espinosa fired a single shot."
Lavin added the NBI agents were never able to identify the types of guns used in the shooting and which Espinosa allegedly used, nor retrieve closed-circuit television (CCTV) footage from inside the jail, since they went to the area four days after the incident.
Lavin, however, said there were no indications that the CCTV footage was tampered with.
He said "the pieces of evidence, both forensic and testimonial, are a match" and the NBI has a strong case.
The findings prompted the NBI to file multiple murder charges against Supt. Marvin Marcos, relieved head of the Criminal Investigation and Detection Group (CIDG) in Eastern Visayas, and his 17 subordinates, namely: Laraga; Supt. Santi Noel Matira; police Senior Inspectors Deogracia Diaz and Fritz Blanco; Senior Police Officers (SPO) 4 Juanito Duarte, Melvin Caboyit and Eric Constantino; SPO2 Benjamin Dacallos and Aphinor Serrano Jr.; PO3 Johnny Ibanez, Lloyd Ortiguesa and Norman Abellanosa; PO2 Niel Centino; PO1 Bernard Orpilla and Jerlan Cabiyaan; civil officers Cristal Jane Briones and Divine Grace Songalia; as well as six members of the police Regional Maritime Unit – C/Insp. Calixto Cabillas, Insp. Lucresito Candelosas, SPO2 Antonio Docil, SPO1 Mark Christian Cadilo and PO2 John Ruel Doculan and Jaime Bacsal.
Marcos and his men served the search warrant against Espinosa for illegal possession of firearms and against Yap for possession of illegal drugs.
Lavin said charges of malicious procurement of search warrant would be filed against Laraga and Abellanosa, who had applied for the warrant, and perjury charges against Paul Olendan, who testified for the application of the document.
The charges were filed before the Department of Justice (DOJ) at 4 p.m. last Friday, Lavin said.
According to the NBI's probe, Olendan, a former inmate at the Abuyog Penal Colony, testified before the court that upon his visit to the Leyte sub-provincial jail last Oct. 28, he saw Espinosa holding a gun and Yap repacking shabu inside Cell 2, but Yap was actually detained at Cell 7 where he was found dead.
But his co-workers at the Leyte National High School in Tacloban City, hundreds of kilometers away from the jail in Baybay, saw him report for duty as reflected on his daily time record on the day he supposedly testified before the court.
Also, records from the Baybay jail also found no Paul Olendan visiting the facility on the same day.
NBI findings also revealed that during the "Oplan Galugad" on Oct. 30, or two days after Olendan supposedly testified, only cellular phones were seized from the inmates.
Duterte to critics: Don't

question my decision on Marcos
President Duterte has asked his critics not to question his decision to reinstate CIDG's Marcos, who was relieved after he was accused of being involved in the narcotics trade.
Duterte stressed that as president, he has control over the executive department.
"I do not have to explain to you, the whole Republic of the Philippines and the critics, why I made the order for him just to sit down and do not remove him. Well, actually, Marcos was eventually removed… I said place him there, there is a purpose. I said 'Do not ask questions'," the President said during the lighting of a 12-foot Christmas tree in Malacañang last Sunday.
"When there is absolute control and supervision, I can modify and mend, revoke any order in this executive department," he added.
Marcos' unit was tagged in the death of Espinosa, who was one of the politicians with alleged ties to illegal drugs.
Marcos' subordinates claimed that Espinosa was shot dead inside his cell at the Baybay City sub-provincial jail while resisting arrest. But the statement was contradicted by testimonies of some jail officers and inmates and some photos, creating suspicions that Espinosa might have been a rubout victim.
Espinosa's son and suspected drug lord Kerwin has accused Marcos of receiving millions from him.
Despite accusations that he was involved in illegal drugs, Marcos was reinstated to his post supposedly "for humanitarian reasons."
Philippine National Police chief Director General Ronald dela Rosa claimed that a friend had called him to request the reinstatement of Marcos.
Duterte eventually admitted that he was the one who asked Dela Rosa to reinstate Marcos, which was before the Nov. 5 incident.
Last Saturday, Sen. Leila de Lima said the President could be the top drug coddler in the country because he reinstated a police official with supposed ties to drug lords.
Duterte denied the allegation and maintained that his brutal drive against drugs would continue.
"So, they are questioning my motive… Now, they are assuming that maybe I knew about the operation then now they claimed I was the one who ordered (the killing of Espinosa) inside (his prison cell)," he said.
"Whatever the reason, that's my discretion. I promise the police and the military: do your duty, go out and find these criminals, arrest them if possible. But if they offer violent resistance, and you think that your life is in danger, kill them. And that is my order until now."
Gag order on local media
The Regional Trial Court (RTC) judge who heard the case against Espinosa's contact in Iligan City in 2014 issued a gag order on local media at the time, it was learned yesterday.
The judge had also detained a lawyer-radio commentator, who was cited for contempt, for three days, sources said.
Local police records showed that in 2014, Espinosa's contact, Lovely Impal, was arrested when she claimed a package from forwarder LBC.
Agents from the Philippine Drug Enforcement Agency (PDEA), who had prior intelligence information about the package, arrested her. The package allegedly turned out to contain some three kilos of shabu.
A case was filed in court, but was eventually dismissed.
When the case was being heard in court, judge Arthur Abundiente issued a gag order on local media because some radio commentators commented on the case.
A lawyer-radio commentator identified as Rejoice Subejano was cited for contempt and imprisoned for three days.
Former congressman Vicente Belmonte, then chairman of the House committee on dangerous drugs, asked for a review of the case after its dismissal.
Impal reportedly surrendered recently to authorities in the Autonomous Region in Muslim Mindanao and was brought to PNP chief Dela Rosa. – With Alexis Romero, Lino de la Cruz