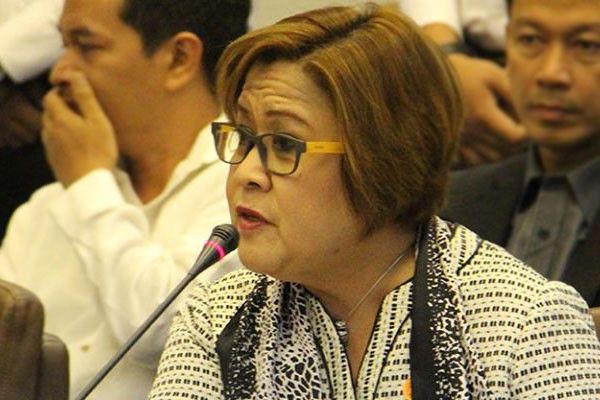 It was no obstruction of justice but an "obstruction of persecution," according to Senator Leila de Lima.
Senate photo
Leila: It's obstruction of persecution
Paolo Romero
(The Philippine Star) - November 29, 2016 - 12:00am
MANILA, Philippines - It was no obstruction of justice but an "obstruction of persecution," according to Sen. Leila de Lima.
With congressmen threatening to have her arrested for snubbing a House probe, De Lima explained yesterday why she advised her former driver not to attend the inquiry.
"They're imputing disrespect on my part. Aren't they the ones disrespecting me all this time? So what do they expect me to do? They call it obstruction of justice. Do we see justice in their proceedings? We better just call it obstruction of persecution because that's what it is," De Lima said.
De Lima strongly denied that she ordered her former driver-bodyguard to ignore the summons from the House panel probing the illegal drug trade at the New Bilibid Prison, saying she merely gave him "advice."
"In any case, whatever their plan is, whether it is show cause, whether it is arrest, whether it is ethics complaint, whether it is a case with the regular courts or a case with the Supreme Court, I'll just wait for them… But certainly, I will not face them. Certainly, I will not honor that show cause order," she said.
"So in other words, I'm just being consistent with my defiance vis-à-vis that so-called House inquiry that we all know from the very start is simply aimed at shaming me. That is plain and simple kangaroo court. So I'm just being consistent," she said.
De Lima said she – not the House members – is the aggrieved party after being attacked repeatedly in the congressional inquiry, particularly on her personal life.
The senator said she will not respond to any summons from the House of Representatives even as leaders of both chambers of Congress were scheduled to meet last night to avert a clash over her case.
Sen. Panfilo Lacson, who is vice chair of the Senate ethics committee, said he, Senate President Aquilino Pimentel III, Speaker Pantaleon Alvarez, Senate Majority Leader Vicente Sotto III and House Majority Leader Rodolfo Fariñas were to meet last night to discuss De Lima's case, among other matters.
Pimentel declined to comment on De Lima's case as there has been no arrest warrant or other concrete action from the House against her.
He said whatever document the House will send would still have to be discussed in plenary.
"We're studying this because this is a novel question. But I'd like to stress that no one is above the law. Anyway, the question is not yet before us, there's no arrest warrant or whatever," Pimentel told reporters.
New ethics complaint
Sotto disclosed that a new ethics complaint against De Lima has been filed in the Senate.
Sotto, chair of the ethics committee, said the complaint was filed by a private individual who accused De Lima of violating Article 150 of the Revised Penal Code, or disobedience to summons issued by Congress or its committees that is punishable by a fine or imprisonment or both.
He said the Senate could act upon the complaint as the alleged violation was committed by Senator De Lima.
He said the two previous ethics complaints were virtually shelved as they raised offenses allegedly committed by De Lima when she was still justice secretary before she became a senator.
Sanctions for an erring member of the Senate range from a reprimand to expulsion.