Cayetano, Trillanes clash over timeslot at Senate hearing
(philstar.com) - September 15, 2016 - 4:29pm
MANILA, Philippines — Sen. Alan Peter Cayetano was on a roll throwing questions at an alleged former member of the Davao Death Squad at a Senate hearing on Thursday before Sen. Antonio Trillanes IV interrupted him in protest.
At the Senate committee on justice inquiry into drug-related killings, Cayetano spent about half an hour looking into possible political motives of Edgar Matobato, a confessed hired gun who claimed to be part of a paramilitary group which killed suspected criminals in Davao City while President Rodrigo Duterte was mayor.
A critic of Duterte, Trillanes then sat next to Cayetano and asked the panel why Cayetano was given additional time to ask questions.
"I would just like to inquire if there is unli-questioning allotted for a non-member of the committee, madam chair?" Trillanes said, referring to Cayetano who is not part of the justice panel.
De Lima said Cayetano, an ally of Duterte, was given leeway despite earlier rules allotting each senator to ask questions for 10 minutes.
Calling the grant a "luxury," Trillanes said Cayetano should be declared "out of order for consuming the time of the committee of which he is not a member."
As Cayetano began complaining, De Lima moved to have a two-minute suspension to clear the air between the two senators, who used to be allies for last year's investigation into corruption allegations against former Vice President Jejomar Binay.
During the suspension, Cayetano asserted his right to pose questions as a senator voted by people.
"Tayong dalawa nung kay Binay, tatlong oras tayong dalawa e. So ngayon may nag-a-accuse kay Duterte hindi mo 'ko bibigyan ng time na magsalita dito. Timekeeper ka na ngayon?" Cayetano said, away from the microphone.
In grilling Matobato, Cayetano claimed he surfaced possibly due to an alleged plot of the Liberal Party (LP) to bring down Duterte by linking him to killings in Davao City while he was still mayor.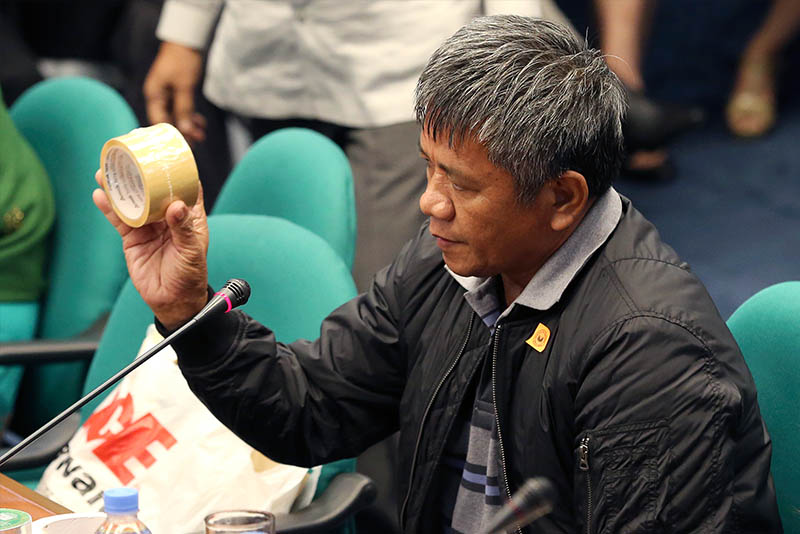 Former militiaman Edgar Matobato shows the kind of tape they allegedly use to wrap up dead bodies as he testifies before the Philippine Senate in Pasay, south of Manila, Philippines on Thursday. Sept. 15, 2016. Matobato said President Rodrigo Duterte, when he was still a city mayor, ordered him and other members of a squad to kill criminals and opponents in gangland-style assaults that left about 1,000 dead. AP Photo/Aaron Favila
While Matobato denied having spoken with members of the LP, Cayetano also said drug lords who are threatened by Duterte's war on drugs could also be behind the surfacing of the witness.
While not denying the witness' claims, Cayetano asked whether Motabato was aware that his testimony could lead to Duterte's impeachment and the succession of Vice President Leni Robredo, an LP stalwart.
In a statement, Robredo said she is offended by Cayetano's accusations that her party is planning to oust Duterte.
Upon the resumption of the hearing, De Lima said Cayetano should refrain from pressing the witness to answer sensitive questions that may jeopardize his security. She said confidential details should instead be tackled at a closed-door session. — Camille Diola