One Army battalion going after each Abu Sayyaf leader
Roel Pareño
(Philstar.com) - September 5, 2016 - 3:48pm
ZAMBOANGA CITY, Philippines — The military forces have matched each sub-leader of the Abu Sayyaf Group with a battalions of troops after the rebels splintered into factions to escape, an official said on Monday.
Maj. Filemon Tan Jr., spokesman of Western Mindanao Command (Westmincom), said the manhunt operations are occuring alongside offensive to crush the militants, who have been blamed for the spate of recent kidnappings and beheadings.
"Each battalion is running after different group leaders and the operations there go simultaneously. It's relentless. It's just a matter of time as kung sino and makabunggo agad," Tan told newsmen here.
At least two military brigades with more than 10 battalions have been combing the jungles while additional forces are arriving in Sulu, Tan said.
He said additional three more battalions of troops are on their way to Sulu.
The troops are scattered at certain target areas to look for top Abu Sayyaf men, including senior leaders Radulan Sahiron and Alhabsy Misaya.
"The landscape (in Sulu) now, the Abu Sayyaf group splintered. Their purpose is to evade so that they cannot be traced," Tan said.
The military official said there is a possibility the Abu Sayyaf would be blending in with the civilian populace to escape.
The military official also said they will not hesitate to utilize batteries of cannons if there are areas that could be reached and if ground intelligence reports could confirm the presence of the Abu Sayyaf.
"If there is positive confirmation it will be bombarded with cannons as troops go along with the operation," Tan said.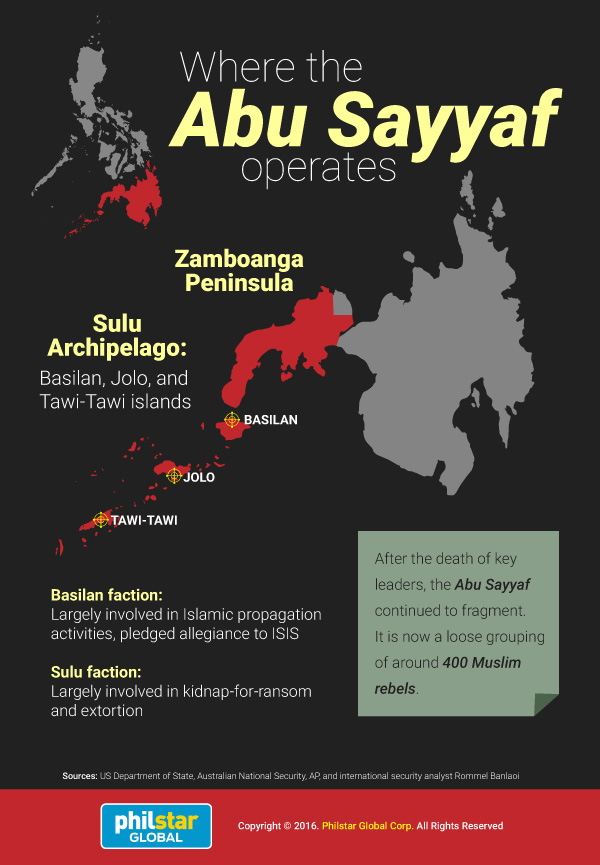 The military official said they have also considered possible "collateral damage" of the the intense ground artillery bombardment.
"We are trying to minimize collateral damage. If there will be those affected I believe there is a greater good after the war. We consider damages but it should not hinder the operations," Tan said.
Tan said, however, that no civilian has so far been affected in the cannon bombardment. He said the military designates forward observers to ensure clear the area of civilians before they open fire is called. — Infographic by Philstar.com / Jonathan Asuncion