Olympian Hidilyn to be promoted in PAF
Rudy Santos
(The Philippine Star) - August 10, 2016 - 12:00am
MANILA, Philippines – A promotion awaits weightlifter Hidilyn Diaz, the military airwoman second class who won a silver medal in the Olympic Games in Rio de Janeiro, Brazil.
The commanding general of the Philippine Air Force (PAF) and its review board are discussing the promotion of Diaz, assigned to the 710th Special Operations Wing, when she comes back this Saturday.
"The PAF said there is a promotion for Diaz, but the promotion is still secret and it will be announced on the day she arrives," an official said yesterday.
President Duterte also expressed excitement over the weightlifter's achievement in the Rio Olympics early Monday (Sunday evening in Brazil).
"As president of this country, I'm overjoyed. Silver is silver kahit anong sabihin mo (whatever you say)," Duterte said Monday night in a press briefing in Davao City.
Duterte said he would wait for Diaz in Malacañang to accord her the honor for bringing home the silver medal following the country's 20-year Olympic medal drought.
The last time the country got an Olympic medal was in Atlanta 1996 when boxer Mansueto "Onyok" Velasco also won silver. Diaz however is the first Filipina to bag an Olympic medal.
"Bilib na ako sa iyo. I'd like to wait for you and see you in the people's Palace in Malacañang. Salamat for your effort. Saludo po ako sa iyo. Salamat," Duterte said.
Duterte said Malacañang would give Diaz a special welcome when she returns from the Rio Olympics.
"I would like to congratulate Ms. Diaz for the honor that she has given us, the country, and I'm praying that you would be successful in your many quests in life, and in the Olympics to come," the President further said.
"I am happy that she was encouraged by my words because not everybody, Filipino is selected to represent our country in the Olympics," Duterte said.
He said it's not in the winning but in your drive to strive to win.
Diaz, who is set to receive a P5-million cash incentive, likewise acknowledged the inspiration the President gave when he personally sent off last month the athletes to the Olympic games in Brazil.
A private corporation 8990 Deca Homes will give a house and lot to Diaz who is also expected to get an additional cash incentive from world boxing champion Sen. Manny Pacquiao.
Pacquiao told Senate reporters that he would give an undisclosed amount to Diaz out of his own pocket when she returns to the country.
"Iniisip ko na yan. Wag na natin announce kasi di naman government money yan," Pacquiao said.
The P5 million that Diaz will receive is part of the benefits provided under Republic Act 10699 or the National Athletes and Coaches Benefits and Incentives law, which was authored by Sen. Juan Edgardo Angara in the 16th Congress.
Angara said that Diaz's triumph was "truly momentous" and that she became the first athlete to benefit from the law.
Angara also filed a Senate resolution congratulating and commending Diaz for her historic achievement.
"Being first of many triumphs in Philippine history, Diaz's silver medal is truly momentous," Angara said.
Diaz is also the first Olympic medalist to benefit from RA 10699, which also provides scholarship and retirement benefits equivalent to 25 percent of all her winnings throughout her career.
"These incentives and benefits shall be over and above the standard national athlete benefits that include discounts in lodging, transportation, medicine, sports equipment, amusement, free medical and dental consultation, PhilHealth and SSS coverage, priority in housing programs and loans, and the use of living quarters," Angara said.
Senate Minority Leader Ralph Recto said coaches of national athletes would also receive cash incentives if they have personally trained and rendered service to the athletes or teams who win in international competitions at least six months prior to the international competition.
The incentives for the coaches shall be equivalent to half of the cash incentives for gold, silver and bronze medalists. In case of more than one coach, the cash incentives shall be divided among themselves.
Meanwhile, Pacquiao said that he would initiate an inquiry, as chairman of the Senate committee on sports, on the alleged anomalies taking place within the PSC.
He lamented the plight of his fellow boxer Onyok Velasco, who allegedly was not able to receive cash incentives for winning the silver medal in the 1996 Atlanta games.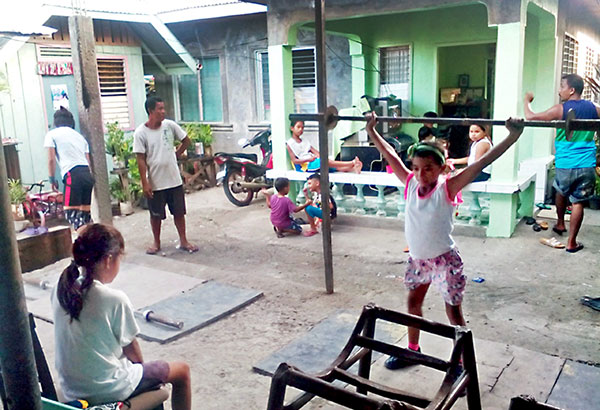 A girl lifts weights at a makeshift gym at the Diaz residence in Barangay Mampang, Zamboanga City, where Olympic silver medalist Hidilyn Diaz honed her skills. ROEL PAREÑO
Grand welcome
PAF officials also said yesterday that they are preparing a grand welcome for Diaz at Villamor Air Base headquarters in Pasay City.
The 25-year-old Diaz, the fifth in a brood of six of Eduardo and Emelita Diaz, hails from Zamboanga City.
She is an undergraduate of Bachelor of Science in Computer Science at the Universidad de Zamboanga. Already aware of what she really wants to be as an athlete, she took a course on Sports Coaching at Stonebridge College in London in 2014.
According to PAF Public Information Office, her career in weightlifting formally started in 2003 when she competed in the Batang Pinoy and the Mindanao Friendship Games.
Through the recommendation of her coach and mentor, she became a member of the Philippine National Team in 2004.
Diaz competed for the Philippines as a wild card entry in 2008 at the Beijing Olympics, where everyone noticed her potential in weightlifting.
In 2012, she snatched the gold medal in the 1st Southeast Asian Weightlifting Championship in Bangkok. Thereafter, Diaz earned three bronze medals for the clean, jerk and snatch events in the 53-kg division of the IWF World Weightlifting Championship held in Houston, Texas on Nov. 22, 2015 that gave her a spot in the Rio Olympics.
Sometime in 2013 after being recruited by the PAF through its Direct Enlistment Program, she was initially assigned to the Air Force Special Service Group and was given an Air Force Specialty Code skill in recreation (weightlifting).
While practicing for Rio 2016, she was temporarily assigned to the PAF Personnel Management Center.
From the rank of Airwoman, she was promoted to Airwoman Second Class (AW2C) in 2014.
As a dedicated soldier of the PAF, she was conferred with a Military Merit Medal for her contribution in the planning and execution of significant PAF events, and a Presidential Citation Unit Badge for participating in numerous nation-building and development activities. - With Rudy Santos, Marvin Sy, Christina Mendez