'Supermajority' backs Alvarez as House speaker
MANILA, Philippines (Updated 1:05 p.m.) — The House of Representatives of the 17th Congress on Monday elected Davao del Norte Rep. Pantaleon Alvarez as its speaker with 251 votes.
Other nominees for the speakership were Quezon Rep. Danilo Suarez and Ifugao Rep. Teddy Baguilat Jr., who is with the Liberal Party but who said he cannot join his party in the majority.
On his Twitter account, Baguilat said that "the super majority and the anointed minority want to make sure that dissent is controlled and meek," prompting him to seek the speakership with the backing of "a few brave souls."
He said he did not expect to win, or even get enough votes to become minority floor leader, but that he was running out of principle.
He got eight votes and Suarez got seven while 22 House members chose to abstain from voting.
Alvarez's election as House speaker was a foregone conclusion long before the House of the 14th Congress opened its session, with former House Speaker Feliciano Belmonte Jr., who nominated Alvarez to the post, saying the congressman from Davao del Norte would replace him.
Davao del Norte Rep. Pantaleon "Bebot" Alvarez takes his oath as Speaker of the House. #SONAlive @PhilstarNews pic.twitter.com/w6NYiczFqB

— Pat Viray (@patriciaviray) July 25, 2016
Various voting blocs pledged their support for him even before President Rodrigo Duterte took his oath of office. In May, Alvarez managed to get the support of the Northern Alliance bloc of lawmakers from Northern Luzon and a bloc of "around 30" lawmakers from the Visayas bloc, many of whom used to be with the Liberal Party when it was in power.
Alvarez also got a pledge of support from 39 members of the Party List Coalition in May, with members of that bloc saying they would "push for meaningful reforms such as fair and equitable treatment of our members, work for enactment of vital measures consistent with our respective advocacies and causes and to constructively collaborate and cooperate with the Duterte administration."
The coalition also said it would take an active role in the organization of the House, including the fair and equitable distribution of committee positions, chairmanships and office rooms.
Aside from that, the PDP-Laban party also saw its membership balloon after Duterte was proclaimed the winning presidential candidate in the May elections, while other parties—including the LP—agreed to join Alvarez's 'supermajority' at the House.
Quezon City Rep. Sonny Belmonte nominates Davao Rep. Bebot Alvarez for House Speaker. #SONAlive pic.twitter.com/yca1RHwG7v

— Philstar.com (@PhilstarNews) July 25, 2016
Priorities
In a speech after his election as speaker, Alvarez said Congress must revive the death penalty, adding that among Southeast Asian nations, only Cambodia and the Philippines do not have capital punishment.
"It is a simple and universal law of karma," he said, adding that if one takes a human life, especially with premeditation, one must pay. He added that in the case of drug lords who destroy lives, "you must pay accordingly."
He also said that the age of criminal liability from 15 years old to nine years old, saying the minimum age of criminal responsibility in Singapore and in other states is even lower at seven years. He said that while the Pangilinan law, or the Juvenile Justice and Welfare Act, which exempts those 15 years old and below from criminal liability, had noble intentions, "it has been a failure on the ground."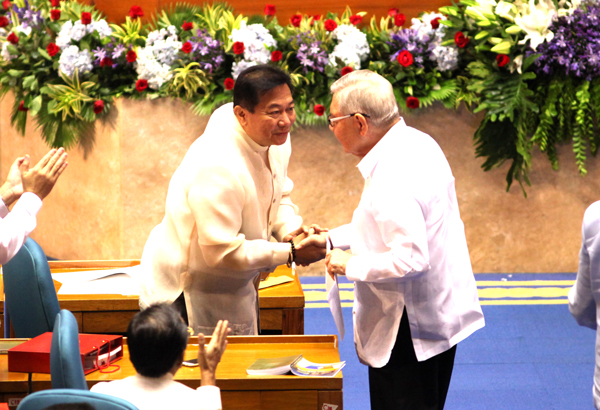 Former House Speaker Feliciano Belmonte greets newly elected House Speaker Pantaleon Alvarez in the plenary hall of the House of Representatives on Monday, July 25, 2016. Philstar.com / AJ Bolando
He said that it is time for the country to teach its children that there are consequences for their actions. "We should breed a culture of responsibility at an early age," he said.
Alvarez has also said in the past that among the priority legislation that the House will work on are granting Duterte emergency powers to address traffic problems in Metro Manila and Metro Cebu and the creation of a constitutional convention or commission to pave the way to a shift to a federal form of government.
He has also hinted at seeking an investigation into the alleged proliferation of the drug trade inside the New Bilibid Prisons while Leila De Lima was Justice secretary.
De Lima, now a senator, has been calling for a probe into a perceived rise in extrajudicial killings and drug-related deaths in the weeks since Duterte was elected president. Alvarez has dismissed the proposed probe as an exercise in futility, saying extrajudicial killings are already prohibited by law anyway. — Jonathan de Santos