Damaged runway paralyzes NAIA
Rudy Santos
(The Philippine Star) - July 19, 2016 - 12:00am
MANILA, Philippines - The main runway of the Ninoy Aquino International Airport (NAIA) was closed yesterday due to emergency pavement repairs that forced 10 international and domestic flights to be diverted to the Clark International Airport in Pampanga, resulting in delayed and cancelled flights all over the country.
The Civil Aviation Authority of the Philippines (CAAP) issued a notice to airmen or NOTAM regarding the temporary closure of the NAIA main runway 06-24 from 4:30 p.m. yesterday to 11:59 last night due to emergency repairs.
The CAAP advised passengers to expect flight cancellations and delays until today.
Manila International Airport Authority (MIAA) general manager Ed Monreal plans to transfer some flights to the Clark International Airport (CIA) to solve the traffic congestion at the NAIA terminals caused by the closure of the runway.
NAIA sources said the runway was apparently damaged by flash floods that submerged some portions during heavy rains.
MIAA authorities implemented emergency runway closure immediately due to softness in the main runway to avoid damage to aircraft.
Eva Air jet damaged
An Eva Air Boeing 747 plane was damaged yesterday after the aircraft was hit by cracked asphalt from a newly paved portion of the runway after the jet landed at the NAIA at around noon.
NAIA source said that Eva Air flight BR 271 from Taipei landed smoothly at runway 06-24 carrying more than 200 passengers when the plane's right wing flap was apparently hit by asphalt debris.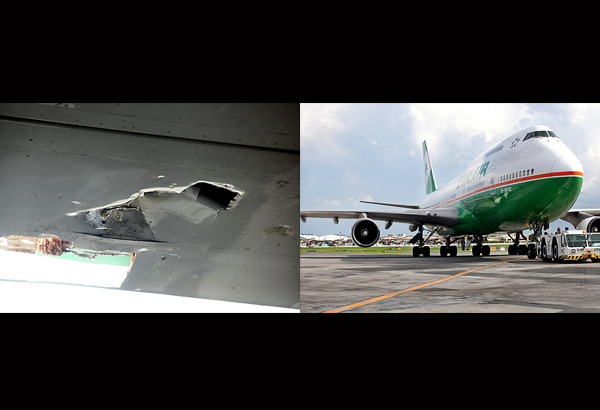 Photos show an Eva Air Boeing 747 (right) and its right wing flap, which was damaged by asphalt debris from the runway after landing.
RUDY SANTOS
Source said that the pilot reported a "smooth landing" but when the plane parked at bay 10, the ground maintenance crew discovered big holes in the right wing flap of the plane.
The turnaround flight to Taipei of the Eva Air jet with 180 passengers was cancelled.
The passengers were booked on the next available flight of Eva Air at 6:20 p.m. last night while others checked into a hotel as the plane was towed to the airline's hangar for repairs.
Airline officials are investigating the incident.
In the initial report, the plane was maneuvering toward the rapid exit taxiway leading to bay 10 to disembark passengers when the asphalt grazing occurred.
Manila International Airport Authority [MIAA] Media Affairs Office disclosed that four Philippine Airlines flights – PR 659 from Jeddah, Saudi Arabia; PR 454 from General Santos City; PAL Express 2P 2080 from Osamiz City and 2P 2890 from Catarman, Samar – were diverted to Clark.
Four Cebu Pacific flights – 5J-964 from Davao; 5J-786 from Butuan; 5J-111 from Hong Kong and 5J-568 from Cebu – were also diverted to Clark.
Two AirAsia flights – Z2-764 and Z2-774 from Cebu – were diverted to Clark.
Passengers on board the PAL flight from Jeddah, Saudi Arabia were forced to hover for three hours until noon before the pilot decided to divert to Clark.
It was also learned that the flight from General Santos City was scheduled to arrive at NAIA Terminal 2 at 2 p.m. but it was also diverted to Clark.
The PAL Express flight from Osamiz was scheduled to arrive at the NAIA Terminal 3 at 8 a.m. but it was diverted to Clark at 11:23 a.m., while PAL Express flight from Catarman was scheduled to arrive in Manila at 8:45 a.m until it was also diverted to Clark at 11:24 a.m.
Hundreds of passengers complained of delayed flights due to the air traffic congestion.
Department of Transportation spokesperson Cherie Mercado said the crack on the runway was discovered during inspection conducted by airport authorities.
The MIAA decided to close the runway from 3 p.m. to avoid damage to aircraft and conduct repairs.
"The MIAA officials are there on site and they are going to assess it to make sure it is okay for aircraft to land," Mercado said.
As of press time, she said 10 flights were diverted to Clark.
The runway was scheduled to be open for aircraft use by 10 p.m.
"We are waiving the regular runway cleaning usually done at 1:30 a.m. to 3:30 a.m. to accommodate late flights," Mercado said.
Budget carrier Cebu Pacific and subsidiary Cebgo cancelled a combined 24 flights due to the runway closure.
Cebu Pacific said passengers of the affected flights could either rebook their tickets for travel within 30 days from original departure date or opt for full refund or travel fund. – With Louella Desiderio