'Butchoy' weakens but triggers heavy rains in Luzon
MANILA, Philippines — A weakened Typhoon Butchoy on Friday morning made a landfall over the southern portion of Taiwan while remaining inside the Philippine area of responsibility and triggering heavy rains in parts of Luzon.
As of 7 a.m., Butchoy was located at 230 kilometers north northwest of Itbayat, Batanes with maximum sustained winds of 195 kilometers per hour (kph) near the center and gustiness of up to 230 kph.
The typhoon is forecast to exit PAR by Friday afternoon moving west northwest at 15 kph and will be 455 kilometers northwest of Itbayat by Saturday morning.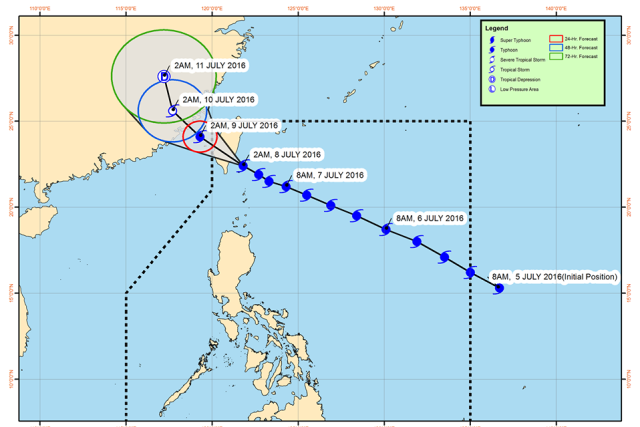 Track of Typhoon Butchoy (international name Nepartak) as of Friday morning, July 8, 2016, according to estimates of state weather bureau PAGASA.
State weather bureau PAGASA has continued to place the Batanes group of islands warning Signal No. 2 where light to moderate damage to high risk structures is possible. Winds of 61 to 120 kph are expected to affect the area by Saturday morning.
Signal No. 1 remains hoisted over the Babuyan group of islands where 30- to 60-kph winds are expected by Saturday afternoon.
Coastal areas are also warned against possible storm surge, or the rapid rush of sea waters toward land.
Areas of Luzon, including high density Metro Manila, are affected by the southwest monsoon or "habagat" enhanced by Butchoy.
PAGASA raised a red rainfall advisory indicating torrential rains in Zambales and Bataan where serious flooding is expected in low lying areas. The advisory also warns residents in high-risk areas to consider evacuation.
Cavite and Batangas, with an orange rainfall advisory, are experiencing intense rains that may prompt residents in some areas to evacuate.
Classes around Metro Manila, meanwhile, were called off due to heavy rains that may trigger floods as PAGASA raised a yellow rainfall advisory in the capital.
LIVE list: Class suspensions for July 8