Duterte lead unassailable at 15.7 million
(Philstar.com) - May 10, 2016 - 8:47am
MANILA, Philippines (UPDATE 13; First published May 9, 6:24 p.m.) — Results from a semi-official count gave Davao CIty Rodrigo Duterte an unassailable lead, thrusting him into national politics for the first time after 22 years as mayor of Davao and a government prosecutor before that.
Partial, unofficial numbers from the Commission on Elections transparency server as of 10:40 p.m. on Tuesday indicate that Duterte earned 15.69 million votes at 94 percent of voting precincts' numbers transmitted.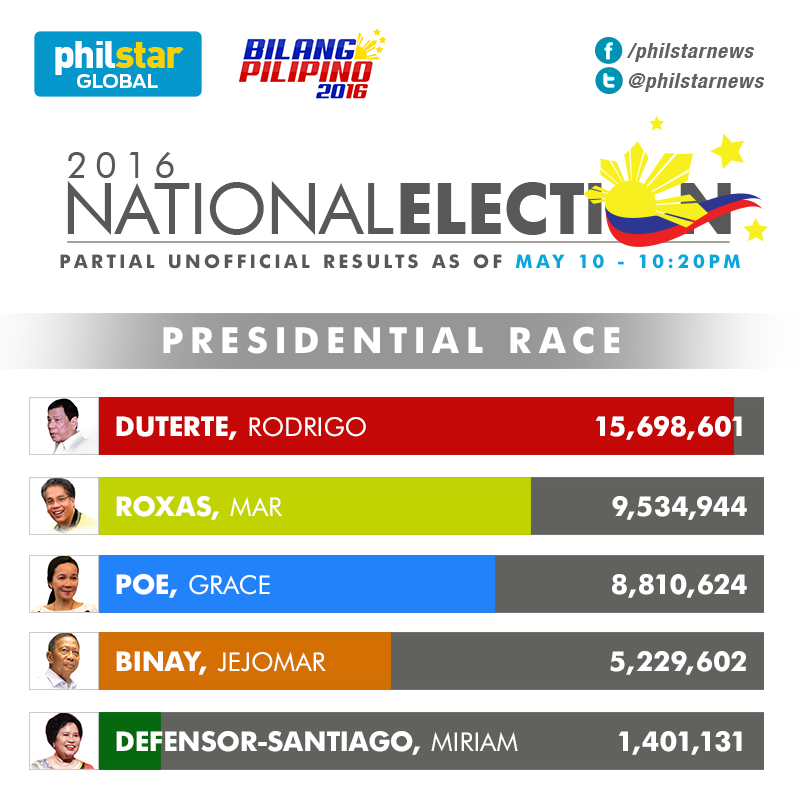 Duterte has parlayed decades at Davao City Hall into a successful, if controversial, run for Malacañang with millions seemingly endorsing his tough stance on crime and his self-described "gutter" language.
The long-time mayor, who has been accused of but not charged for using extrajudicial killings to curb crime, was a consistent front-runner in pre-election surveys leading up to election day. Initially only leading in Mindanao, Duterte was eventually the top choice among respondents in the National Capital Region and across all social classes.
Despite criticism from women's' groups and in the international press over a rape remark about an Australian missionary who was raped and killed in a hostage-taking incident in the Davao Penal Colony in 1989, Duterte solidified his lead and commanded large crowds at campaign sorties.
On Tuesday, Malacañang welcomed the partial results as indicative of people's choice in one of the region's oldest democracies.
"Our people have spoken and their verdict is accepted and respected," outgoing President Benigno Aquino III's spokesman, Sonny Coloma, said in a statement. "The path of good governance ... is already established as all presidential candidates spoke out against corruption."
Former Interior Secretary Mar Roxas, who was running second behind Duterte in the unofficial vote count following Monday's election, conceded defeat. "Digong, I wish you success," Roxas said at a news conference, using Duterte's nickname. "Your victory is the victory of our people and our country."
Duterte's harshest critic also conceded that the mayor, known for his off-color sexual remarks and pledges to kill criminal suspects, had emerged the unquestioned winner.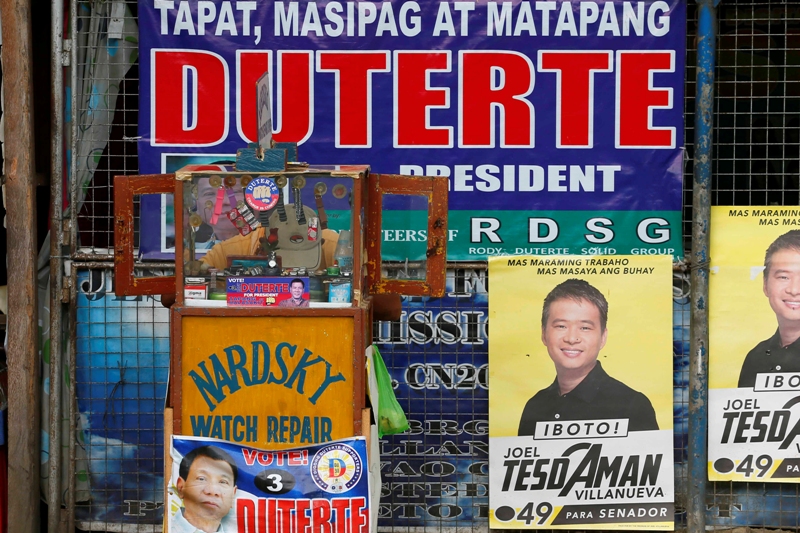 Campaign posters remain around Davao City on Tuesday, May 10, 2016, a day after the country's national elections at the hometown of leading presidential candidate Rodrigo Duterte. Duterte has widened his lead in unofficial tally but still refuses to claim victory. The poster at right is that of Joel Villanueva, a leading senatorial candidate. AP/Bullit Marquez
"I will not be the party pooper at this time of a festive mood," Sen. Antonio Trillanes IV, who has filed a plunder complaint against Duterte, told The Associated Press. "I will step back, listen to his policy pronouncements. This time we don't expect a stand-up comedy act but a president who will address the nation."
Duterte, 71, has not spoken publicly since casting his vote Monday, and remained at his home in Davao, on the southern main island of Mindanao. — Philstar.com with reports from the Associated Press