Philippines's political, electoral reforms remain uncertain
MANILA, Philippines (The Filipino Connection) — Noel Gatiano, 31, clings tight to his taxi's steering wheel like there's no tomorrow. It was the eve of a much-awaited national democratic exercise; traffic's a breeze—with no snatchers or hold-uppers roaming around—at Greenhills, San Juan City. Gatiano drove fine and safely brought his passenger home.
But the day he'll eagerly vote at Barangay Cupang in Antipolo City for his preferred president is here. Gatiano hopes his eagerness to vote will be as smooth as his taxi drive the night before—as smooth as what his preferred president wants to do for the country.
Gatiano's nation, the Philippines, is hoping for the best in this search for the 16th president of Asia's youngest democracy. Today's multi-party election is as colorful, uncertain and unpredictable as one can imagine—even up to the day when campaigning ended May 7th with crowds, speeches, colors galore lighting up Manila's night skies.
This election is the litmus test for a sitting government's "straight path" (Daang Matuwid in Filipino) reform measures, and is possibly the end of the political story of the Aquino family. This election also marks the third round of what remains to be the biggest game changer in Philippine electoral reforms: automated voting.
Only this time, voters got glued to three rounds of presidential debates and a round of a vice presidential debate. The boob tube is the Filipino voter's new electoral game changer even as voters remain wary of the frailties of vote counting machines (given the Commission on Election's previously-hacked website weeks before today's vote).
Twists
The presidential and vice presidential derbies had their twists and turns as the months progressed. From being an undecided, last-minute substitute last December 2015, clench-fisting Davao City Mayor Rodrigo Duterte –leader of an almost-moribund political party called PDP-Laban– zoomed to the top of the last three rounds of surveys by local polling firms Social Weather Stations and Pulse Asia.
Beningo Simeon Aquino III's anointed bet Manuel Roxas III of the Liberal Party aimed to sustain the "straight path" reform message together with grassroots-based reformist Maria Leonor Robredo as vice president. But the grandson of a post-World War II Philippine president never led the poll surveys, unlike the rising Robredo.
Young senator Mary Grace Poe-Llamanzares had overcome her US citizenship issues with a favorable Supreme Court decision but this independent bet had lost her lead in the surveys to the brash-talking Duterte. The same downturn fate fell on early front-runner and outgoing Vice President Jejomar Binay of the United Nationalist Alliance, with opponents reminding the public of his corruption allegations and charges.
Eloquent Senator Miriam Defensor-Santiago of the People's Reform Party is visibly slowed by her cancer recovery, but running mate Ferdinand Marcos, Jr. is gaining headway in recent surveys thanks to a message of combining hands-on experience in governance with his shrugging off of the nation's harrowed memories of martial law —by his father Ferdinand Sr.— a generation ago.
Turns
All these developments come in the throes of an emerging economy whose rising gross domestic product per capita may have helped reform the way the middle class will be choosing the next leaders, says political scientist Jean Encinas-Franco of the University of the Philippines.
Yet this election also reflected Filipinos' frustrations in wanting instantaneous reforms that are for the better. Filipinos were hopeful for change when President Aquino III won in 2010 on an anti-corruption crusade. The corruption-busting measures then helped lift the macroeconomy to a sustained growth streak (that began with the last 1.5 years of former President Gloria Macapagal-Arroyo) that's unseen in three decades.
Aquino also busted previous Filipino political practices like showing his face in tarpaulins of government projects. It was also during Aquino's term that a high-profile corruption case—the deliberate siphoning of senators' and congress people's funds for supposed public projects—was stopped.
But observers think events such as the massacre of 41 special action forces in Mamasapano, Maguindanao (in southern Philippines) by suspected terrorists in January 2015; the challenges of overcoming the aftermath of typhoon Haiyan (Yolanda) in 2013; or even handling the legality of using government agencies' savings may have dismayed Filipino voters.
Social media became the political gladiators' den, providing a "new" arena for both voters' enlightenment and discord. Offline, at the grassroots where the unconnected ones on social media are to be physically found, there's also division: my fellow taxi drivers, says Gatiano, have varied bets (even a last-minute, damaging television advertisement targeting at Duterte's cuss words had "changed" the preferences of some of Gatiano's fellow taxi drivers –and that kind of advertisement is common in other countries).
The outcome of May 9 may show the body-politic's frustrations over the status quo, says economist Alvin Ang of the Ateneo de Manila University. And current survey front-runners may have possibly captured that "angry vote," Franco adds.
Turning points?
Beyond the personalities, however, both Ang and Franco think political maturity remains a long journey especially for a young democracy like the Philippines. For one, Ang is dismayed a recent report by the Philippines' development planning agency called Ambition 2040 wasn't even used by any candidate.
Ambition 2040 interviewed 10,000 Filipinos and asked them about their dreams for the country: simple and comfortable living (79 percent); eradicating poverty (most important economic goal for 28.7 percent of respondents); choosing a job at home (69 percent); and eliminating corruption, especially the petty corruption, to achieve a better future (says majority of the study's 42 focus group discussions' respondents).
Had the results of Ambition 2040 been used during campaign sorties or during the televised debates, candidates "could have upped the ante (of Philippine electoral reforms), focusing on platforms and not just on personalities," Ang told The Filipino Connection.
Franco, for another, notices a shift: voters seem to be searching for a decisive leader, especially since being a fighter against corruption "is not enough".
Franco also noticed one tickle of the Filipino voter: "Filipinos do not want candidates who have made politics their ambition. They want (candidates who run as a form of) sacrifice, noticing the needs of the nation."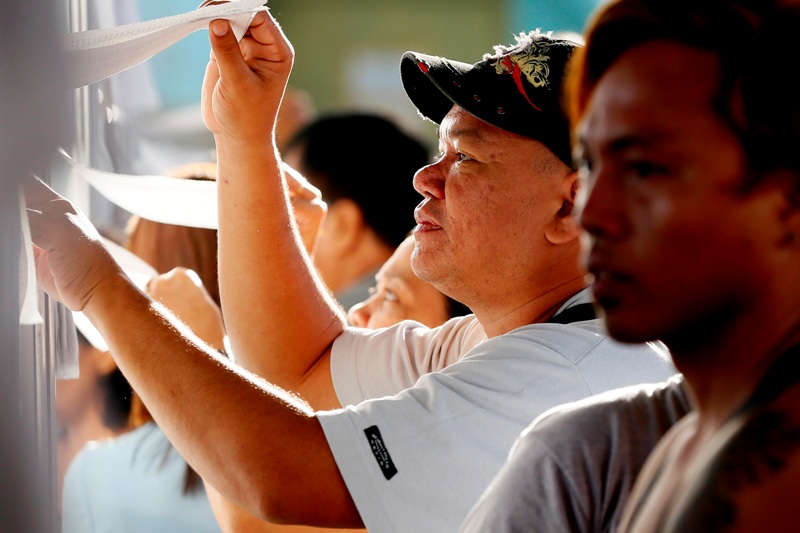 Filipino voters check the voters' list as they queue up in Davao City on Monday, May 9, 2016. AP / Bullit Marquez
This is even if Franco laments sustained economic growth will not immediately bring down aspired electoral reforms to Filipinos who are in lower-income groups: "That (situation) will take time."
Voters like Gatiano are aware of the divisiveness and uncertainty this election had wrought, with both not as smooth as his day-and-night driving that he wishes to be always filled with safety and public security. As a daily taxi driver, he wishes for a candidate who will provide samples on how to get things done, with conviction. That's on top of givens such as curbing corruption and helping the poor, both of which outgoing President Aquino had done.
"I hope criminality will be curbed," Gatiano said in Filipino.
The country had tried leaders who are intelligent and not corrupt, said Gatiano, adding that Aquino's term is sulit (worth it). But as the economist Ang and the political scientist Franco had their political reform aspirations for the nation, Gatiano has his own reformist wish: "Can we try someone else (Puwede bang iba naman)?"
Jeremaiah M. Opiniano is the publisher of The Filipino Connection, a regional partner of Philstar.com.