Duterte bares 2014 bank account balance
Mayor threatens BSP, AMLC
MANILA, Philippines – In the face of accusations of ill-gotten wealth, presidential frontrunner Davao City Mayor Rodrigo Duterte yesterday revealed the contents of his bank accounts, disputing allegations that he amassed billions in suspicious transactions.
Duterte took to task the Bangko Sentral ng Pilipinas (BSP) and the Anti-Money Laundering Council (AMLC) for their failure to flag the supposed P2.4 billion in his bank accounts.
In a news conference held at The STAR, Duterte presented documents covering the months of December 2013 to December 2014 and April 1, 2016 to April 30, 2016.
No documents were showed for the year 2015.
Sen. Antonio Trillanes IV earlier claimed Duterte did not declare in his 2014 statement of assets, liabilities and net worth (SALN) the P211 million supposedly deposited in a joint Bank of the Philippine Islands (BPI) account with his daughter Sara.
But Duterte stressed that if the allegations of Trillanes were true, the BSP and the AMLC must have been remiss in flagging the suspicious transactions.
"What Trillanes was claiming that the P2.4 billion has been in my account ever since, then why the hell wasn't I investigated by the AMLC. That is hidden wealth, not only that, Trillanes is now claiming it was drug money and it also came from smuggling," Duterte said.
"What I am trying to say is if there is proof, then that is criminal negligence if there was no action on their part. It behooves upon the authority of the ombudsman, especially the Bank of the Philippine Islands, because that is dirty money," Duterte said.
Duterte threatened to file criminal charges against the BSP and the AMLC for negligence in failing to flag the supposed P2.4 billion in his bank accounts.
Duterte said the BSP and the AMLC committed criminal negligence when they failed to investigate him about his alleged ill-gotten wealth as Trillanes has been claiming.
In same news conference, Duterte showed 11 passbooks of his peso and dollar accounts at the BPI Julia Vargas branch in Pasig City.
Duterte's bank certification of deposit, which is a joint account with his daughter Sara, showed he has only P17,816.93 in his savings as of March 31, 2014.
Duterte also showed that the same bank account had P17,766.98 as of Dec. 31, 2014 and P74,734.30 as of April 29, 2016.
As of May 3, 2016, one of his passbooks in the same BPI branch also showed he has a total of P128,829.34.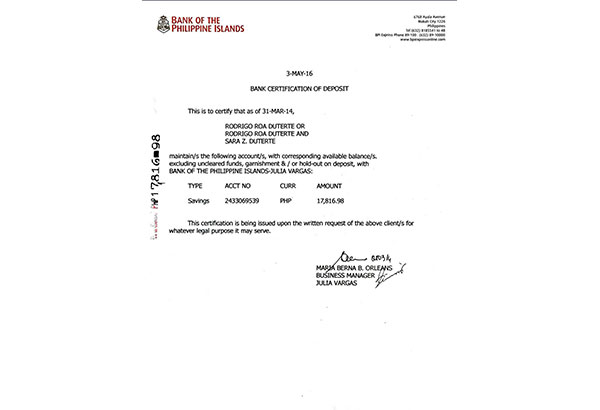 A BPI bank certification of deposit shows Mayor Rodrigo Duterte's account, which had only P17,817 a few days after large deposits were allegedly made.
The money from this same passbook increased to P128,829.34 after some of his supporters deposited an amount following Trillanes' exposé.
Duterte has $5,021 in his BPI dollar account as of March 31, 2014. He noted the only recent deposit in that account was that of rival presidential candidate Manuel Roxas II.
The document also showed a deposit of $10 at the New Farmers Market branch of the BPI bank in Cubao, Quezon City, apparently from Roxas who previously showed his transaction to prove that Duterte's dollar account exists.
Trillanes accused Duterte of having billions of undeclared assets, including over P211 million in the BPI Julia Vargas branch.
But Duterte justified his having several properties and assets by saying evangelist Apollo Quiboloy had given them to him as gifts over their long friendship.
He has also confessed to using Quiboloy's jet and helicopter in his campaign.
Duterte also admitted that he has accepted valuable gifts during his birthday.
Duterte's counsel Salvador Panelo said there is nothing wrong or illegal with the Davao mayor accepting gifts from his friends and supporters.
Administration standard-bearer Manuel Roxas II has accused Duterte of violating Republic Act No. 6713, or the Code of Conduct and Ethical Standards for Public Officials and Employees, in accepting gifts of value.
The law prohibits public officials and employees from soliciting or accepting, "directly or indirectly, any gift, gratuity, favor, entertainment, loan or anything of monetary value from any person in the course of their official duties or in connection with any operation being regulated by, or any transaction which may be affected by the functions of their office."
The law further provides that gifts are prohibited "even on the occasion of a family celebration or national festivity like Christmas, if the value of the gift is neither nominal nor insignificant, or the gift is given in anticipation of, or in exchange for, a favor."
Liberal Party spokesman Akbayan Rep. Ibarra Gutierrez said Duterte, being a lawyer, should follow the law.
"He cannot pick one law over another. As citizens, we are all obliged to follow all laws, and government officials must obey and implement all of them," he said.
However, Gutierrez said Duterte "has no respect for the law, for his office and for the people, and is not fit to be president." – With Jess Diaz