Kris scored for allegedly using presidential choppers at LP sortie
MANILA, Philippines (UPDATED 6:10 p.m.) — Actress Kris Aquino was heavily criticized on Wednesday after online photos circulated showing her allegedly using the presidential chopper to campaign for Liberal Party (LP) standard bearer Manuel "Mar" Roxas II and his running mate Camarines Sur Rep. Maria Leonor "Leni" Robredo.
The photos, which were uploaded to social networking site Facebook, showed the presidential sister accompanied by people who appear to be her aides. Aquino, who was wearing a yellow shirt and black pants, was seen near a presidential helicopter.
In one photo, a female companion of Aquino wearing what looked like the LP campaign shirt, was seen disembarking from the helicopter while an Air Force soldier looked on.
The photos, released by the Municipality of Dalaguete, were reuploaded on Facebook by a certain "Peshmerga Abs." The user claimed that the incident happened Tuesday in Dalaguete, Cebu. The uploader described Aquino as "thick faced" for supposedly using government resources to join the sorties of LP candidates.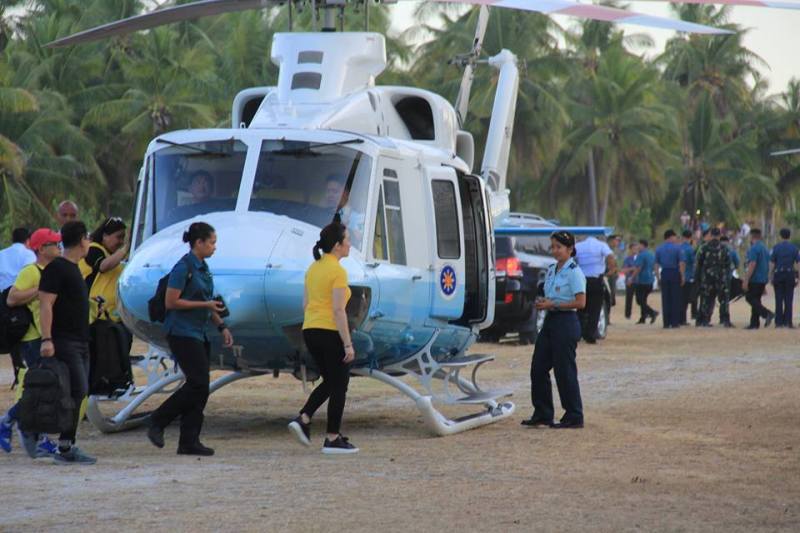 Television host Kris Aquino, wearing yellow, beside a blue chopper adorned with the presidential seal in Dalaguete Cebu on Tuesday, April 20, 2016.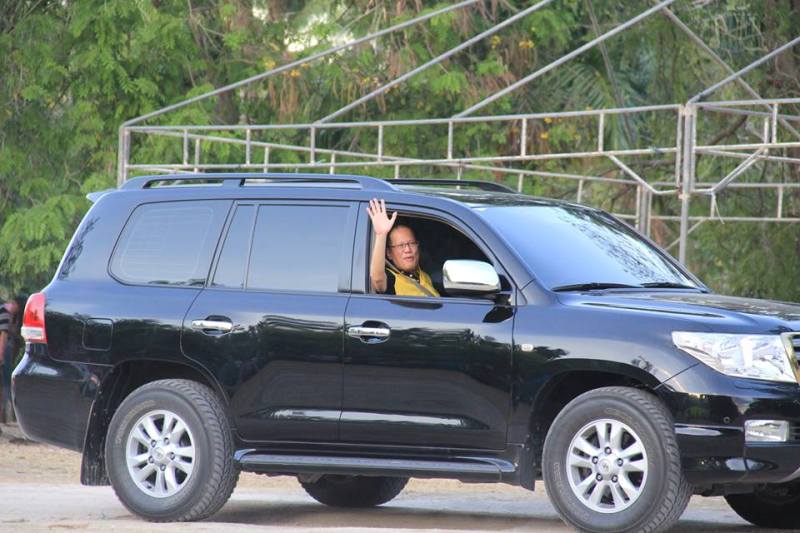 President Benigno Aquino III waves to the crowd waiting for him in Dalaguete, Cebu on Tuesday, April 19, 2016.
"This will make you swear in anger. They are using government resources for the campaign," the user said in Filipino.
Sought for comment, Koalisyon ng Daang Matuwid spokesman Ibarra Gutierrez said the imputation that Aquino was being ferried by helicopter is "rather malicious."

"It seemed that it was the President being escorted and that she was simply accompanying him," Gutierrez told The STAR.

"The President is obviously always going to travel in a military or government chopper. If she was accompanying the President, then the chopper was not there for her, but for P-Noy," he added.
Many of those who commented on the video chided Aquino and called her names. Others questioned whether Roxas's allies are allowed to use hard-earned taxpayers' money for things that do not mean anything to them.
Aquino's photos surfaced a few days after a video showing envelopes being distributed at a campaign rally of LP went viral.
The distribution of envelopes allegedly happened during a sortie last March 31 in Pikit, North Cotabato. The video showed an unidentified male emcee asking the crowd to chant "Oras na, Roxas na! (It's Roxas's time)."
The emcee warned members of the audience that they would not receive envelopes if their cheer for Roxas is not loud enough. The emcee was also seen giving an envelope to a woman who seemed to have answered a trivia question.
Critics believe the envelope contained cash but the allegation remains unverified.
Roxas has vowed to look into the incident and maintained that the LP does not tolerate any violation of election laws.
"If it really happened, we will identify the organizers and tell them that it should be stopped," Roxas said.