PAGASA: 'Nona,' new cyclone will not affect each other
December 15, 2015 | 8:58pm
MANILA, Philippines - State weather bureau PAGASA on Wednesday assured that typhoon Nona (international name Melor) will not be pulled back to the country by the new tropical depression as it enters the Philippine area of responsibility (PAR).
PAGASA weather forecaster Aldczar Aurelio said that there is no possibility of the "Fujiwara effect" between Nona and the tropical depression which will be named Onyok once it enters PAR as they do not have the same strength and they are far from each other.
The Fujiwara effect occurs when a stronger weather disturbance affects a lower one. This is common among tropical cyclones such as typhoons or hurricanes and is thought to occur when storms reach 1,500 kilometers.
LIVE updates: Tropical cyclone 'Nona'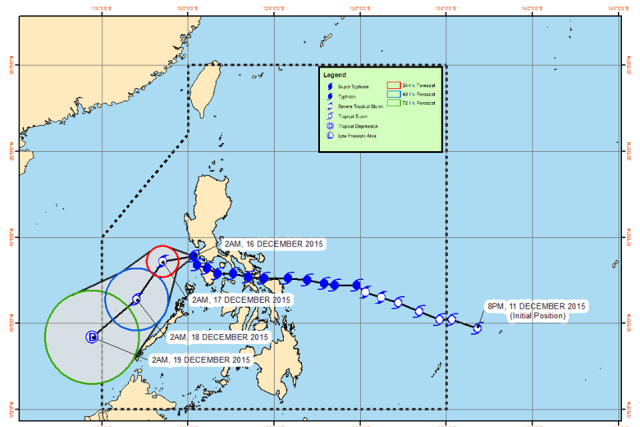 Forecast track of Typhoon Nona as of Wednesday, 7 a.m. PAGASA
At 10 a.m., Nona was located 90 kilometers west of Ternate, Cavite with maximum winds of 120 kilometers per hour (kph) and gusts of up to 150 kph. It is likely to move west northwest at 7 kph.
Public storm warning signals are still raised in the following areas:
Signal No. 2
Bataan
Southern Zambales
Cavite
Batangas
Lubang Island
Signal No. 1
Metro Manila
Rest of Zambales
Pampanga
Bulacan
Tarlac
Rizal
Laguna
Northern Occidental Mindoro
Northern Oriental Mindoro
The weather bureau warned that flash floods and landslides are possible over areas under public storm warning signals.
Meanwhile, the tropical depression outside PAR was last located 1,180 kilometers east of Mindanao with maximum winds of 45 kph. It is forecasted to move west northwest at 23 kph.
The tropical depression is expected to enter PAR on Wednesday while Nona is forecasted to exit the country by Friday.