Metro Manila to be hit
MANILA, Philippines - Typhoon Chedeng was on course yesterday to batter Luzon, bringing heavy rains and powerful winds as the nation observes Holy Week.
The Philippine Atmospheric, Geophysical and Astronomical Services Administration (PAGASA) is expected to raise storm signals over the Bicol region and Samar provinces today, which could result in the suspension of sea travel over these areas.
Chedeng (international name Maysak) was earlier categorized as a super typhoon by the Hawaii-based Joint Typhoon Warning Center (JTWC). Maysak was projected to enter the Philippine area of responsibility last night or early today.
The National Disaster Risk Reduction and Management Council (NDRRMC) warned that the provinces of Aurora, Quezon, Nueva Vizcaya, Isabela in Cagayan Valley; Nueva Ecija, Tarlac, Pangasinan and Zambales would bear the brunt of the storm.
Eastern Visayas, Southern Luzon, Bicol, parts of Northern Luzon, Central Luzon, Cagayan Valley and Metro Manila are likely to experience Chedeng's strong winds and heavy rains, NDRRMC executive director Alexander Pama said.
While expected to make landfall either Saturday night or Sunday morning in Baler, Aurora, Chedeng will be felt in the provinces of Eastern Samar and Northern Samar in Eastern Visayas; Sorsogon, Albay, Camarines Sur and Catanduanes in the Bicol region; Romblon, the two Mindoro provinces and Marinduque in Mimaropa; Batangas, Cavite and Rizal in the Calabarzon; Bataan in Central Luzon; Kalinga, Ifugao, Benguet and Mountain Province in the Cordilleras; Cagayan, and Ilocos Sur and Ilocos Norte.
Pama said all local government units whose areas are within Chedeng's 200-kilometer radius have been alerted to double their earlier disaster preparations this Holy Week.
"Our Holy Week preparations have changed because of the typhoon," Pama said, adding that all disaster units in Bicol, Southern Tagalog, Central Luzon, Ilocos, Cagayan Valley and Metro Manila are now under orders to brace for the storm in their respective areas.
PAGASA weather forecaster Jori Loiz said the typhoon is forecast to make landfall over the eastern coast of Aurora, Quezon or Isabela this weekend.
He said heavy to intense rainfall is expected within the 200-km radius of the typhoon.
PAGASA weather division chief Esperanza Cayanan warned the public against possible flashfloods in low-lying areas and landslides along mountain slopes, particularly over the Aurora-Quezon area.
PAGASA acting administrator Vicente Malano warned of possible storm surges of up to four meters in the eastern coasts of Samar, Bicol and Aurora-Quezon.
Loiz said Eastern Luzon will experience good weather until today. But beginning Friday, rains and gusty winds will start to affect the area.
He said good weather (warm and humid) with the possibility of isolated rainshowers or thunderstorms is expected over the central and western sections of the country until tomorrow.
On Saturday and Sunday, rains and gusty winds to stormy weather are expected over Bicol and Central-Northern Luzon, Loiz said.
He said Metro Manila will have rains and gusty winds while the rest of the country will have warm and humid conditions during the weekend.
As of 3 p.m. yesterday, Maysak was spotted at 1,175 km east of Guiuan, Eastern Samar with maximum sustained winds of 190 kilometers per hour near the center and gustiness of up to 225 kph.
It was forecast to move west northwest at 20 kph.
Loiz said Maysak has slightly weakened although it remains a powerful cyclone.
Loiz urged residents of Isabela, Quezon and Aurora to prepare for heavy rains and strong winds as the typhoon is expected to affect areas within its 200 km-radius.
Cayanan discouraged people in Aurora, Quezon and Northern Luzon from traveling by land beginning Friday night as gusty winds are expected to affect these areas.
She said there is a high probability of landslides over the mountainous areas of Luzon due to expected heavy rains from Maysak.
"We expect it to pack 150 kph and signal no. 3 will likely be raised over affected areas when it makes landfall on Saturday or Sunday," Cayanan said.
"Winds of such strength could topple trees and damage houses made of light materials," she added.
Cayanan said due to the colder temperature over the Philippine Sea, Maysak is no longer expected to reach the super typhoon category.
"It could still weaken but will maintain typhoon intensity. It is better to prepare for the worst scenario," she said.
Malano said Maysak could be as strong as Typhoon Pablo, which hit Mindanao in December 2012.
However, the presence of mountains, especially the Sierra Madre range along the path of Maysak, could help weaken the typhoon.
Loiz noted a majority of forecasts by foreign meteorological agencies indicated that the track of Maysak is towards eastern Luzon.
The JTWC has categorized Maysak as a super typhoon but PAGASA has yet to declare it to be such.
PAGASA and the JTWC use different methods in determining whether a cyclone can be declared a super typhoon.
PAGASA uses 10-minute average readings for a cyclone's wind speed, compared to the one-minute average readings of JTWC. This means that PAGASA readings produce lower average maximum sustained wind speeds for cyclones.
Pama, on the other hand, urged the general public, especially those who are living along disaster-prone areas, to be ready to move to safer areas once an evacuation is ordered by local executives.
NDRRMC chairman Defense Secretary Voltaire Gazmin reminded the public that Chedeng is a very strong typhoon and its possible disastrous impact could only be mitigated by way of being prepared.
"Our strongest weapon here is to be prepared," Gazmin said.
Gazmin also called on those planning to spend their weekend in the provinces to make some readjustments in travel plans.
For local and foreign tourists, especially those already spending time with their families or friends on beaches, Gazmin suggested that it would be best that they coordinate with local officials.
President Aquino has directed government agencies to be ready for Typhoon Maysak once it enters the Philippine area of responsibility.
Aquino said every department is expected to be prepared for the approaching storm.
Red alert
The military, for its part, was placed on red alert yesterday as part of preparations for Chedeng.
The Philippine National Police (PNP) has also activated its disaster preparedness plan ahead of the approaching cyclone.
The Department of Social Welfare and Development has ordered its quick response teams to preposition goods in areas that would be hit by the typhoon.
The Department of Transportation and Communications, through the Philippine Coast Guard, has warned sea vessels about the approaching cyclone.
The Department of Public Works and Highways has ordered the deployment of heavy equipment to clear roads after the typhoon.
The Manila Electric Co. (Meralco), for its part, alerted its personnel and prepared its systems for immediate response to power outages. – Alexis Romero, Rainier Allan Ronda, Delon Porcalla, Mike Frialde, Non Alquitran, Janvic Mateo, Cecille Suerte Felipe, Iris Gonzales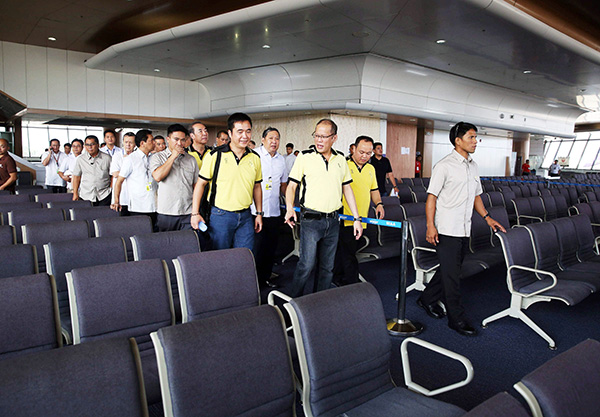 President Aquino inspects security preparations at the Ninoy Aquino International Airport Terminal 1 yesterday.
STAR/Joven Cagande