8 in 10 Filipinos 'struggling, suffering' financially
MANILA, Philippines — Only 18 percent of Filipinos saw themselves as "thriving" financially, while the rest of the represented population said they are "struggling" or "suffering" in terms of economic security.
The recent Gallup-Healthways State of Global Well-Being Index 2014 reported that Filipinos' perception of financial security is notably below the Asian and global averages of 25 percent.
The global study found that 52 percent of Filipinos report to be struggling in terms of financial well-being, while 30 percent are suffering.
It also indicated that suffering is more prevalent among Filipino rural residents (35 percent) than those who live in urban areas (24 percent).
The researchers also noted that the weak response to financial questions—whether a respondent feels he has "enough money to do everything he wants to do" or whether he has "worried about money" the past week—was not only characteristic of the unemployed population.
"Notably, an unusually high proportion of employed Filipinos, 34 percent, are suffering in financial well-being. This is consistent with the country's high underemployment rate, which reached 19 percent in 2013," the study stated.
More Filipinos (41 percent) aged 45 and older, meanwhile, report to be suffering money-wise compared with just 25 percent among the younger population.
"The older generation may be less able to move to cities in search of jobs, making them subject to financial vulnerability arising from unequal growth among urban and rural areas," it said.
The Philippines was part of the global study of 135 countries reflecting respondents' perceptions and experiences related to their purpose, social, financial, community and physical well-being.
Results are based on phone or face-to-face interviews with a 500 to 4,244 adults in each of the countries surveyed from January to December 2013.
Purpose-driven Filipinos
More Filipinos were also found to be "thriving" compared with the regional and global average in terms of a sense of purpose (32 percent) and community (42 percent) as well as of social well-being (35 percent).
Researchers said the high numbers are supported by the Filipino culture that stresses "close families ties and obligations to extended family members."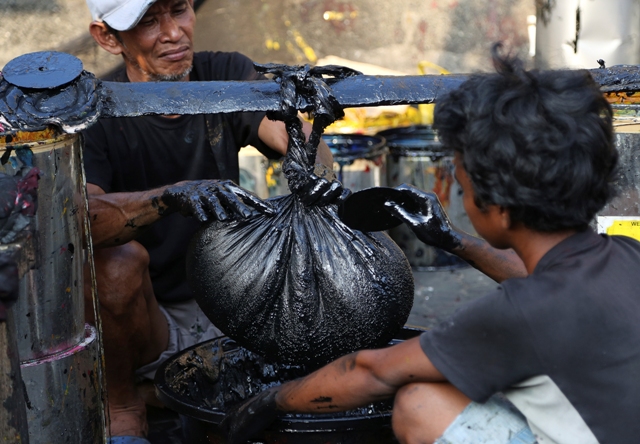 Filipinos use a cloth to filter sediments from ink which they collect from open cans of newspaper printing machines in Manila, Philippines on Thursday, March 19, 2015. They scrape the ink out from the cans and sell them later sell for P1,5000 (about US$ 33) for a 25 kilogram can after they have cleaned out the dirt and sand inside. AP/Aaron Favila
Questions related to purpose involved whether Filipinos "like" what they do or "learn or do something interesting every day."
They were also asked whether they have someone in their lives who encourages them to be healthy or gives them "positive energy" every day as a way to measure their social well-being.
Respondents' sense of community was also measured with questions on whether Filipinos find their city or area a "perfect place" or if they have received recognition for helping to improve their neighborhood.
Filipinos' "thriving" physical well-being (24 percent), meanwhile, compares well with the 23-percent regional and 24-percent global averages.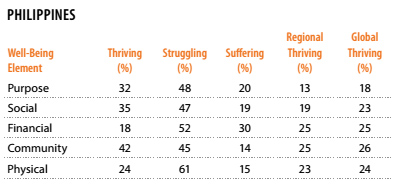 Philippines' Well-Being Index, based on the Gallup-Healthways State of Global Well-Being study
The researchers recognized, however, that the government has aimed to make the Philippines' rapid growth more inclusive.
What government should do
Researchers said that while the economic perception in the rapidly developing Philippines continues to be low, the Philippine government has been aiming to have a "more inclusive" growth.
Government can achieve inclusive economic growth in part by "improving the country's education system and increasing the focus on vocational and technical education."
It also said that the Philippines should capitalize on the population's high sense of purpose to improve financial well-being and "address the effects of rising inequality, poverty and underemployment."