Supreme Court affirms DAP unconstitutionality
MANILA, Philippines — The Supreme Court (SC) on Tuesday affirmed the unconstitutionality of the Disbursement Acceleration Program (DAP) while partially granting the government's motion for reconsideration.
The magistrates affirmed that a significant portion of the administration's DAP, supposedly created to speed-up public spending, violates Section 25(5), Article VI of the 1987 Constitution and the doctrine of separation of powers of the executive and legislative branches.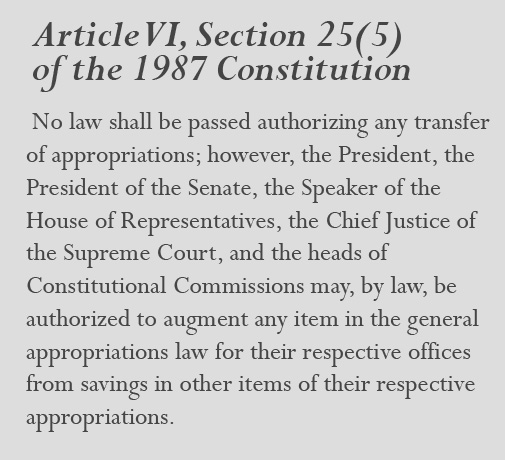 SC spokesperson Theodore Te said two of the three acts and practices outlined in the July 2014 ruling of the high court are still considered unconstitutional. These are:
The creation of savings from un-obligated allotments prior to the end of the fiscal year without complying with the statutory definition of savings under the General Appropriations Act (GAA), and
The executive department's cross-border transfer of savings to another branch of government.
"The court further declares void the use of unprogrammed funds despite the absence of a certification by the national treasure for non-compliance," Te said in a televised press briefing.
Citing the operative fact doctrine, the high court, however, heeded the Aquino administration's motion in reconsidering the third scheme on the allotment of funds for projects, activities and programs not covered by the GAA.
"There is no constitutional requirement for Congress to create allotment classes within an item," Te said.
He added that the Constitution does not require the augmentation of funds to be under the expense category or allotment class of the GAA.
"Accordingly, so long as there is an item in the GAA that Congress has set aside a specified amount of public funds, savings may be transferred thereto for augmentation purposes," Te explained.
The doctrine on operative fact sustains the effects of projects under the DAP even as it was declared invalid.
The court's 2014 decision on the DAP, which forced government to terminate its implementation, provoked President Benigno Aquino III to address the public and the Supreme Court to insist on its constitutional basis.
The issue contributed to a significant drop to satisfaction ratings of the Aquino administration, with critics saying the DAP was the executive's version of the illegal "pork barrel" funds of the legislative.
Possible liable individuals narrowed
The court, moreover, clarified the language of its earlier ruling by removing "proponents" and "implementors" among those who can be held liable for the DAP.
Te said that "authors" under the DAP identified in appropriate courts can still be sanctioned under the recent decision.
It is important to identify and point to specific authors of the DAP in subsequent filing of cases, Te added.
He said that this modification in the language of the earlier ruling is consistent with the operative fact doctrine.
"It would be more unproductive or disastrous for the court to declare all of these projects invalid, and therefore sustains those projects as valid," he said.