Roving around: 'Bayanihan' spirit in Yolanda-hit communities
MANILA, Philippines - The term "bayanihan" refers to a Filipino tradition where community members help a family carry their house when moving to a new location. Today, bayanihan may simply refer to the act of helping a neighbor.
Assistance and Cooperation for Community Resilience and Development, Inc. formed roving teams in every barangay affected by super typhoon Yolanda which devastated the country last year. These teams consist of two skilled carpenters and a community facilitator (CF) who go around their barangays to ensure that rehabilitated and reconstructed houses in the community are safe.
Katherine Boga, a health worker and CF of Barangay Batuan in San Dionisio, Iloilo, just returned to the province before Yolanda reached the country.
"My son had epilepsy. Since I could not afford hospital treatment in Manila, I thought the clean air here would help, and it did. What I did not count on was how strong typhoons here could be," Boga said.
Boga, who was chosen to for Batuan's roving team because she knew everyone in the barangay, is joined by skilled carpenters Nick Basong and Edwin dela Cruz in the team.
"Every Friday, we go around our barangay to check the quality of materials used by our neighbors, the progress of repairs and compliance with the BBS (Build Back Safer) tips taught in trainings," said Dela
Cruz.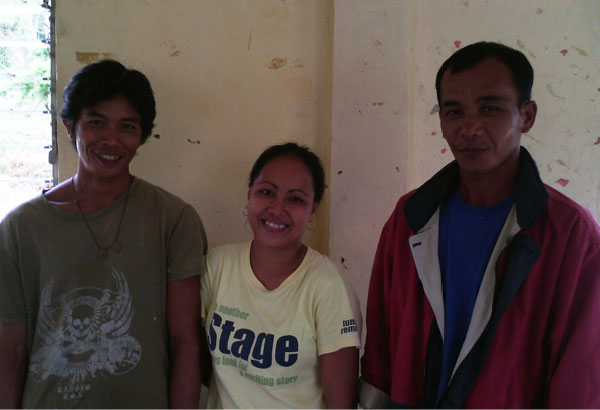 Barangay Batuan roving team: Nick Basong, Katherine Boga and Edwin dela Cruz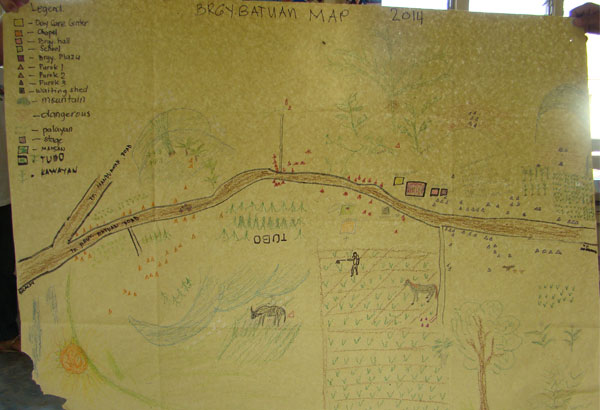 Batuan hazard map
The team makes sure that disaster risk reduction techniques are incorporated in houses so that they may withstand strong typhoons in the future.
"The most important thing is to strengthen the roof, so that they don't easily get blown away, and thus families could have protection from the elements. We also check if they use strong bracing, so that houses would not be easily pushed over or pulled apart by the wind," said Basong.
The team members noted that some families refuse their help but they insisted that they had to work together and look out for each other.
Some families do not have enough funds for the materials needed in rebuilding houses but the team adjusts for them.
"We get creative with the materials we use. We adjust on the number of nails but we never sacrifice the integrity of the structures," Basong said, adding that the structures they are building will not be blown away easily.
Basong, Boga and Dela Cruz received a honorarium for finishing 92 beneficiary houses but noted that they never thought of the money when they agreed to be a part of the team.
"It is better to be prepared for anything. When Haiyan came, we thought it was going to be like previous typhoons we experienced. We now know better. Whether it's rebuilding houses or livelihoods, one thing is clear: we can't leave things to chance," Boga said.