12 Chinese in Tubbataha grounding convicted
MANILA, Philippines — The crew members of the Chinese fishing vessel that ran aground on protected Tubbataha Reef last year were found "guilty" of illegal fishing in Philippine waters on Tuesday.
The Palawan Regional Trial Court sentenced captain Liu Chiangjie to a maximum of 12 years in a local jail, while the rest of the 11 crewmen face up to 10 years behind bars.
The court said the accused violated Section 27 of Republic Act 10067, which declares Tubbataha Reef as a protected area.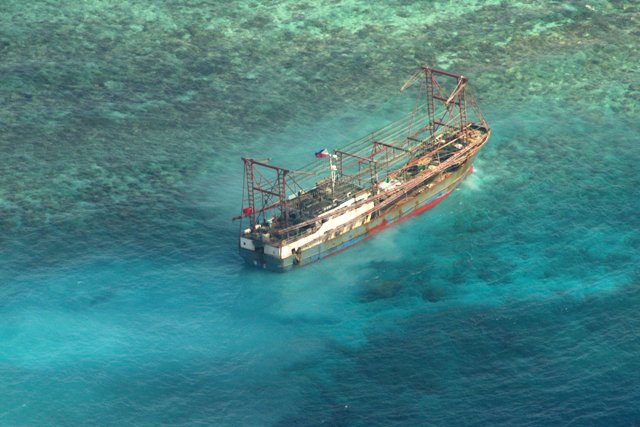 Chinese fishing vessel FV Min Long Yu with bow number 63168 ran aground on Tubbataha's North Atoll where it ran aground on April 8, 2013. Naval Forces West/Tubbataha Reefs Natural Park
The Chinese fishermen were arrested in April 2013 after their ship got stranded at the natural park. The incident reportedly damaged 4,000 square meters of the reef only weeks after the grounding of US Navy minesweeper USS Guardian.
Besides being fined, the Chinese fishermen also face raps for attempting to bribe public officials and administrative charges for illegal entry, possession of protected marine species and for damaging the reefs.
The grounded fishing vessel weighed 500-gross tons and was removed from the park's North Atoll shortly after the incident on April 8, 2013. - with a report from Edu Punay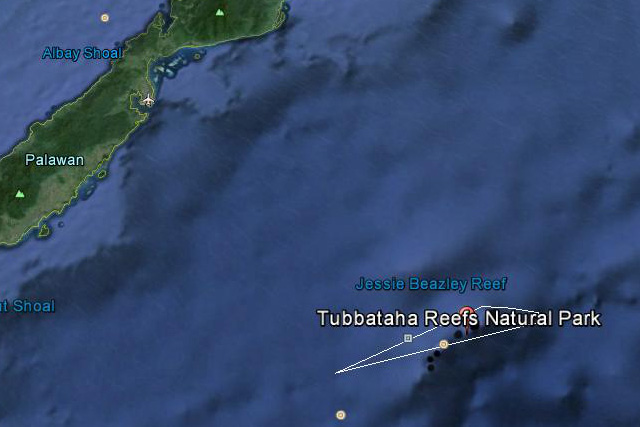 Satellite rendering shows the protected area in the Tubbataha Reefs Natural Park. Google Earth