18 senators in final list
MANILA, Philippines - Insisting she was not the mastermind of the pork barrel scam, Janet Lim-Napoles says she was mentored in the ways of doing business with lawmakers by then congressman and now Budget Secretary Florencio Abad, whose name she has included along with 18 incumbent and former senators in an "expanded" affidavit.
Most of the senators denied the accusations.
After the hubbub caused by the emergence of several lists of lawmakers linked to the scam, Napoles – though her lawyer Bruce Rivera – submitted yesterday the "expanded" affidavit to the Department of Justice containing the names of more lawmakers who had allegedly connived with her in embezzling their Priority Development Assistance Fund (PDAF).
Rivera personally handed the affidavit to Justice Secretary Leila de Lima in a closed-door meeting in the afternoon.
A copy of the affidavit was immediately submitted to the Senate Blue Ribbon committee in compliance with a subpoena earlier issued by the panel.
"I am not the most guilty," Napoles said in Filipino in her 32-page affidavit.
She said she got to know the people in the pork barrel scam through some agents, pointing to them as the ones who had peddled PDAF projects of the affected lawmakers.
"I learned from Cong. Butch Abad that NGOs and cooperatives were needed to negotiate with agencies," she said.
She said that it was in 2000 when she was introduced by a certain Manuel Jarmin to Abad, then still a congressman of Batanes.
Napoles claimed that Abad told her about a P10-million project and showed her a Special Allotment Release Order (SARO) and explained what it was for.
After their meeting, Napoles claimed that she handed P2 million to Abad and that when the Notice of Cash Allocation (NCA) was released, another P2 million was allegedly turned over to the then congressman.
She claimed that Abad asked her if she had a non-government organization (NGO) and because she had none, "he told me he would take care of it."
Napoles said that Abad used the Batanes Electric Cooperative to implement the project.
"After some time, he returned the P4 million I gave him with an added P2 million more. That is when I started to transact using the PDAF," Napoles said.
DA role
Napoles also linked Agriculture Secretary Proceso Alcala to the scam. She said the Department of Agriculture is one of those in the "shopping list" of the Department of Budget and Management to which lawmakers may allocate their PDAF.
Other DA officials Napoles linked to the scam were Ofelia Agawin, Alan Umali and Kimmy Patocabe.
In her expanded affidavit, Napoles said she wanted to take the opportunity to correct the wrong system still prevailing under the "Tuwid na Daan" of the Aquino administration.
Napoles also identified Ruth 'Allen' Ruste as the person who helped her late trusted staffer Niel Tan in getting the deals with the House of Representatives, while Catherine Mae "Maya" Santos was her contact for transactions with the DA and the Senate.
Ruste was a staff of former Rep. Maria Clara Lobregat. Ruste had also worked as chief of staff of Rep. Enrico Fabian and is now working for incumbent Rep. Lilia Macrohon Nuno.
Santos was staff member of former President and now Pampanga Rep. Gloria Macapagal-Arroyo when she was still a senator until she became vice president and then president.
Santos was with the Office of the President before she was appointed as assistant secretary and undersecretary of the DA.
Napoles maintained that all her PDAF transactions were delivered and implemented since these were double-checked by the inspection teams of the implementing agencies and then verified by the lawmakers and their coordinators.
Napoles also identified former presidential social secretary Ruby Tuason as the point person in her distribution of campaign funds for some senators. These deals had no delivery receipts, she added. It was only later that she learned that the funds – which reports said had reached as much as P900 million – came from the so-called Malampaya Fund. This was contained in her May 12, 2014 affidavit.
In her expanded affidavit, Napoles tagged Senators Francis Escudero, Alan Peter Cayetano and former senator Manuel Villar in the misuse of the Malampaya Fund for election purposes.
Napoles painted herself as a victim of the anomalous system in the allocation of pork barrel, which had been called different names – from Countrywide Development Fund in the 1990s to PDAF beginning in 2000.
Transparency
Blue Ribbon chairman Sen. Teofisto Guingona III received copies of Napoles' initial affidavit and "extended" affidavit. Despite De Lima's written request that he hold off the release of the latest affidavit, Guingona told reporters he had to release copies of the documents to the media in the spirit of transparency.
"Let the documents speak for themselves," he said.
Napoles said that in revealing the truth she was aware that she would be stepping on toes.
She said she expects people in high places to get mad at her.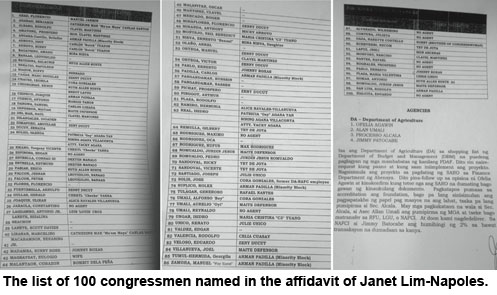 View: List of 100 congressmen
"The truth hurts… but the truth will set you free," she said.
"The possibility that they will get back at me and my family and friends really worries me," she said.
"I am a mother and a wife foremost. I just wanted to make a living for my family. Thus, as a mother, I am appealing for the exclusion of my children James Christopher Napoles and Jo Christine Napoles in the above-mentioned complaints. My children had no knowledge, participation and involvement whatsoever in the subject cases," Napoles said in her affidavit.
"I realized that indeed I should tell the whole truth. By telling the truth, which the people have been clamoring and I have been wanting to do for a long time, I intend to help my country and work towards minimizing, if not totally eradicating corruption, so as not to put to waste these revelations," Napoles said in her affidavit, which she signed last May 12.
Rivera earlier declined to give details of the affidavit, but Napoles' other lawyer – Stephen David – told reporters earlier yesterday that the affidavit listed 18 senators with questionable dealings with the detained businesswoman.
David represented Napoles during the hearing yesterday on her motion for an extended stay at the Ospital ng Makati (Osmak) at the Makati regional trial court. He also said that more than a hundred congressmen and agents were tagged in her affidavit as having profited unduly from pork-funded projects.
He also stressed that her wish to turn state witness is not the reason for her spilling the beans on the lawmakers.
"Nobody wants to go to jail, that's why she really wants to turn state witness. But it's not the main reason why she's talking now. As I said, this is a contract between her and her creator," he said.
Rivera said Napoles, in her expanded affidavit, "is not justifying what she has done." He said that while her affidavit indicates that she is not the least guilty, it also shows that she is "not the most guilty."
He declined to share more details, citing the confidentiality rule under the witness protection program to which Napoles is applying.
But he confirmed the inclusion of more senators and congressmen whose names were not in the initial affidavit submitted to the DOJ last May 13.
He said the new affidavit – purportedly the final one – explains in greater detail the operations of Napoles' bogus non-government organizations from 2000 to 2009. An earlier special audit conducted by the Commission on Audit (COA) on the pork barrel scam covered only the period of 2007 to 2008 and implicated Senators Ramon "Bong" Revilla Jr., Jinggoy Estrada and Juan Ponce Enrile.
"We have supporting documents against each one of those named. We cannot be implicating people if we don't have proofs," he stressed, adding that the affidavit has narrative on the specific participation of lawmakers linked to the anomaly.
Rivera said that apart from special allotment release orders readily available from the DBM, Napoles also has in her possession other documents to back up her sworn statement.
"We will submit them whenever we will be asked to do so," he said, reiterating her client's wish to be taken in as state witness.
He also confirmed that the detained businesswoman had a "mother-to-mother" talk with De Lima during which the businesswoman asked that her children be spared from the controversy.
De Lima submitted to the Senate Blue Ribbon committee last May 15 an initial list from Napoles, but sought more time to submit a complete affidavit.
She asked the panel to withhold the release of the so-called "Napolist" until the completion of the final list and affidavit.
But soon after, committee chair Guingona made the list public.
The 10 incumbent senators in the first list were: Revilla, Estrada, Enrile, Vicente Sotto III, Loren Legarda, Aquilino "Koko" Pimentel III, Alan Cayetano, Gringo Honasan, Escudero and JV Ejercito.
But the camp of Napoles would later clarify that Ejercito was wrongly included due to "encoding error." The senator was not included in the new affidavit, Rivera confirmed.
Former senator Villar and the late former senator Robert Barbers were also in the list on which Napoles had affixed her signature and two thumb marks.
Former Batanes congressman and now Budget Secretary Abad, as well as Technical Education and Skills Development Authority head Joel Villanueva, were also included.
The list has the names of 69 incumbent and former congressmen as well as those of alleged conduits for implementing agencies like the Departments of Agriculture and Agrarian Reform, National Livelihood Development Corp., Technology Resource Center and National Agribusiness Corp.
The STAR on May 13 published an alleged list from Napoles that included 11 incumbent and former senators: Enrile, Estrada, Revilla, Sotto, Legarda, Pimentel, Villar, Cayetano, Honasan, Escudero and Barbers. With Edu Punay, Mike Frialde