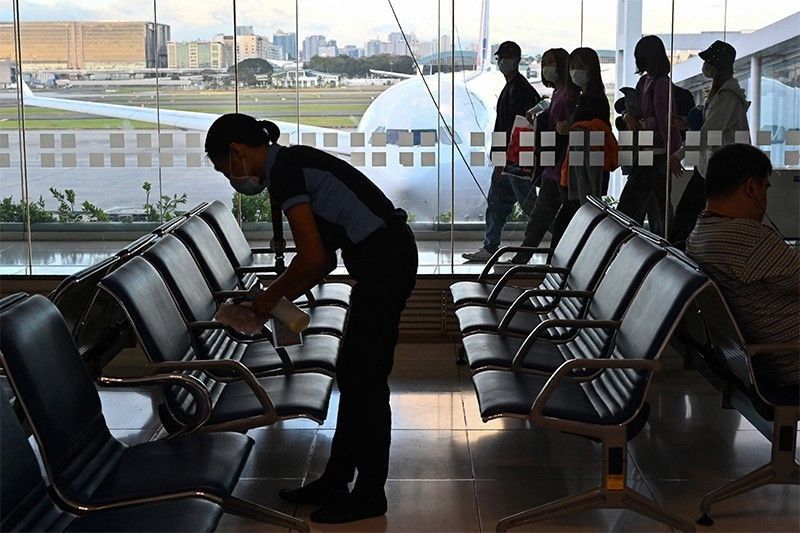 Travel and tourism during COVID-19
LATEST UPDATE: November 27, 2020 - 10:06am
LOCATION:
+ Follow Story
16 hours ago
Presidential spokesperson Harry Roque says the Philippines will allow the entry of Filipinos' foreign spouses and children who are traveling with them, regardless of age, starting December 7.
3 days ago
International air travellers will need to be vaccinated against COVID-19 to fly with Australia's Qantas, the airline's CEO says, adding the rule was likely to become "common" across the industry.
Qantas CEO Alan Joyce says the Australian flag carrier would implement the measure once a coronavirus vaccine was made available to the public.
"We are looking at changing our terms and conditions to say for international travellers that we will ask people to have a vaccination before they can get on the aircraft," he says. — AFP
November 23, 2020
Coronavirus has wrought havoc across the world, but for Thailand's "sea gypsies" it has brought welcome respite from the threat of mass tourism.
Since the pandemic began, life has been easier for Sanan Changnam and his people — there's an abundance of fish to eat and real estate projects on their ancestral land in the tourist hotspot of Phuket have come to a standstill.
In the turquoise waters of the Andaman Sea, connected to the surface by a slender pipe stuck in his mask — a "thread of life" allowing him to breathe — Sanan stalks fish and shellfish, spear in hand.
A few kicks of his flippers and he skewers three groupers before rising to the surface.
With Thailand closed to foreign visitors for the past eight months, tourist boats have been stuck at the quay and fishing has been easier for the Chao Lay, or "people of the sea". — AFP
November 21, 2020
Tourism Secretary Bernadette Romulo-Puyat visits Ilocos Sur as the province reopens to visitors, including tourists from Metro Manila.
"We are making another big leap forward with the reopening of Ilocos Sur to tourists from the rest of Luzon. Staying true to our strategy of "slowly but surely" reopening our destinations, we have taken careful steps to ensure that the public's health and safety continues to be the priority in this great undertaking," says Puyat.
November 3, 2020
Mists hung low over Machu Picchu, adding an eerie, otherworldly atmosphere as delighted tourists entered the iconic Inca citadel for the first time after eight months of lockdown due to the coronavirus.
Two couples from France and Chile were the lucky first visitors on Monday to the UNESCO World Heritage site. They were brought to the ruins by bus from the tiny Machu Picchu Pueblo village at the foot of the 2,400-meter (7,874 feet) mountain atop which the ruins sit.
"We're really happy to be here today," Frenchwoman Veronique, who declined to give her surname, told AFP.
She was left stranded in Peru with her husband and two children by the pandemic.
Peru ordered a total lockdown and closed its borders in March. It has since become one of the worst-affected countries in Latin America, with the highest mortality rate in the world, after the tiny republic of San Marino. — AFP
October 30, 2020
Few things say Rio de Janeiro like a "roda de samba" legendary jam session where musicians sit in a circle gushing out Brazil's most beloved music and a tight crowd of beer-guzzling revelers surrounds them.
But the coronavirus pandemic has forced the performers who keep this tradition alive to adapt.
"We don't sit in a circle anymore. We play on a stage in front of the audience," said Moacyr Luz, 62, founder of the Samba do Trabalhador (Worker's Samba), which held a Monday evening roda de samba (samba circle) for 15 years until the pandemic hit.
Luz, a giant of Brazilian music who is up for a Latin Grammy this year, said playing samba without a crowd was like a footballer scoring a goal without celebrating.
"It doesn't feel natural. But at least the samba is flowing. We're living in a time of transformation, so everybody has to adapt," the gray-bearded songster told AFP. — AFP
October 24, 2020
The Department of Tourism announces that the Municipal Government of El Nido will ease its travel restrictions starting October 30.
It will allow tourists to enter the island under a test-before-travel policy. — Philstar.com/Rosette Adel
October 21, 2020
Thailand has welcomed its first group of tourists in seven months, as part of an experiment aimed at testing if a wider opening is possible as the coronavirus cripples the kingdom's economy.
A planeload of 39 Chinese tourists flew into Bangkok's Suvarnabhumi Airport Tuesday evening from Shanghai to a welcome from staff in full protective equipment.
The visitors underwent health checks and had their luggage disinfected, before donning protective clothing themselves and being whisked away for two weeks' quarantine. — AFP
October 16, 2020
Presidential spokesperson Harry Roque says the Inter-Agency Task Force for the Management of Emerging Infectious Diseases has lifted the restriction of non-essential outbound travel of Filipinos effective Oct. 21, 2020.
The COVID-19 task force also allows Filipinos aged 15 to 65 years old to go out (previously 18-60 years old).
October 5, 2020
Singapore hopes to start "cruises to nowhere" in a bid to revive its coronavirus-hit tourism industry, but critics warned Monday against a risky move that could spark Covid-19 outbreaks.
The global cruise industry has largely ground to halt due to virus-related travel restrictions, and following a series of outbreaks on packed vessels.
But the tourism board in Singapore, a key port and transport hub in Asia, is holding talks with cruise lines on putting on voyages that depart from and return to the city-state.
Officials will put in place "appropriate measures that will enable cruises to resume in a safe manner," the board's cruise director Annie Chang told AFP. She did not say when the cruises might start.
However Marcie Keever, oceans and vessels program director at Friends of the Earth, warned about "the potential to have Covid outbreaks" on cruise liners. — AFP
October 5, 2020
Frolibar Bautista, mayor of Malay town in Aklan, says resort island Boracay has been COVID-free because people there have been following minimum health standards.
"Kahit may turista, sinusunod ang health protocols. Talagang safe na safe ang mga tao dito," he says after Boracay was opened to domestic tourism on October 1.
He says at a Palace briefing that there are now 204 establishments that have resumed operating in Boracay and the local government has already issued 365 certificates to operate.
September 29, 2020
Singapore Airlines says it had scrapped plans for "flights to nowhere" aimed at boosting its coronavirus-hit finances after an outcry over the environmental impact.
With the aviation industry in deep crisis, several carriers -- including in Australia, Japan and Taiwan -- have been offering short flights that start and end at the same airport to raise cash.
They are designed for travel-starved people keen to fly at a time of virus-related restrictions, and have proved surprisingly popular. — AFP
September 23, 2020
Japan is considering easing strict coronavirus border restrictions from October to allow more foreign nationals to enter, local media report.
Tourists would still be banned and only longer-term visas approved, the reports say, as the nation looks to rebuild its economy and prepare for the postponed Olympics next year.
Japan currently bans entry for foreigners from most countries, but has been negotiating the gradual resumption of cross-border business travel. — AFP
Find the latest travel and tourism news from around the world amid the coronavirus pandemic. Main image by AFP/Romeo Gacad