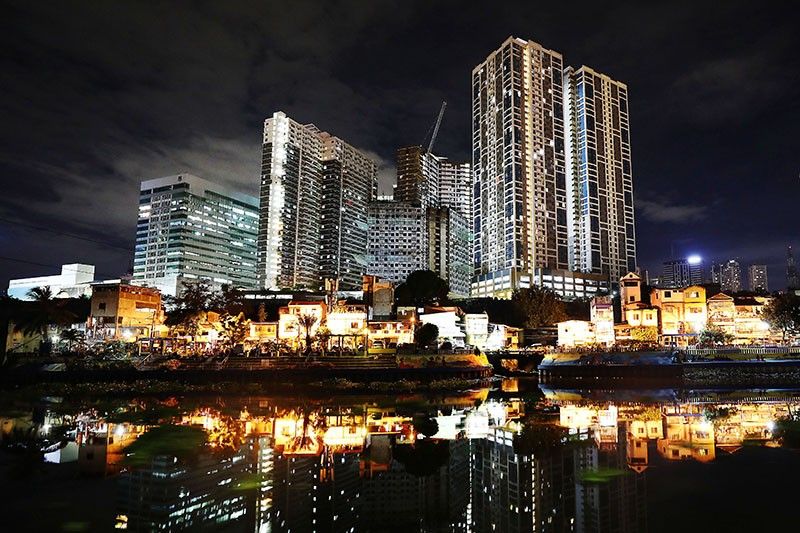 Business impact of COVID-19
LATEST UPDATE: January 18, 2021 - 12:18pm
LOCATION:
+ Follow Story
3 days ago
China's economy grew at the slowest pace in more than four decades last year despite a rebound after the country's coronavirus outbreak, official data showed Monday.
The 2.3 percent expansion is the lowest figure since the Chinese economy embarked on major reforms in the 1970s.
The National Bureau of Statistics (NBS) said last year was a "grave and complex environment both at home and abroad" with the pandemic having a "huge impact".
The figure was a marked slowdown from 2019 growth of 6.1 percent — itself already the lowest in decades — with the country hit by weak domestic demand and trade tensions.
But it is better than that forecast by an AFP poll of analysts from 13 financial institutions, who predicted a 2.0 percent expansion. — AFP
January 8, 2021
Shares in South Korean automaker Hyundai soar on the back of reports it was in talks with Apple for a joint project to manufacture self-driving electric vehicles.
Hyundai Motor shares rocketed 19.4% in Seoul, with its affiliate Kia also jumping 8.4 percent at the close. — AFP
December 17, 2020
New Zealand roared back from a coronavirus-induced recession with record economic growth of 14.0 percent in the July-September quarter, official data showed Thursday.
The strong figures followed an 11.0-percent decline in the previous quarter — when New Zealand was in a COVID-19 lockdown.
Finance Minister Grant Robertson said the recovery was a pay-off for New Zealand's success in containing the virus, with only 25 deaths among a population of five million.
"The economic bounce back is a result of our decision to go hard and early during the COVID-19 pandemic," he said.
"We supported more than 1.8 million workers through the Wage Subsidy Scheme and invested billions of dollars into infrastructure, training and creating jobs." — AFP
December 14, 2020
Confidence among major Japanese manufacturers has recovered further after plunging on pandemic woes to its worst level since the global financial crisis, a key survey showed Monday.
The Bank of Japan's December Tankan business survey — a quarterly poll of about 10,000 companies — showed a reading of minus 10 among big manufacturers, after recording minus 27 in the previous survey and minus 34 in the June survey.
The latest figure compared with a market consensus estimate of minus 15.
The June figure was the lowest since June 2009 when worldwide financial shocks hammered the planet's third-largest economy. — AFP
November 30, 2020
Asian markets fell Monday as hopes that vaccines will soon be rolled out were overshadowed by concerns over a pick-up in virus cases around the world.
Oil prices were also under pressure ahead of a two-day meeting of major producers, with traders worried that they had still not agreed on an extension of the output cuts that have provided crucial support for most of the year.
World markets have surged this month thanks to breakthroughs on vaccines, while investors have also been cheered by Joe Biden's US presidential election win and signs that incumbent Donald Trump will allow a smooth transfer, despite claiming voter fraud.
With at least three vaccines in the pipeline and approval in some countries said to be just weeks away, there is a general feeling of optimism on trading floors as dealers forecast an economic rebound next year. — AFP
November 27, 2020
British electric appliance pioneer Dyson, famed for its bagless vacuum cleaners, announces that it will invest $3.7 billion to double its product range by 2025.
Dyson says in a statement that it will plough the cash into operations in Britain, the Philippines and Singapore under ambitious plans to also start producing goods designed for outside the home.
The news comes after Dyson abandoned plans last year to produce electric cars after concluding that the project was commercially unviable. — AFP
November 26, 2020
Most stocks rose in the US rose Thursday — continuing this month's vaccine-fuelled markets rally — but traders moved cautiously, with an eye on virus infections across the globe that are forcing governments to impose containment measures.
With at least three inoculations in the pipeline and possibly rolled out within weeks, the general mood on trading floors is upbeat for 2021, but a fresh batch of data out of the US underlined the immediate impact of the disease and the long road ahead for economies.
And notes from the Federal Reserve's latest policy meeting warned that the country's recovery would be tougher without a new stimulus package.
Official figures showed applications for jobless aid rose for a second straight week as businesses were hit by a sharp increase in new infections and deaths that have led several major cities including New York and Los Angeles to close bars and restaurants.
The readings gave traders a dose of reality following weeks of fervent buying in reaction to vaccine successes and Joe Biden's election victory. — AFP
November 24, 2020
Airline revenue this year will plunge 60% as a result of the coronavirus pandemic which threatens the survival of the industry, the International Air Transport Association (IATA) says.
"The COVID-19 crisis threatens the survival of the air transport industry," with 2020 likely to go down in history as its "worst" year ever, IATA says.
It says that while airlines have been slashing costs by $1 billion a day, grounding fleets and cutting jobs, they are still racking up huge and "unprecedented" losses. — AFP
November 19, 2020
The global economy faces a hard road back from the COVID-19 downturn, and nations should remove trade barriers on medical technologies to aid the recovery, the IMF chief says on Thursday.
"While a medical solution to the crisis is now in sight, the economic path ahead remains difficult and prone to setbacks," IMF Managing Director Kristalina Georgieva says in a blog post ahead of this week's G20 leaders summit held virtually. — AFP
November 17, 2020
Asian airlines rallied Tuesday as hopes the world could begin to return to normal were boosted by news that another vaccine candidate appeared to be effective against the coronavirus.
However, broader markets struggled to build on Wall Street's rally, with investors moving out of tech firms and others that have benefited during the pandemic.
Surging infections across the US and Europe and concerns that Washington lawmakers are unlikely to pass any big stimulus package before the end of the year were also causing nervousness on trading floors.
The mood among dealers has been upbeat this month after Joe Biden's US election win paved the way for a little more certainty on the world stage and pharma giants Pfizer and BioNTech announced their virus vaccine had been 90 percent effective.
The news fanned hopes the global economy could soon begin to get back on track. — AFP
November 6, 2020
Toyota announces it has almost doubled its full-year forecasts, saying sales and production were recovering quickly from the coronavirus pandemic, which has shredded the global auto market this year.
Japan's top car maker now projects net profit of 1.42 trillion yen ($137 billion) for the fiscal year to March 2021, up from an earlier estimate of 730 billion yen.
It says full-year sales are now expected to hit 26 trillion yen, against a previous estimate of 24 trillion yen. — AFP
November 5, 2020
Chinese e-commerce leader Alibaba reports solid 30% year-on-year revenue growth for the July-September quarter, providing some much-needed good news amid turmoil over its Ant Group affiliate's abandoned IPO.
Hangzhou-based Alibaba said revenue -- a key measure of the internet giant's business health as well as overall Chinese consumer spending -- rose to 155 billion yuan ($23 billion).
The announcement comes ahead of China's November 11 "Single's Day" shopping festival next week, which was popularized by Alibaba and is now the world's biggest annual shopping event. — AFP
November 5, 2020
Japanese gaming giant Nintendo says its first-half net profit soared 243.6 % on-year as it upgraded its full-year sales and profit forecasts, with coronavirus lockdowns driving extraordinary demand.
The gaming industry has been one of the few sectors to thrive during the pandemic, with people forced to stay at home often turning to games for some escapism and to pass time.
That has translated into soaring sales and demand, with Nintendo saying its bottom line profit jumped to 213.1 billion yen ($2.0 billion) for the six months to September. — AFP
October 31, 2020
According to official data published Saturday, factory activity in China dipped slightly in October but remained in growth territory as the world's second-largest economy continued its recovery after being hammered by the coronavirus.
The closely watched Purchasing Managers' Index (PMI) is a key gauge of manufacturing activity in China, which has largely bounced back after plunging in February because of tough pandemic-control measures.
In October, the PMI figure stood at 51.4, slightly below the reading of 51.5 for September. Any figure above the 50-point mark represents growth while below it signals a contraction. — AFP
October 29, 2020
Samsung Electronics reports that its net profit jumped by almost half in the third quarter, as its mobile and chip businesses were boosted by US sanctions against its Chinese rival Huawei.
The world's biggest memory chip maker says profits in the July-to-September period were up 48.8% year-on-year to 9.36 trillion won ($8.3 billion), beating expectations according to Bloomberg News.
The firm is the flagship subsidiary of the giant Samsung Group, by far the biggest of the family-controlled conglomerates that dominate business in the world's 12th largest economy, and it is crucial to South Korea's economic health. — AFP
October 28, 2020
Japan's Sony reports net profit doubled in the April-September period and revised up its full-year net profit forecast, citing growth in key sectors -- including gaming -- and financial factors.
The results beat analyst expectations, and came as the tech giant gearing up to launch its much-anticipated PlayStation 5 console next month, setting up a holiday season head-to-head with the new Xbox.
The gaming sector has been one of the few beneficiaries of the coronavirus pandemic, with people around the world forced indoors by lockdowns increasingly turning to gaming, with title downloads and streaming soaring. — AFP
October 28, 2020
As the COVID-19 pandemic swept the United States, Keith managed to keep his job in financial services, but his income dried up as commissions grew scarce.
Suddenly struggling financially, Keith began relying on meals handed out by a charity in Bethesda, a suburb of Washington known for the wealth of which the 52-year-old now finds himself bereft.
"We try to save what we can," Keith, well-dressed in a red-striped polo shirt, told AFP on condition of anonymity. "I don't want to take more resources than I need. If I don't have to come every week I won't."
Eight million more people have been driven into poverty as the United States struggles with the world's biggest coronavirus outbreak — triggering tens of millions of layoffs and a sharp contraction in growth. — AFP
October 27, 2020
HSBC says its third-quarter post-tax profits plunged 46% on-year as the Asia-focused banking giant continued to take a hammering from the coronavirus pandemic and spiralling China-US tensions.
The global economic slowdown caused by the virus has hit financial giants hard and there is little optimism on the horizon as Europe and the United States head into the winter with infections soaring once more.
But HSBC has a further headache -- geopolitical tensions via its status as a major business conduit between China and the West. — AFP
October 16, 2020
Global stock markets plunge, with investor sentiment hammered by fears that tighter coronavirus restrictions could derail the tentative economic recovery.
In London, equities closed 1.7% lower after the British government announced that the capital faces more stringent coronavirus restrictions as case numbers rise.
Paris suffered a drop of more than 2.0% after the French government announced a curfew for the capital and eight other cities -- covering almost a third of the country's population -- for as long as six weeks. — AFP
October 14, 2020
Singapore's coronavirus-hit economy shrank at a slower pace in the third quarter as restrictions were eased, official data shows Wednesday, but the trade-reliant city-state still faces a long road to recovery.
The financial hub plunged into its first recession since the 2008 global financial crisis in the second quarter when the government closed businesses as part of drastic measures to contain infections.
One of the world's most open economies, Singapore is seen as a bellwether for the health of global trade, and its economy's dramatic deterioration rang alarm bells.
"The worst is over for Singapore, but the path to recovery is still a bit bumpy," Song Seng Wun, a regional economist with CIMB Private Banking, told AFP. — AFP
October 9, 2020
Canadian coffee shop chain Tim Hortons vows to create 2,000 UK jobs by 2022, tapping into strong drive-through demand as a result of the coronavirus pandemic.
The upbeat news comes amid challenging times for Britain's under-pressure hospitality sector, which is reeling from the government's tightening of coronavirus restrictions last month. — AFP
October 9, 2020
The Nagkaisa Labor Coalition says it rejects a proposal by the Department of Labor and Employment to extend the six-month floating status of employment and the deferment of the mandated 13th month pay.
"The labor standards law cannot be amended or repealed by executive fiat. The spring cannot be above the source," the labor coalition says.
"Under the law, suspension of employment cannot exceed six months. The DOLE's proposal allowing an extension of the period when employment is suspended for six more months does not have any support in law," it also says.
"Nagkaisa is gravely concerned with the various extra-legal measures that have recently been proposed in the guise of coping with the current pandemic including the extension of employment floating status and the deferment of the payment of 13th month pay and other benefits," it adds.
According to its website, the coalition counts the following groups and formations as members:
Alliance of Free Workers (AFW)
All Filipino Workers Confederation (AFWC)
Automobile Industry Workers Alliance (AIWA)
Alab Katipunan
Association of Genuine Labor Organizations (AGLO)
Associated Labor Unions (ALU)
Associated Labor Unions- Association of Professional Supervisory Officers Technical Employees Union (ALU-APSOTEU)
ALU-Metal
Associated Labor Unions-Philippine Seafarers'Union (ALU-PSU)
ALU-Textile
ALU-Transport
Associated Labor Unions-Visayas Mindanao Confederation of Trade Unions (ALU-VIMCOMTU)
Alliance of Progressive Labor (APL)
Association of Trade Unions (ATU)
Bukluran ng Manggagawang Pilipino (BMP)
Confederation of Independent Unions (CIU)
Confederation of Labor and Allied Social Services (CLASS)
Construction Workers Solidarity (CWS), Federation of Coca-Cola Unions (FCCU)
Federation of Free Workers (FFW)
Kapisanan ng Maralitang Obrero (KAMAO)
Katipunan
Pambansang Kilusan ng Paggawa (KILUSAN)
Kapisanan ng mga Kawani sa Koreo sa Pilipinas (KKKP)
Labor education and Research Network (LEARN)
League of Independent Bank Organizations (LIBO)
Manggagawa para sa Kalayaan ng Bayan (MAKABAYAN)
MARINO
National Association of Broadcast Unions (NABU)
National Federation of Labor Unions (NAFLU)
National Mines and Allied Workers Union (NAMAWU)
National Association of Trade Unions (NATU)
National Confederation of Labor (NCL)
National Confederation of Transport Union (NCTU)
National Union of Portworkers in the Philippines (NUPP)
National Union of Workers in Hotel, Restaurant and Allied Industries (NUWHRAIN)
Philippine Airlines Employees Association (PALEA)
Pepsi Cola Employees Union of the Philippines (PEUP)
Philippine Government Employees Association (PGEA)
Pinag-isang Tinig at Lakas ng Anakpawis (PIGLAS)
Philippine Integrated Industries Labor Union (PILLU)
Philippine Independent Public Sector Employees Association (PIPSEA)
Partido Manggagawa (PM)
Philippine Metalworkers Alliance (PMA)
Public Services Labor Independent Confederation (PSLINK)
Philippine Transport and General Workers Organization (PTGWO)
SALIGAN
Trade Union Congress of the Philippines (TUCP)
Workers Solidarity Network (WSN)
October 8, 2020
Samsung Electronics flags a leap of nearly 60% in third-quarter operating profits, as its mobile and chip business were boosted by US sanctions against its Chinese rival Huawei.
The South Korean tech giant says in an earnings estimate that it expected operating profit to reach 12.3 trillion won ($10.6 billion) for July to September, up from 7.8 trillion won in the same period last year.
The prediction would represent the firm's biggest operating profit of any quarter for two years and was also ahead of analyst forecasts.
October 2, 2020
Amazon says that slightly more than 19,800 of its employees have tested positive for COVID-19 since the start of March.
Data on the e-commerce giant's 1.37 million frontline workers, including those at its Whole Foods Market grocery stores in the United States, showed a lower infection rate than expected, Amazon says.
The release of the figure comes as some workers in logistics centers have criticized the company's safeguards to protect them from the pandemic as well as its reluctance to share information about colleagues who get infected. — AFP
October 1, 2020
British aerospace giant Rolls-Royce, facing plunging demand as the coronavirus pandemic sparks an air transport crisis, launches plans to shore up its finances by up to £5.0 billion ($6.4 billion, 5.5 billion euros).
The company, whose products power Airbus and Boeing aircraft, is strengthening its balance sheet to help navigate the damaging fallout from the ongoing global health emergency that has grounded jets worldwide.
Rolls-Royce says in a statement that the package would comprise a £2.0-billion rights issue of shares, a bond offering of at least £1.0 billion, a new £1.0-billion loan facility, plus state support from UK Export Finance for an extension of an existing loan guarantee of up to £1.0 billion. — AFP
September 28, 2020
As the president is set to announce new quarantine classifications for Metro Manila on Monday, the Trade department says it supports the downgrading to a modified general community quarantine for the capital region.
Trade Secretary Ramon Lopez says that a further opening up of the economy will be favorable without easing health standards.
"Kahit na GCQ, but open some more the economy. That is a good alternative. Kahit di Modified GCQ, kahit GCQ parin basta remaining sector... allow more workers makabalik sa trabaho," Lopez says in a CNN Philippines report.
September 27, 2020
Many retailers have been caught off-guard by coronavirus restrictions and shifting consumer habits, but DIY stores are enjoying a boom as people spend money on their homes and gardens.
A recent report by consulting group McKinsey found that faced with a prolonged period of financial uncertainty due to the pandemic, consumers "intend to continue shifting their spending largely to essentials... and cutting back on most discretionary categories".
Data has shown consumers worldwide are cutting back on clothing and shoes, but spending more to improve their homes. — AFP
September 24, 2020
Major automakers Tesla, Volvo, Ford and Mercedes-Benz have sued the US government over tariffs on Chinese goods, demanding customs duties paid on imports be returned, with interest.
The lawsuits, which were filed in recent days in the New York-based Court of International Trade, concern tariffs imposed by the Office of the US Trade Representative (USTR) on imports from China, which Tesla in its filing called "arbitrary, capricious, and an abuse of discretion." — AFP
September 22, 2020
Tesla chief Elon Musk has promised "insane" battery news at a streamed event after the company's annual shareholders' meeting on Tuesday.
Speculation includes that Tesla will announce it has come up with ways to pack more energy into battery cells, slash production cost and dramatically extend battery life.
Musk, however, seemed to tap the brakes a bit on expectations in a tweet Monday, saying announcements will affect long-term production, particularly of Tesla's Semi, Cybertruck and Roadster models. — AFP
September 21, 2020
Europe's top equity markets tumbled by 3.0% Monday, as investors fretted over mounting fears of a second wave of coronavirus and a lack of fresh central bank stimulus, dealers said.
The banking sector was also rocked by the findings of an international journalism investigation that claimed massive sums of allegedly dirty money have flowed for years through some of the world's largest banking institutions.
In late morning deals, London stocks dived by 3.0% after Health Minister Matt Hancock warned Britain's coronavirus crisis was at a "tipping point", fueling expectations of more restrictions aimed at curbing COVID-19.
In midday eurozone trade, Frankfurt and Paris had each shed 3.0%, Milan dropped by 3.3%, and Madrid sank by 3.5% after a partial virus lockdown began in the Spanish capital's densely-populated south.
The European single currency was pushed under $1.18 as dealers sought the traditional safety of the dollar, while oil prices shed almost 2.0% on weak energy demand concerns. — AFP
September 17, 2020
New Zealand's economy plunges into recession for the first time in a decade, posting a record contraction in the June quarter due to the coronavirus pandemic, as Prime Minister Jacinda Ardern heads into next month's general election.
"The 12.2-percent fall in quarterly GDP is by far the largest on record in New Zealand," the national statistics agency says.
The reporting period covers April to June, coinciding with a strict lockdown that began in late March and began easing in late May. — AFP
September 15, 2020
Data show Chinese retail sales rose in August for the first time since the coronavirus pandemic struck as officials try to kickstart the crucial domestic consumer sector to fuel recovery in the world's number-two economy.
Spending had previously remained sluggish despite China bringing the virus largely under control, with shoppers still cautious owing to global uncertainty -- but economists believe the latest data suggests recovery is on a firmer footing.
The key indicator of consumer sentiment rose 0.5 percent on-year last month. A poll of analysts by Bloomberg News had forecast no growth. — AFP
September 11, 2020
Official data show that the British economy continues to recover in July, expanding by 6.6 percent, a slower pace of growth than in June when the country emerged from its virus lockdown.
Gross domestic product had surged by 8.7 percent in June and by 2.4 percent in May, following a record contraction of 20 percent in April, the Office for National Statistics says in a statement.
"While it has continued steadily on the path towards recovery, the UK economy still has to make up nearly half of the GDP lost since the start of the pandemic," says ONS director of economic statistics, Darren Morgan. — AFP
September 8, 2020
Google says it is dropping talks to rent office space for up to 2,000 staff in Dublin, after most of the US tech giant's employees were told to work from home until 2021 amid the global pandemic.
A spokeswoman says that "after much deliberation" Google "has decided not to proceed with leasing" the Sorting Office -- a seven-floor development in the "Silicon Docks" of the Irish capital.
Irish media reported the 202,000-square-foot (18,700-square-metre) office would have housed up to 2,000 employees in the Republic -- where the internet search leader maintains its European headquarters and a stable of 8,000 staff. — AFP
September 3, 2020
Amazon will create 7,000 permanent jobs in the UK by the end of the year, the American e-commerce giant announces in a boost for Britain's virus-hit economy.
"The company will add a further 7,000 new permanent roles by the end of 2020 across more than 50 sites, including corporate offices and two new fulfilment centres," Amazon says in a statement, adding that its total permanent UK workforce will number more than 40,000.
While a number of British retailers have axed thousands of jobs following the country's lockdown, others are creating vast amounts of new positions to cope with a surge in online shopping. — AFP
September 2, 2020
Australia has fallen into recession for the first time in three decades and Brazil's economy shrank by almost 10 percent because of the coronavirus, leaving China as the only major nation still recording economic growth during the pandemic.
A raft of bleak data from India to Europe in recent days has laid bare the toll from lockdowns as nations try to keep a lid on an illness that has killed more than 850,000 people and infected over 25 million.
The challenges were further highlighted Wednesday when Australia announced a record contraction of seven percent despite authorities providing billions of dollars in support to struggling firms.
"Today's national accounts confirm the devastating impact on the Australian economy from Covid-19," said Treasurer Josh Frydenberg. — AFP
August 31, 2020
China's "big four" banks have suffered a rare profit decline in the first half of the year, joining a growing body of financial institutions worldwide that have been hit by the coronavirus pandemic.
Bad-loan provisions rose as the pandemic hammered Chinese business activity, causing a historic first-quarter contraction and weighing on an economy that was already in long-term growth slowdown.
Bloomberg News said the profit declines — reported over the weekend — were the largest in more than a decade for the banks, which are closely supervised by the Chinese government and for years have typically posted slight but steady increases.
"The pandemic sent the world economy into a serious recession, posing heavier pressure on banks' business operations and asset quality in 2020," Industrial and Commercial Bank of China ICBC said in an earnings report. — AFP
August 26, 2020
Shares in Chinese e-commerce giant Alibaba jump to a new record, a day after the group's financial arm filed paperwork for a joint Shanghai and Hong Kong listing.
The IPO for Ant Group, the financial technology arm of Alibaba, is being billed as one of the world's largest listings, potentially eclipsing the record $29 billion raised by Saudi Aramco last year.
The company filed paperwork on Tuesday evening for a joint listing closer to home as tensions spiral between the United States and China. — AFP
August 24, 2020
US stocks opened the week like they closed last week: on a high note, amid news the US Food and Drug Administration (FDA) had authorized the use of a COVID-19 treatment.
About 30 minutes into the Monday trading session, the benchmark Dow Jones Industrial Average climbed 0.5% to 28,081.45.
The broad-based S&P 500 jumped 0.7% to 3,419.92, and the tech-rich Nasdaq Composite Index increased 0.8% to 11,400.51, remaining buoyant after more than 30 record closes in 2020. — AFP
August 20, 2020
Home-sharing startup Airbnb says it has confidentially filed with US regulators for an initial public offering.
The number of shares and price has yet to be determined, according to the San Francisco-based company.
The move comes as the travel industry suffers an economic blow from the coronavirus pandemic amid slowdowns in tourism. — AFP
August 18, 2020
Marks and Spencer, the British retail chain selling clothing and food, is to cut around 7,000 jobs as the coronavirus pandemic keeps shoppers away from its stores, it announces.
The job cuts, to be carried out over the next three months, include losses from its central support centre, in regional management and in its UK stores, M&S says in statement. – AFP
August 14, 2020
Mobile wallet GCash announces that it has breached P100 billion in terms of transaction volume during the first seven months of 2020.
It is a 280-percent surge from the same period in 2019.
"The Philippines is in the midst of a cashless revolution, which is thrust upon us more swiftly by the pandemic. We at GCash continue to innovate and provide relevant financial services that will help Filipinos to do more with less by using their mobile phones," GCash President Martha Sazon says.
August 12, 2020
Hong Kong carrier Cathay Pacific says it lost HK$9.9 billion (US$1.27 billion) in the first half of this year, making it the latest major airline to reveal how badly the coronavirus pandemic has eviscerated its business.
"The first six months of 2020 were the most challenging that the Cathay Pacific Group has faced in its more than 70-year history," chairman Patrick Healy says in a stark statement announcing the results.
"The global health crisis has decimated the travel industry and the future remains highly uncertain, with most analysts suggesting that it will take years to recover to pre-crisis levels," he adds. — AFP
August 9, 2020
The Department of Energy is urging 'conscious consumption' of electricity as more people are expected to stay home because of the quarantine and because of jobs lost due to the recession.
"I am appealing to our consumers; let us be mindful of our power consumption habits in this pandemic time," the department quotes Energy Secretary Alfonso Cusi as saying.
He says keeping piwer consumption down will also help lower expenses as Filipinos face the prospect or the reality of losing their jobs.
"As the nation battles the economic recession, there is a need to be conscious of our expenditures. Napakahalaga ng pagtitipid para sa ating lahat sa mga panahong ito," he says.
August 7, 2020
Uber reports a $1.8 billion loss in the recently ended quarter as the COVID-19 pandemic caused its shared-ride business revenue to plunge.
Overall revenues skidded 29 percent from a year ago to $2.2 billion, as gains from delivery failed to offset a massive 75 percent drop in its ride-hailing bookings, San Francisco-based Uber said.
Uber shares dropped more than four percent in after-market trades that followed release of the earnings figures. — AFP
August 6, 2020
Toyota warns of a 64% drop in full-year net profit and reported a slump in quarterly earnings, as the coronavirus pandemic shreds the global auto market.
Japan's top car maker, which had previously declined to give a bottom-line forecast because of ongoing uncertainty, now projects net profit at 730 billion yen ($6.9 billion) for the fiscal year to March, down from 2.07 trillion yen the previous year.
Its forecast of annual operating profit remained unchanged at 500 billion yen, down nearly 80% from the previous year. — AFP
August 6, 2020
Nintendo says its quarterly net profit leapt to $1 billion, as the gaming industry enjoys extraordinary demand from players stuck at home because of the coronavirus pandemic.
The Japanese gaming giant says its net profit rose to 106.5 billion yen for the three months to June from 16.6 billion yen a year earlier. — AFP
July 23, 2020
The central bank says South Korea's economy recorded its worst performance in more than 20 years in the second quarter as the coronavirus pandemic hammered its exports.
Asia's fourth-largest economy contracted 2.9 percent year-on-year in the April-June period, the Bank of Korea says.
It was the fastest decline since a 3.8 percent drop in the fourth quarter of 1998, in the aftermath of the Asian financial crisis. — AFP
July 21, 2020
Swedish auto maker Volvo forecasts a strong rebound in the second half of 2020, after the coronavirus hit its results in the first six months of the year.
With sales falling by 14 percent from January through June, Volvo, which is owned by the Chinese car maker Geely, says it was poised to bounce back after gaining market share in China, the United States, and Europe.
The company nonetheless posted a first half net loss of 1.17 billion kroner (114 million euros, $130 million), compared with a net profit of 3.4 billion kroner for the same period a year earlier. — AFP
July 21, 2020
Swiss pharma giant Novartis reports higher profits in the first half of the year despite the coronavirus pandemic causing swings in sales.
During the first six months of the year net profit came in at $4 billion (3.5 billion euros), a 9 percent increase when currency fluctuations are stripped out.
Sales rose by 6 percent from the same period last year to $23.6 billion. — AFP
July 17, 2020
Hong Kong carrier Cathay Pacific issues a profit warning, estimating it will suffer a historic loss of HK$9.9 billion (US$1.3 billion) in the first half of 2020 as it reels from the coronavirus pandemic.
"The Group will record a net loss attributable to shareholders of approximately HK$9.9 billion, which compares to a net profit to shareholders of HK$1.3 billion for the same period in 2019," the airline says in a statement.
Like airlines worldwide, Cathay has been battered by the evaporation of global travel during the pandemic. — AFP
Companies are facing massive challenges as they continue to navigate the impacts of the COVID-19 pandemic. Follow this page for regular updates. Main image by The STAR/Miguel de Guzman