US gun control
+ Follow Story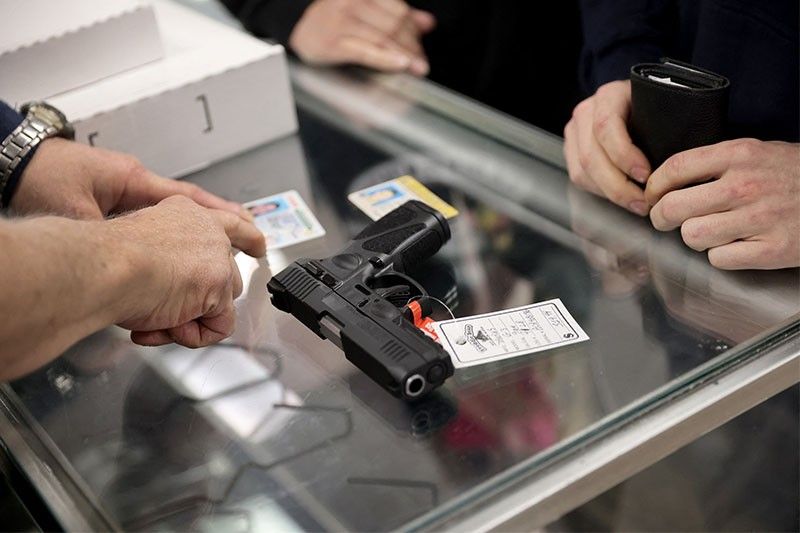 June 25, 2022
US lawmakers break a decades-long stalemate on firearms control, passing the first major safety regulations in almost 30 years, less than 24 hours after the Supreme Court bolstered the right to bear arms.
Gun regulation is a touchstone issue for both conservatives and liberals in the United States that has consumed national politics amid multiple mass shootings in recent years.
The Democratic-led House of Representatives voted to rubber-stamp a bipartisan Senate gun bill that -- while modest -- amounts to the first significant piece of legislation to regulate firearms since 1994. — AFP
June 24, 2022
US senators advance a bipartisan bill addressing the epidemic of gun violence convulsing the country, approving a narrow package of new firearms restrictions and billions of dollars in mental health and school security funding.
The reforms -- which are almost certain to be rubber-stamped by the House of Representatives on Friday -- fall short of the demands of gun safety advocates and President Joe Biden, but have been hailed as a life-saving breakthrough after almost 30 years of inaction by Congress.
The Bipartisan Safer Communities Act, which was backed by all 50 Democratic senators and 15 Republicans, includes enhanced background checks for buyers under the age of 21, $11 billion in funding for mental health and $2 billion for school safety programs. — AFP
June 24, 2022
The US Supreme Court rules that Americans have a fundamental right to carry a handgun in public, a landmark decision with far-reaching implications for states and cities across the country confronting a surge in gun violence.
The 6-3 decision strikes down a more than century-old New York law that required a person to prove they had a legitimate self-defense need to receive a permit to carry a concealed handgun outside the home.
Five other states, including California, and Washington, the nation's capital, have similar laws and the ruling will curb their ability to restrict people from carrying guns in public.
The ruling represents a major legal shift on the issue of gun control, but it will likely take time for the real impact on the streets and citizens of US cities to make itself felt. — AFP
June 14, 2022
Hollywood stars including Amy Schumer, Julianne Moore and Mark Ruffalo sign a letter calling for movies and television shows to depict responsible gun ownership and to limit scenes involving children with firearms.
The open letter, penned in response to recent US mass shootings in Uvalde and Buffalo, was also signed by top producers J.J. Abrams ("Lost"), Shonda Rhimes ("Bridgerton") and Lucasfilm head Kathleen Kennedy.
"Cultural attitudes toward smoking, drunk driving, seatbelts and marriage equality have all evolved due in large part to movies' and TV's influence. It's time to take on gun safety," says the letter shared by the Brady Campaign, a gun control nonprofit.
June 12, 2022
Thousands of people took to the streets in the United States on Saturday to push for action on the devastating gun violence plaguing the country, where Republican politicians have repeatedly blocked efforts to enact stricter firearms laws.
Protesters of all ages streamed onto the National Mall in Washington, where activists placed more than 45,000 white vases holding flowers — one for each person killed by a firearm in the United States in 2020.
"Protect People Not Guns," said one sign held by a protester near the Washington Monument. "Fear Has No Place In Schools," read another. — AFP
June 1, 2022
President Joe Biden asks New Zealand's Prime Minister Jacinda Ardern for advice after the latest US mass shooting but the White House also acknowledged the limitations it faces on gun control compared to its close allies.
Meeting in the Oval Office with Ardern, Biden referred to the 2019 Christchurch slaying of 51 people in mass shootings targeting Muslims.
The bloodshed prompted New Zealand to ban military-style rifles and institute a successful gun buy-back. — AFP
May 28, 2022
Joe Biden the consoler-in-chief will no doubt find exactly the right message on Sunday as he visits Texas to meet the families of children massacred as they celebrated the end of the school year.
But Biden the dealmaker has remained conspicuous in his absence from the war of words being waged over gun control that has followed the atrocity, preferring to let his party leaders in Congress do the talking for him.
"He can't just be the 'eulogizer-in-chief.' He also needs to put the full force of his office into the legislative process," Peter Ambler, executive director for the gun safety group Giffords, told Politico. — AFP
May 25, 2022
A mass shooting that left 19 schoolchildren dead in the deeply pro-gun state of Texas on Tuesday increased pressure on US politicians to take action over the ubiquity of firearms -- but also brought the grim expectation of little or no change.
It was the eighth mass shooting this year, according to the Everytown gun control group, and came 10 days after another 18-year-old murdered 10 African Americans at a supermarket in New York.
But nearly 10 years after a man slaughtered 20 children and six others in an attack on the Sandy Hook elementary school in Newtown, Connecticut, and four years after 17 were killed at a Florida high school, restrictions on gun purchases and ownership have not significantly changed.
"I had hoped, when I became president, I would not have to do this, again," a distraught President Joe Biden said as he led national mourning, vowing to overcome the US gun lobby and find a way to tighten gun ownership laws.
"Another massacre... an elementary school. Beautiful, innocent, second, third, fourth graders," he said. "I am sick and tired of it. We have to act. And don't tell me we can't have an impact on this carnage."
But guns of all kinds, especially high-powered assault rifles and semi-automatic pistols are cheaper and more widely available than ever across the United States.
And the all-too-familiar arguments over guns, public safety and rights re-opened immediately on the news of Tuesday's mass shooting. — AFP
May 16, 2022
One person was dead and four others in critical condition after a shooting at a church near Los Angeles, law enforcement said Sunday, just one day after a gunman killed 10 people at a grocery store in New York state.
Shortly before 1:30 pm (2030 GMT), parishioners were attending a banquet following a morning service at Geneva Presbyterian Church when the gunman began his rampage, authorities said.
The churchgoers detained the shooter and "hogtied his legs with an extension cord and confiscated at least two weapons" before officers arrived at the scene to apprehend him, Orange County Undersheriff Jeff Hallock told a press conference.
"That group of churchgoers displayed what we believe is exceptional heroism, and bravery," Hallock said. "They undoubtedly prevented additional injuries and fatalities."
"One person is confirmed deceased at the scene," Hallock said. "Four others are critical and one other victim sustained minor injuries." — AFP
April 23, 2022
A lone shooter who wounded four people in an upscale Washington neighborhood killed himself before being apprehended, the city's police chief said Friday evening.
The Connecticut Avenue-Van Ness neighborhood of the US capital -- where multiple schools and embassies are located -- was swarmed by law enforcement and locked down after gunfire erupted in the area Friday afternoon.
Assistant police chief Stuart Emerman said three people had been taken to the hospital -- two adults who were in critical but stable condition and a 12-year-old girl with a minor gunshot wound.
Another individual with a graze wound to the back was treated at the scene, Emerman added.
"The suspect that we believe is responsible for this is now deceased," Washington Police Chief Robert Contee said at a news conference Friday night.
He said the suspected shooter took his own life as police officers breached the fifth-floor apartment where he was located and that they found a "sniper-type set up with a tripod."
While no motive was yet known, "obviously his intent was to kill and hurt members of our community," Contee added. -- AFP
April 3, 2022
At least six people were killed and nine more wounded in a shooting in the California city of Sacramento early Sunday, police said.
"Officers located at least 15 shooting victims, including 6 who are deceased," Sacramento police said in a statement on Twitter. Earlier they had called for people to avoid the area "as a large police presence will remain and the scene remains active." — AFP
December 29, 2021
The death toll from a shooting spree across multiple locations in Colorado, which ended when the gunman was himself shot dead, has risen to five, police said Tuesday.
The trail of shooting began around 5:00 pm on Monday and unfolded across at least four different locations in the cities of Denver and Lakewood, said police, who had initially put the death toll at four.
Two women were killed and a man was wounded in the first location in Denver, police said, with a another man shot dead outside his residence.
The gunman then traveled to neighboring Lakewood, where he fatally shot another man in the Lucky 13 tattoo parlor and wounded another individual.
Working off information gathered from the previous assaults, Lakewood officers were able to identify the shooter as he moved locations.
The shooter entered a shopping center where he fatally shot a female employee, police said. -- AFP
November 21, 2021
After a speeding driver cut her off abruptly on a Californian highway in May, Joanna Cloonan gestured rudely towards the car. A passenger grabbed a pistol and fired at her vehicle, killing her six-year-old son in the back seat.
A woman in Texas was shot in the back last week while shielding her seven-year-old daughter from gunfire toward their vehicle, and another driver in Kentucky is recovering from gunshot wounds sustained after an argument involving a parking space.
Road rage incidents involving a gun have been responsible for record levels of injury and death in the United States since the start of the Covid-19 pandemic, according to a recent report from Everytown for Gun Safety, a nonprofit that advocates against gun violence.
Data shows that traffic skirmishes involving firearms have been on the rise since 2018, and the report said that "if current trends continue, 2021 is on track to be the deadliest year on record."
The pandemic, which introduced many new sources of stress to people's lives, has also seen record increases in gun sales and shootings, Everytown said. -- AFP
July 18, 2021
Two people were shot outside a baseball stadium in the US capital Saturday, police said, adding there was "no ongoing threat."
Police are "responding to a shooting in the 1500 block of South Capitol Street, SW, in which two people where shot outside of Nationals Park," the Washington, DC police department tweeted shortly after gunshots were heard outside the stadium and spectators were asked to exit the ballpark.
"This is currently an active investigation and it appears there is no ongoing threat at this time." — AFP
July 7, 2021
New York's governor issued new emergency measures to fight gun violence Tuesday, as he made it easier for shooting victims to sue gun manufacturers.
Andrew Cuomo declared gun violence a "disaster emergency," against a backdrop of rising crime in New York City and across the United States.
He unveiled special measures aimed at curbing an increase in shootings that have beset New York City since the outbreak of the coronavirus pandemic in spring last year.
"If you look at the recent numbers, more people are now dying from gun violence and crime than COVID," Cuomo said in a press release.
"This is a national problem but someone has to step up and address this problem because our future depends on it," he added.
The governor said he was appointing a special coordinator for the prevention of gun violence attached to the state's health services. — AFP
May 31, 2021
Two people were killed and at least 20 wounded early Sunday when three shooters fired indiscriminately into a crowd outside a concert in the Miami area, police said, the latest shooting in a year that has seen a surge in both gun sales and gun violence.
The shots erupted near a banquet and events hall in a strip mall in Miami Gardens, a heavily Cuban community of working-class families.
Angelica Green told reporters at the scene that her son and nephew, both 24, were among those wounded in the shooting in the wee hours of Sunday. Both were in hospital recovering, though the nephew, hit four times, was in more serious condition.
She had spoken to her son, who was "frantic" when he called right after the shooting. "They say that some guys came out with hoodies and ski masks and just started spraying at the crowd," she said, adding that it was "very scary."
The venue was "hosting a scheduled event and several patrons were standing outside," Miami-Dade Police Department said in a statement.
When a Nissan Pathfinder SUV approached the scene, police added, "three subjects exited the vehicle and began shooting indiscriminately into the crowd."
The trio fled. Their motive was unknown. -- AFP
May 9, 2021
A shooting in New York's bustling Times Square on Saturday injured a four-year-old girl and two women, in the latest incident of gun violence in the city, police said.
The shooting took place just before 5:00 pm local time (9:00 pm GMT), at the intersection of 7th Avenue and 44th Street, a NYPD spokesperson told AFP.
The three victims were a four-year-old child in a stroller, who was hit in the leg while her family was buying toys, a 46-year-old woman hit in the foot, and a 23-year-old tourist from Rhode Island hit in the leg. — AFP
April 9, 2021
One person was dead and several in critical condition following a shooting at a business in Texas Thursday, just hours after US President Joe Biden called gun violence an "epidemic" and unveiled plans to tackle the crisis.
The suspect was "in custody," according to the police department in the east Texas town of Bryan where the attack took place.
Officials said the individual shot and wounded one officer following the incident and was an employee of the cabinetry manufacturer where he carried out the shooting. — AFP
September 6, 2019
US pharmacies and supermarket chain ask customers not to openly carry firearms in their stores, or not to bring them in at all.
The calls by the stores -- which follows a similar move by Kroger, the country's biggest supermarket chain -- come as the United States grapples with an epidemic of gun violence and frequent mass shootings. — AFP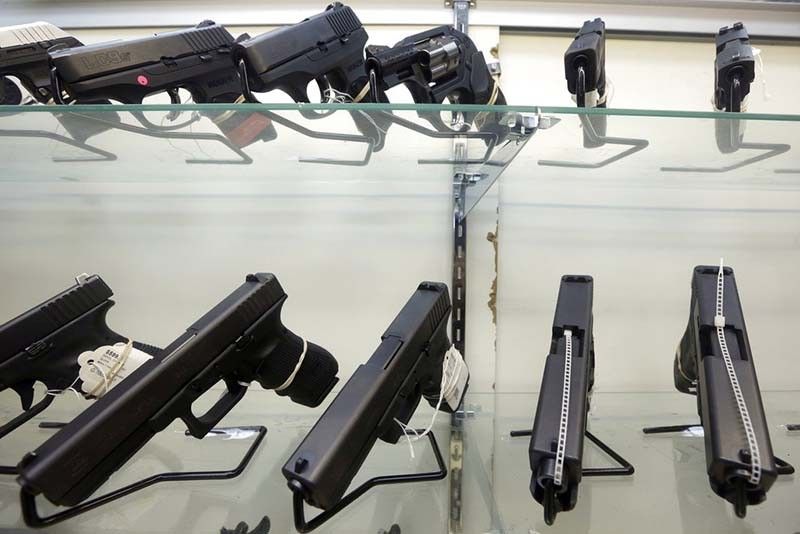 February 7, 2019
The US House of Representatives holds its first committee hearings on climate change and gun control in eight years following Democrats' victory over Republicans in last year's Congressional elections.
"No more climate denialism. No more evasions. @HouseDemocrats are in charge," tweets the House Natural Resources Committee. — AFP
January 9, 2019
US Democrats have unveiled landmark gun safety legislation, five days after regaining the US House majority, seeking swift action on a measure to expand background checks on firearm sales.
A similar bill was introduced last year by Democrats, but Republican leaders declined to bring it to a vote.
The new bill -- which has the backing of former congresswoman Gabrielle Giffords, who survived being shot in the head eight years ago to the day and is now one of the nation's leading gun control advocates -- has a handful of Republican co-sponsors, and is likely to pass the chamber.
But it is not expected to advance in the Senate, which is under Republican control.
Giffords joined House Speaker Nancy Pelosi and congressman Mike Thompson, who heads a Democratic task force on gun violence, in introducing the bill, calling for "courage" among lawmakers.
"Now is the time to come together, be responsible. Democrats, Republicans, everyone," she said. "We must never stop fighting." -- Agence France-Presse
December 29, 2018
Vermont will not be able to run its own background checks for gun sales, according to a new report.
The Department of Public Safety finds in a report issued Dec. 17 to legislators that because only licensed dealers can access the federal database system, the state will not be able to offer an alternative to running background checks through gun shops, Vermont Public Radio reports. — AP
November 17, 2018
The state commission investigating the Florida high school massacre is beginning discussions on what recommendations it will make regarding school safety, mental health and steps to avoid future school shootings.
The Feb. 14 attack on Marjory Stoneman Douglas High in Parkland killed 14 students and three staff members.
The Marjory Stoneman Douglas High School Commission, which has met periodically since April, didn't pass any specific recommendations Friday. But it decided that it will focus its first batch of recommendations on less controversial areas like school hardening than more difficult areas like mental health.
The commissioners decided that rather than go through items publicly Friday, they would review possible recommendations compiled by their staff individually, submit suggestions and then debate them publicly at a December meeting.
The 14-member panel must file its initial report to Florida's governor and the Legislature by Jan. 1. — AP
October 28, 2018
A deadly shooting at the Tree of Life synagogue in Pittsburgh on Saturday has sparked an outpouring of grief and shock in America's Jewish community, the largest outside Israel.
The attack -- which took place during a bris, or baby-naming ceremony, and killed 11 people -- came just days after a pipe bomb was sent to prominent Jewish philanthropist George Soros, who has been the target of what many see as anti-Semitic conspiracy theories. — AFP
August 29, 2018
Video games are not to blame for the recent mass shooting at a competitive gaming tournament in United States, Asia's top eSports body says.
Two people were killed and 11 others injured on Sunday after a gaming competitor went on a shooting rampage before turning the gun on himself at a tournament in Jacksonville, Florida.
It was one of more than 230 mass shootings to have occurred in the US so far this year, according to the Gun Violence Archive. — AFP
August 1, 2018
A US federal judge temporarily blocks the online distribution of blueprints for 3D-printed firearms, putting a stop to a settlement President Donald Trump's administration had reached with the company planning to release the documents.
Eight states and the District of Columbia that houses the capital Washington had filed a lawsuit Monday against the federal government, calling its settlement with Texas-based Defense Distributed was "arbitrary and capricious."
US District Judge Robert Lasnik in Seattle, Washington grants the plaintiffs' motion for a temporary restraining order blocking the release of the 3D plans, and scheduled a hearing for August 10. — Agence France-Presse
July 19, 2018
A conservative political operative who once worked on Pat Buchanan's 1992 presidential campaign and made an action movie with Jack Abramoff more recently helped arrange several speeches in South Dakota for a gun-rights activist suspected of being a covert Russian agent.
South Dakota businessman Paul Erickson in 2015 helped set up at least three events for accused Russian operative Maria Butina and formed a company with her in the state the following year.
Butina awaits trial on charges of conspiracy and acting as an unregistered foreign agent for Russia. A judge on Wednesday ordered Butina held in jail as the case proceeds. — AP
July 9, 2018
The family of a black man who was fatally shot by Portland State University campus police demanded Friday that the university immediately disarm its campus officers, The Associated Press reports.
Jason Erik Washington was shot on June 29 while trying to break up a fight outside a bar near the university's downtown campus.
In the family's first public statements on the shooting, Washington's brother compared the incident to other high-profile shootings of black men, Oregon Public Broadcasting reported .
Family members attended a news conference and stood side-by-side wearing T-shirts bearing Washington's image as Andre Washington spoke.
June 17, 2018
Chicago anti-violence activists and a group of Florida high school shooting survivors fan out across the city's South Side on Saturday, knocking on doors and registering people to vote in a bid to build support for changing the nation's gun laws.
Ryan Deitsch, 18, from Marjory Stoneman Douglas High School in Parkland, where 17 people died on February 14, said the tragedy has afforded the survivors a national spotlight they are now using to try and build a groundswell of support.
Their goal is to reach "anybody who lives here and is tired of the status quo."
June 16, 2018
A group of Florida high school shooting survivors starts their nationwide bus tour registering young voters to help accomplish their vision for stricter gun laws at a rally on Chicago's South Side.
The Parkland students are planning more than 25 stops during a two-month tour targeting communities rocked by gun violence or where lawmakers supported by the National Rifle Association are seeking office. — AP
June 5, 2018
Tonight Show host Jimmy Fallon is the surprise commencement speaker at the Florida high school where 17 people were killed in a shooting rampage.
According to social media posts, Fallon told the 784 members of the Marjory Stoneman Douglas High class of 2018 to persevere in the face of difficulty and thanked them for their bravery and activism. — AP
May 26, 2018
Police say a female student wounded in a suburban Indianapolis school shooting is in critical condition and the teacher who also was wounded is in good condition.
Noblesville police Lt. Bruce Barnes said in a news release Friday night the girl was airlifted to an Indianapolis hospital. She has not been identified.
Barnes identified the teacher as 29-year-old Jason Seaman of Noblesville. He also is hospitalized in Indianapolis.
Barnes says "there were no apparent injuries to the alleged shooter." He has not been identified.
The shooting occurred Friday morning at Noblesville West Middle School. — AP
May 23, 2018
The Houston Astros are wearing T-shirts during batting practice before their game against the San Francisco Giants to honor the victims of last week's Texas school shooting that left 10 people dead.
The shirts have "We Play For Santa Fe" on them and are in the school's colors. The green shirts feature the school's name in gold letters and the Astros logo in white with a gold star.
The Astros wanted to do something to show their support for those affected by the shooting in Santa Fe, which is about 30 miles (48 kilometers) from their ballpark in downtown Houston.
Manager A.J. Hinch said Tuesday: "We offer support and our intention with these shirts on how to keep the conversation alive on how to hopefully avoid the next one." — AP
May 19, 2018
Investigators say a 17-year-old admitted to authorities that he went on a shooting rampage at a Southeast Texas high school that left 10 dead, most of them students.
According to a probable cause affidavit, however, Dimitrios Pagourtzis told investigators that when he opened fire at Santa Fe High School on Friday morning, "he did not shoot students he did like so he could have his story told."
Pagourtzis is being held without bond at the Galveston County Jail. He is charged with capital murder of multiple persons and aggravated assault against a public servant. — AP
May 19, 2018
Survivors of the school shooting in Parkland, Florida, took to social media to express outrage and heartbreak after the Friday school shooting in Texas, where authorities say a gunman opened fire, killing 10 people.
The shooting at Santa Fe High School marks the deadliest school shooting since a former student was arrested in the killing of 17 people at Florida's Marjory Stoneman Douglas High School on Valentine's Day, a massacre that mobilized a nationwide movement for gun reform. It also came on the last day of school for Stoneman Douglas seniors, who finish classes earlier than other grades. — AP
April 20, 2018
About 1,000 people, including a group of students from Florida's Marjory Stoneman Douglas High School, gathered in a park near Columbine High School to push for gun control and to highlight the importance of voting in the next election.
The group gathered Thursday evening, the day before the 19th anniversary of the Colorado school shooting that killed 12 students and a teacher.
Some held signs that read, "Change Gun Laws," ''Change Congress" and "I Will Vote."
Students at high schools across the country are expected to walk out of classes Friday to call for gun control. Columbine High School will be closed, and students there will stick with their tradition of holding a day of service to commemorate the tragedy. — AP
March 30, 2018
About 50 students set out Sunday from Madison on their "50 Miles More" march. They reached their destination in Janesville and demonstrated in a park for stricter gun laws.
The march came more than a month after a gunman killed 17 students and staff members at Marjory Stoneman Douglas High School in Parkland, Florida. — AP
March 25, 2018
A contingent of survivors of the 1999 Columbine High School shooting joined the thousands of marchers in Denver as calls for tighter gun control continue, the Associated Press reports.
Students and their supporters packed into Civic Center Park near the state Capitol for a rally Saturday afternoon before spilling out onto streets through downtown. They held signs like "The Second Amendment Needs Amending" and "Prayers are Not Enough."
March 24, 2018
Support for tougher gun control laws is soaring in the United States, according to a new poll that found a majority of gun owners and half of Republicans favor new laws to address gun violence in the weeks after a Florida school shooting left 17 dead and sparked nationwide protests. — AP
March 24, 2018
Thousands are gathering in Washington Saturday for a protest that organizers claim will be a defining moment in the long-simmering national debate over gun-control legislation.
Organizers of the March for Our Lives rally are hoping to draw 500,000 protesters; that would match last year's women's march and make this one of the largest Washington protests since the Vietnam era. — AP
March 24, 2018
Washington is preparing for a massive rally in support of gun control, one that organizers hope will prove that the country has reached an emotional tipping point on gun violence, with teenagers seizing the initiative and leading the demand for change. — AP
March 17, 2018
Student survivors of Florida's high school shooting took their message calling for greater gun safety measures abroad for the first time on Saturday, sharing with educational professionals from around the world their frightening experience.
March 16, 2018
Fifteen North Carolina students have been suspended for walking out of class during a nationwide protest against gun violence, but their principal also lauded their resolve.
In New Mexico, a student faced suspension after he was only one walk out of a suburban Albuquerque middle school. — AP
Youth across the United States on Thursday (Philippine time) bowed their heads in honor of the dead and carried signs saying "never again" and "Am I next?" to protest school shootings and ready access to guns in the US, the Associated Press reports.
AP reports: "In a wave of protests one historian called the largest of its kind in American history, tens of thousands of students walked out of their classrooms Wednesday to demand action on gun violence and school safety."