Photo from the Van Gogh Museum in Amsterdam
Flowers on a canvas: The inspiration of Van Gogh
(philstar.com) - September 27, 2017 - 8:19am
The author, a student at Mabini Colleges, was named high school category winner in the European Union Delegation to the Philippines' essay writing contest What's EUr story. Philstar.com is an online media partner.
In a room, a splash of metallic orange—radiating like a fire splitting the world between fantasy and reality — the sunflowers rise up on the vase equivalent to a soaring phoenix. The sunflowers bloom, the proudest flowers I have ever seen. But the sunflowers are not picked, they are carved by a painter whose vivid dreams of reality morph into the canvas. The painting dances into an invisible waltz like a mariposa, then suddenly time freezes it.
A painting talking with me like a friend long gone: a pat on my heart and mind, some sweet-scented regards about life and then, a goodbye. What a sight.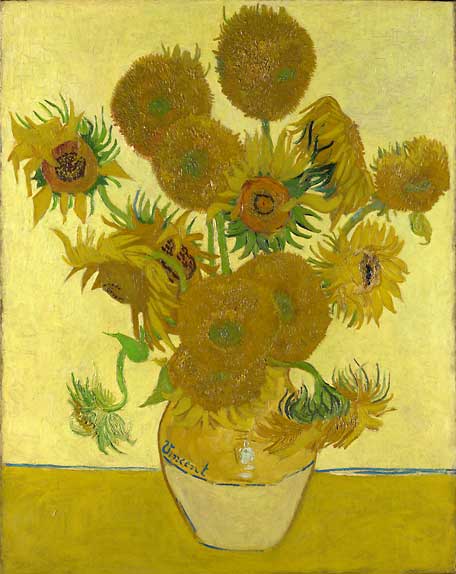 Sunflowers by Vincent Van Gogh
The school bell rang and it was time to leave this room. I gently closed the album where paintings of European masters are printed on crisp paper, and put it back on the shelf.
Outside the classroom, the sun scorched my sanity. My classmates tended to emit an awful stench from sweat due to this heat, and besides homework and papers for tests were piling up. The heat made people irritable. I was dazed by all these, but I was more fixated on the paintings I saw.
The painter's name was Vincent van Gogh. His self-portrait shows a sad face, eyes likely dripping invisible tears, and lips bear a smile so dull.
His painting pointed to the unknown, its image coiled down the void, a sort of retrograde to pain. Van Gogh wanted to understand the world, so he painted it how he saw it: with bright lights dimming and fading, glowing over the dramatic horizon. His paintings look raw, as if by a vandal forming a curlicue, not exactly beautiful, but subtle and refined. It holds a string attached to our soul, and the soul connects to the heart, beating for hope.
Is Van Gogh a mad artist or a master? Judged by the eyes of laymen, Van Gogh could be looked at with disgust and horror: An opportunist whose brushstrokes are clumsy, serving as art's epitaph. The misfortunes of the man are well known, collapsing in depression and desperation, he found some solace in his art. Under the shade in his room, Van Gogh bestowed undying colors on the canvas. Could a manman do this? Could the result of madman's passion—beautiful as it is—be stained by the judgment of his fellowmen? His soul trembled; he cried and murmured—a curse to the world. But his gift was even greater: his art. It was the flame against the darkness. He painted his dreams and bound them in the four sides of his canvas.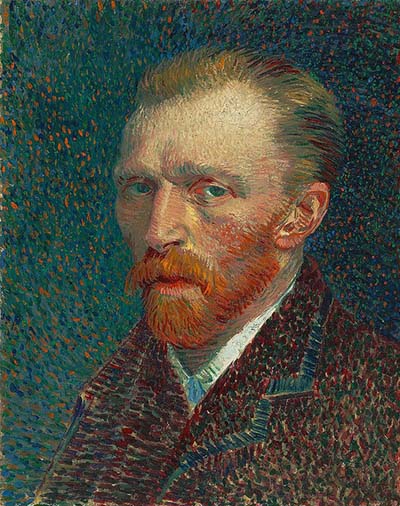 Self portrait
The succeeding moments of his life filled me with pity. He faded, shooting himself, being overcome by what was plaguing his mind. "Moral born with a pain in his heart, died with still a pain in his heart," is a eulogy which would suit him.
Though, eccentric and known as a mad artist—a man riddled with peculiarity—a dank soul trapped in this world; he is the man who will forever serve as an inspiration for us born to be artists: writers, musicians, painters. Van Gogh is an edifice. His life proves that we transcend the shell we are enclosed in, with our passions radiating even when we are long gone.
Even if nobody cares to read my writing, nor would it bring me to fame, the idea in which I will always implore for my writing would be the influence left by Van Gogh. We are the sunflowers in the canvas.