Upat ka Koryano gidakop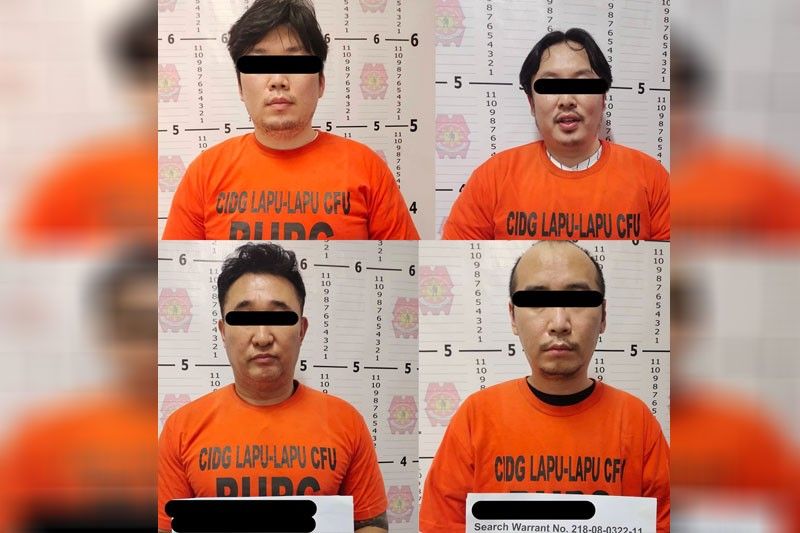 CEBU, Philippines — Upat ka lalaki nga Korean nationals ang giaresto human nasakpan nga nag-operate og illegal online gaming sud sa usa ka condominium sa Barangay Lahug, Dakbayan sa Sugbo, mga 11:55 sa buntag Agosto 5, 2022.
Ang mga gidakop mao sila Taewoong Kang, 42 anyos, minyo, kinsa mao ang main subject; Jung Ho Won 41 anyos; Kim Dae Hyeon, 36 anyos; Park Ji Sung, 40 anyos, minyo, kinsa pulos mga residente sa Gwang Ju South Korea ug temporaryong nagpuyo sa Barangay Lahug, Dakbayan sa Sugbo. Ang Criminal Investigation and Detection Group (CIDG) Lapu-Lapu City nga gipangulohan ni Police Captain (PCPT) Nigel Z. Sanoy, uban sa koordinasyon sa Police Station 4, Mabolo, Cebu City Police Office, mironda sa unit sa mga suspek subay sa Search Warrant nga giisyu ni Ramon B. Daomilas Jr.,Presiding Judge, RTC, 7th Judicial Region, Branch 11, Cebu City,tungod sa paglapas sa R.A. 8484, Access Devices Regulation Act of 1998 nga giamendahan sa R.A. 11449. Atol sa operasyon nasakmit gikan sa mga suspek ang 18 ka yunit sa CPU; 14 ka computer monitors; pito ka wifi Router;30 ka USB; 9 One Time Password generator (OTP); 120 ka sim cards; 11 ka mga nagkadaiyang cellphone; 11 ka nga keyboard; walo ka mouse; napulo ka SSD memory card; usa ka kahon sa assorted wire ug tulo ka record book.
Sa aktwal nga pagkasakop kanila nakita sa usa sa ilang mga kompyuter ang dagan sa kwarta nga ilang nakita matag adlaw nga niabot og 26 milyones won.
Sumala ni Sanoy nga gi monitor nila kini sugod pa niadtong Pebrero niining tuiga ug naaprobahan ang search warrant niadtong Miyerkules.
Ang ilang trabaho mao ang online gaming, online dating sites, online gambling, phishing og uban pa nga mga illegal nga buhat para maka pang scam og makabiktima pareho nila nga mga Korean Nationals.
Ang Philippine Offshore Gaming Operators o POGOs mao ang mga online gambling firms nga nag-operate sa Pilipinas apan ang mga kustomer naa sa gawas sa nasud. Kinahanglan otorisado sila sa Philippine Amusement and Gaming Corporation (PAGCOR). — Letty G. Mariscal CNU Intern ug Mary Rose A. Carciller UV Intern/IBM (BANAT NEWS)