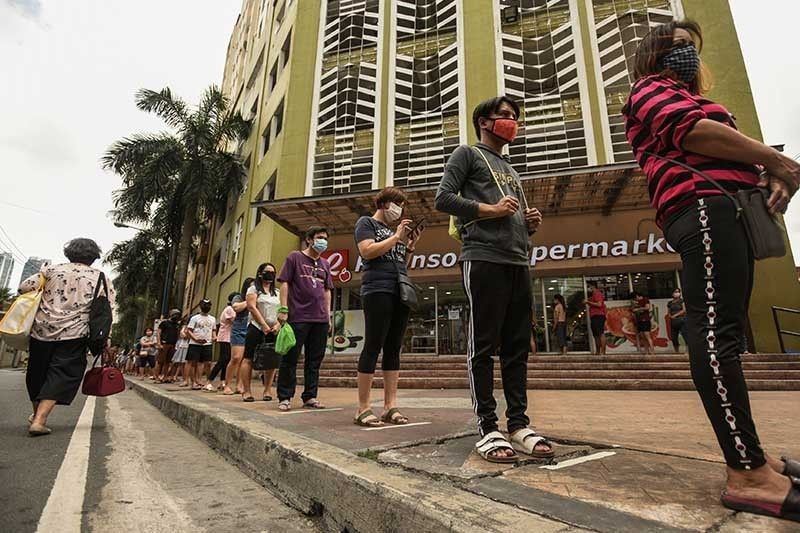 Sumala pa sa IATF Resolution No. 79 nga gipagawas kagahapong adlawa, mamahimo ng makagawas kadtong nag-edad og 15 hangtod 65 anyos.
Marian Tan / AFP
15 hangtod 65 anyos makagawas na
(Banat) - October 17, 2020 - 12:00am
CEBU, Philippines — Giaprubahan na sa Inter-Agency Task Force on COVID-19 nga pakubsan ang restriksyon sa mga edad niadtong gitugotang makagawas gikan sa ilang mga panimalay bisan ubos pa sa quarantine restrictions ang ilang mga dapit.
Sumala pa sa IATF Resolution No. 79 nga gipagawas kagahapong adlawa, mamahimo ng makagawas kadtong nag-edad og 15 hangtod 65 anyos.
Niadtong bulan sa Marso sa pagsugod sa lockdowns gidid-an ang mga 21-anyos paubos ug tanang senior citizens o nag-edad 60 anyos pataas.
Apan gidid-an gihapon sila makagawas-gawas kun sila mga mabdos, kadtong adunay mga immunodeficiency, comorbidity o ubang sakit, gawas lang kun sila kinahanglang magtrabaho o mopalit sa panginahanglan.
Ang maong restriksyon makadaghan gyud giapelar sa katawhan gumikan kay dunay mga nag-edad og 18-anyos hangtud 21-anyos nga nanarbaho o katimbang sa ilang pamilya sa panginabuhi.
Samtang duna say ubang senior citizens nga nagtrabaho pa gihapon para sa ilang kaugalingon o pamilya.
Ang tigpamaba sa IATFnga si Presidential Spokesman Harry Roque miingon nga mahimong mo-adjust ang mga local government units sa edad nga gusto nilang tugotang makagawas.
Giawhag sab sa IATF ang mga LGUs nga pamub-an pa ang oras sa curfew aron nga mabuhi ang mga balay patigayon ug makamugna og mga ekonomikanhong kalihokan nga makapapaspas sa pagbangon sa ekonomiya.
Mahimo na sab makabiyahe bisan non-essential apan kinahanglang motuman sa mga rekisitos nga gipangayo.
Gipahibalo sab ni IATF's chief implementer Secretary Carlito Galvez nga imbes one-meter distancing sud sa mga public utility vehicles mahimo ng one-seat rule apan kinahanglang suoton og tarong ang face mask ug faceshields, no eating, no talking, sanitation, adequate ventilation kanunay nga disinfection, way pasakyong asymptomatic.
Giaprubahan sab sa IATF ang request sa sporting events sama sa beach volley, off-track horse racing ug sabong. Apan kinahanglang sundon ang mga protocols.
Apan kaning tanang mga gitugotan na sa IATF mag-agad pa usab sa desisyon sa mga LGUs kun ilaha kining sundon.
Mismo ang kabinete ni Presidente Duterte niuyon nga tugotan pagusab sa restriksyon sa mga edad niadtong makagawas sa balay sa tinguha nga makabangon ang ekonomiya human kini gisugyot sa Department of Trade and Industry (DTI).
Sayo ning buwana, ang DTI mipagawas og circular nga nagtugot na sa pipila ka mga piniling establisamento o industriya kun ang ilang dapit ubos na sa general community quarantine nga maka-operate og 100 porsiyento sa ilang workforce.
Kini sama sa mining and quarrying (domestic), legal and accounting, management consultancy activities, scientific and research development, advertising and market research, film, music, and TV production, ug uban pa.
Sa pagkakaron, ubos sa modified general community quarantine gitugot lang ang 75 percent nga business capacity sa pipila sab ka mga patigayon.