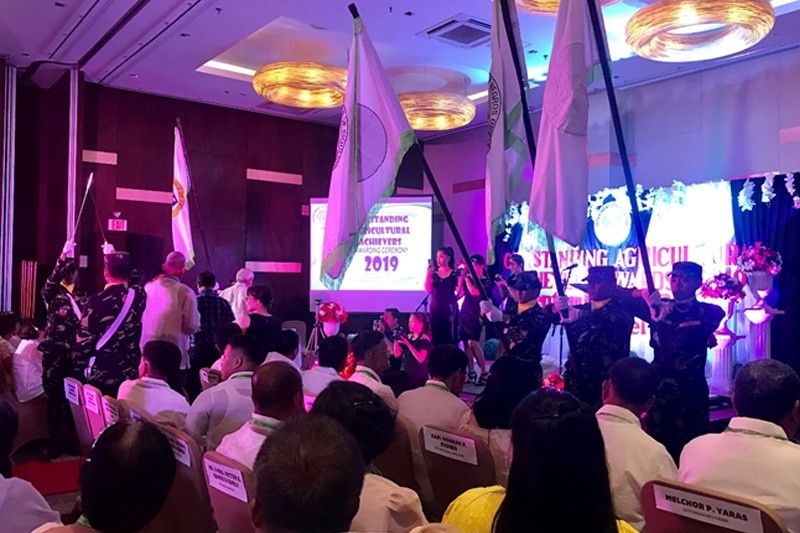 Ang Department of Agriculture (DA)-7 nihatag og pasidungog ngadto sa mga mag-uuma ug mangingisda.
Hulagway kuha ni Mitchelle L. Palaubsanon
Mga mag-uuma gipasidunggan sa DA
CEBU, Philippines – Gipasidunggan sa Department of Agriculture (DA)-7 ang mga mag-uuma nga nagpakita og "best practices" taliwa sa mga hagit diin imbes mobiya sa pagpanguma gumikan sa kalisod sa panahon padayon gihapong nagpakita sa ilang kakugi alang sa maayong kaugmaon sa panguma.
Kagahapon gipahigayon ang kalihukan sa Outstanding Agricultural Achievers Awards 2019 diha sa usa mga hotel sa Siyudad sa Sugbo.
Nasayran nga 17 ang nidaog Gawad Saka Search; usa sa Outstanding Rural Woman; pito sa Rice Achievers Awards; duha sa Outstanding Local Farmer Technician; usa sa Outstanding Municipality; pito sa Organic Agricultural Achiever Awards; duha sa Regional Provincial Artificial and Insemination Coordinator and Technician ug tulo sa Gawad Saka Coordinators.
Ang regional executive director sa DA-7 Atty. Salvador Diputado nga ang paghatag nila og award magsilbi nga inspirasyon sa mga kabatan-onan nga dili angay ikauwaw ang pagpanguma tungod kay ang mga mag-uuma mao ang naghatag og pagkaon sa tanan.
Ang 17 ka awardees sa Gawad Saka Search nakadawat og P50,000 kada usa ug P15,000 sa assistant technician; P30,000 sa Outstanding Rural Woman ug P15,000 sa Assistant Technician; makadawat usab og P20,000 kada usa ka awardees sa Rice Achievers Awards; samtang P15,000 ngadto sa P50,000 ang nadawat sa awardees sa Organize Agriculture Achievers Awards; ug P50,000 usab sa Regional Provincial Artificial Insemination Coordinator and Technician. Nasayran usab nga adunay gipili ang DA nga awardees nga mo-compete sa national level.
Sa Outstanding Barangay Food Terminal ang finalist mao ang Catulayan Community Multi-Purpose Cooperative sa San Juan, Siquijor; Outstanding Agri-Entrepreneur ang finalist mao ang Jagna Calamay Producers Cooperative sa Jagna, Bohol; Outstanding Young Farmer Organization diin ang finalist mao ang Manga National High School 4H Club sa Tagbilaran City, Bohol; Outstanding Small Animal Raiser ang finalist mao si Karl Nonnan Endres sa Batuan, Bohol; Outstanding Rural Woman nga si Luz Bador sa Sta. Catalina, Negros Oriental ug Outstanding FARMC ang finalist mao ang Bawayan City FARMC sa Bawayan City, Negros Oriental. (/BDB)(BANAT NEWS)