Back to Top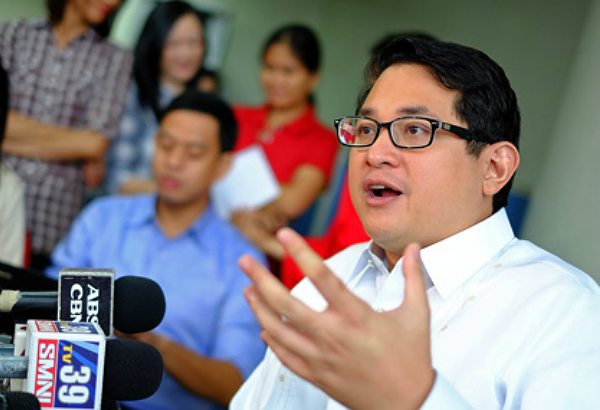 Sen. Bam Aquino. Senate PRIB/Joseph Vidal
Senate bill exempts sari-sari store owners, tricycle drivers from taxes
(The Philippine Star) - May 16, 2014 - 2:05pm
MANILA, Philippines — Farmers, fishermen, tricycle drivers and small sari-sari store owners have found an ally in Sen. Bam Aquino who has filed a bill exempting marginal income earners (MIEs) from payment of income tax.
Aquino said MIEs or self-employed individuals who have an income not more than P150,000 annually should be spared from paying income tax just like minimum wage earners.
"Granting income tax exemption to minimum wage earners while subjecting our small businessmen to income tax is contrary to the mandate of the Constitution, there being no substantial distinction between them in terms of earning capacity," said Aquino, author of Senate Bill 2227.
The neophyte senator made the move after the Bureau of Internal Revenue issued Revenue Memorandum Circular No. 7-2014 requiring micro entrepreneurs to pay income tax returns.
According to the circular, MIEs include agricultural growers/producers such as farmers and fishermen selling directly to consumers, small sari-sari stores, small carinderias or "turo-turos," and drivers/operators of a single unit tricycle.
Instead of helping MIEs, Aquino said charging them with taxes only becomes to a burden to a sector situated below the poverty line.
"Imposing income tax on our small businessmen is tantamount to confiscating what little income they are able to make on a daily basis," he said.
Aquino's bill classifies MIEs as self-employed individuals deriving gross sales or receipts not exceeding P150,000 during any 12-month period, which will be used principally for subsistence or livelihood.
It allows the BIR to adjust the income cap on the gross sales of the small businessmen to match any increase that minimum wage income earners may receive.
The measure will also exempt MIEs from 12 percent value-added tax and any percentage tax imposed under the National Internal Revenue Code of 1997 because they are not engaged in trade for which these taxes are imposed.
"Such a measure provides an enabling environment for our Filipino people to thrive and be given a chance to succeed. It further continues our campaign in achieving true inclusive growth for everyone, even for the poor and marginalized," Aquino said. -Louis Bacani
Latest
Trending
Recommended