Ukraine plays down Russian invasion fears as US sounds alarm
February 7, 2022 | 9:00am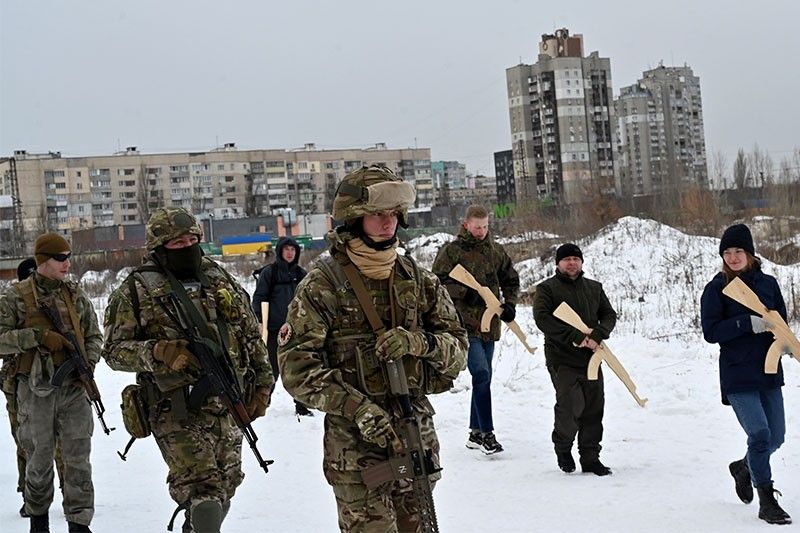 KYIV, Ukraine — Ukraine on Sunday pushed back at "apocalyptic predictions" over a potential Russian invasion, after US officials sounded dire warnings that Moscow had stepped up its preparations for a major incursion.
US officials said the Kremlin had assembled 110,000 troops along the border with its pro-Western neighbour but intelligence assessments have not determined whether President Vladimir Putin has actually decided to invade.
The Russian force amassed on the frontier is growing at a rate that would give Putin the firepower he needs for a full-scale invasion — some 150,000 soldiers — by mid-February, US officials have said.
They assess that Putin wants all options at his disposal, from a limited campaign in the pro-Russian Donbas region of Ukraine to a full-scale invasion.
Russia denies that it is planning an incursion into Ukraine.
Kyiv — backed up by some European allies — has consistently sought to play down fears of an imminent attack as it tries to prevent further harm to its struggling economy.
"Do not believe the apocalyptic predictions. Different capitals have different scenarios, but Ukraine is ready for any development," Foreign Minister Dmytro Kuleba wrote on Twitter.
"Today, Ukraine has a strong army, unprecedented international support and the faith of Ukrainians in their country. It is the enemy who should fear us."
Ukraine presidency advisor Mykhailo Podolyak said the latest Russian moves were "no surprise" as Moscow has sought to keep up pressure on Kyiv by conducting large-scale troop rotations, manoeuvres and weapon deployments on a regular basis since massing forces at the border last spring.
European diplomatic push
The stark warnings from the United States — part of a deliberate attempt from Washington to pre-empt any Russian actions — come as Europe pushes to defuse the crisis.
French President Emmanuel Macron heads to Moscow on Monday and Kyiv on Tuesday seeking to de-escalate the crisis and push forward a stalled peace plan for the festering conflict with Russian-backed separatists in eastern Ukraine.
On Sunday Macron discussed the crisis with US counterpart Joe Biden.
"The leaders discussed ongoing diplomatic and deterrence efforts in response to Russia's continued military build-up on Ukraine's borders, and affirmed their support for Ukraine's sovereignty and territorial integrity," the White House said in a statement.
"We have to be very realistic," Macron told the JDD weekly.
"We will not obtain unilateral gestures" from Russia "but it is essential to avoid a deterioration of the situation before building mechanisms and reciprocal gestures of trust", he said.
German Chancellor Olaf Scholz will travel to Washington for the first meeting of his chancellorship with Biden on Monday.
The following week Scholz will visit the region for talks with Putin and Ukrainian President Volodymyr Zelensky.
US officials said if Moscow does opt for a full-scale attack, the invading force could take the capital Kyiv and topple Zelensky in a matter of 48 hours.
They estimated such an attack would leave 25,000 to 50,000 civilians dead, along with 5,000 to 25,000 Ukrainian soldiers and 3,000 to 10,000 Russian ones.
It could also trigger a refugee flood of one to five million people, mainly into Poland, the officials added.
Biden has reacted to the buildup by dispatching some 3,000 American forces to bolster NATO's eastern flank, with a new batch of US soldiers arriving in Poland on Sunday.
Scholz said Berlin was prepared to send extra troops to the Baltics in addition to 500 soldiers already stationed in Lithuania under a NATO operation.
Moscow has issued demands for NATO to guarantee that Ukraine will not enter the alliance and to withdraw forces from member states in eastern Europe.
But US National Security Advisor Jake Sullivan told Fox News Sunday that Biden "is not sending forces to start a war or fight a war with Russia in Ukraine".
"We have sent forces to Europe to defend NATO territory," he said.
Special forces, naval buildup
US intelligence has concluded that Russia is continuing to muster a major military force on its border with Ukraine.
Two weeks ago, a total of 60 Russian army battalions were positioned to the north, east and south of Ukraine, particularly in the Crimean peninsula, which Russia annexed after an invasion in 2014.
By Friday, there were 80 battalions and 14 more were en route, US officials said.
They added that some 1,500 Russian "Spetsnaz" special forces arrived along the Ukraine border a week ago.
Russia has also announced what it calls joint military manoeuvres with Belarus, where it has sent several battalions to the north of Kyiv.
A major Russian naval force is also positioned in the Black Sea, equipped with five amphibious vessels that could be used to land troops on Ukraine's southern coast, the US officials said.
In other deployments, Russia has positioned fighter planes near Ukraine, as well as bombers, missile batteries and anti-aircraft batteries, US officials said. — with Sylvie LANTEAUME in Washington
As It Happens
LATEST UPDATE: October 5, 2022 - 10:37am
President Vladimir Putin says he hopes that Moscow and the West could find a solution to the raging security crisis over Ukraine, but also accused Washington of using Kyiv as a "tool" against Russia.
"I hope that in the end we will find a solution, although it will not be simple," Putin says, indicating he was ready for more talks with the West, which has accused Moscow of massing more than 100,000 troops on the border and plotting to invade Ukraine.
"It seems to me that the United States is not so much concerned about the security of Ukraine... but its main task is to contain Russia's development," Putin says. — AFP
October 5, 2022 - 10:37am
Ukrainian President Volodymyr Zelensky says his forces were making "rapid and powerful" gains in southern Ukraine and that they had retaken "dozens" of villages from Russia this week.
"The Ukrainian army is quite rapidly and powerfully advancing in the south," Zelensky says in his daily address on social media, adding that "dozens of settlements" had been recaptured in the south and east.
Some of the territory was taken back in the regions of Kherson, Lugansk and Donetsk, he says, where referendums were held last week on being annexed by Russia.
Kyiv and the West have denounced the referendums as a sham. — AFP
October 1, 2022 - 10:32am
Nuclear weapons experts say the United States would almost certainly discover ahead of time if Russia was preparing a nuclear strike on Ukraine, and Moscow might very well want it known.
Russian President Vladimir Putin has raised the possibility of using nuclear weapons if Russia's "territorial integrity" or existence is threatened.
Moscow's declaration Friday that it was annexing four partly-occupied regions of Ukraine potentially meant Russia could consider responding to attacks on the claimed territory with a nuclear strike. — AFP
September 30, 2022 - 11:50am
The United Nations Security Council will vote Friday on a resolution condemning the referendums on annexing several Russia-occupied regions of Ukraine, the council's current president, France, says Thursday.
The resolution -- drafted by the United States and Albania -- has no chance of passing thanks to Moscow's veto power, though it can then be presented to the General Assembly.
The text, seen by AFP, "condemns the Russian Federation's organization of illegal so-called referenda" in the Russian-occupied Ukrainian regions of Donetsk, Lugansk, Zaporizhzhia and Kherson, saying they "have no validity," "cannot form the basis for any alteration of the status of these regions," including "any purported annexation."
It calls on member states not to recognize any annexation of the areas by Russia and demands Moscow "immediately, completely and unconditionally withdraw all of its military forces from the territory of Ukraine." — AFP
September 30, 2022 - 9:33am
Russian President Vladimir Putin has recognized the independence of Ukraine's Zaporizhzhia and Kherson regions, according to presidential decrees issued late Thursday, on the eve of Russia finalising their annexation.
"I order the recognition of the state sovereignty and independence" of the regions of Zaporizhzhia and Kherson, located in southern Ukraine, Putin says in the decrees, as Russia prepares to formalise the annexation of the two regions, along with Donetsk and Lugansk on Friday.
Moscow has said it will annex four occupied regions of Ukraine at a grand ceremony in the Kremlin on Friday.
Kremlin spokesman Dmitry Peskov told reporters that the annexation of the areas would be formalised at the ceremony and that Putin would deliver a major speech. — AFP
September 29, 2022 - 6:25pm
Moscow will formally annex four Russia-occupied regions of Ukraine at a Kremlin ceremony on Friday, President Vladimir Putin's spokesman says.
"Tomorrow in the Georgian Hall of the Grand Kremlin Palace at 15:00 (1200 GMT) a signing ceremony will take place on the incorporation of the new territories into Russia," spokesman Dmitry Peskov says, adding that Putin will make a speech at this event. — AFP