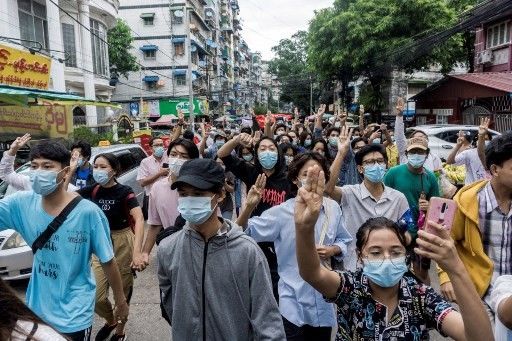 Protesters make the three-finger salute as they take part in a flash mob demonstration against the military coup in Yangon on June 14, 2021.
STR / AFP
Deposed leaders: Where are they now?
(Agence France-Presse) - June 15, 2021 - 6:52pm
PARIS, France — As Myanmar's deposed democratic leader Aung Sang Suu Kyi's trial on sedition and other charges starts Tuesday, we look at the fate of some other ousted leaders:
Jailed Nobel winner
Myanmar's Nobel laureate Aung San Suu Kyi has been in custody since a military putsch toppled her government four months ago and sparked deadly protests.
The junta has brought a sometimes bizarre raft of charges against the former leader, including claims she flouted coronavirus restrictions, illegally imported walkie-talkies, accepted illegal payments of gold and violated a colonial-era secrecy law.
If convicted of all charges in the trial that began Monday, and in another separate trial scheduled to start Tuesday, the 75-year-old Suu Kyi faces more than a decade in jail.
Sudan's al-Bashir
The army ended Sudanese dictator Omar al-Bashir's 30 years in power in 2019 after a four-month street revolt in which more than 250 people died.
Held in Khartoum's high security Kober prison since he was deposed, Bashir has already been convicted of corruption.
His trial for the Islamist-backed 1989 coup which brought him to power started last year, but proceedings have been repeatedly delayed.
If convicted, Bashir could face death by hanging.
He is also wanted by the International Criminal Court (ICC) to face genocide and crimes against humanity charges for massacres in the western Darfur region in 2003 that the UN says left 300,000 people dead.
Gbagbo's war crimes trial
Ivory Coast's Laurent Gbagbo was ousted in 2011 after a deadly conflict that was sparked by his refusal to accept electoral defeat.
He was arrested then hauled off to the ICC in The Hague to face charges of crimes against humanity, becoming the first head of state to stand trial at the court, over the violence in which more than 3,000 died.
He spent nearly a decade behind bars before he was acquitted in 2019.
After an appeal against that ruling failed earlier this year, he announced that he will return to the Ivory Coast Thursday.
Gambia's Yahya Jammeh
Yahya Jammeh ruled Gambia with an iron fist for 22 years until 2017 when he fled to Equatorial Guinea after losing presidential elections.
Neighbouring nations had threatened a military intervention if he refused to go.
Gambia's government subsequently established a Truth, Reconciliation and Reparations Commission to investigate abuses allegedly committed under Jammeh.
It is due to report its findings next month amid calls for Jammeh to return to Gambia to face prosecution.
Wanted for murder
Burkina Faso president Blaise Compaore fled to Ivory Coast in 2014 after being ousted in a revolt sparked by his efforts to extend his 27-year hold on power.
A warrant for Compaore's arrest was issued in 2016.
In April lawyers said he would be tried for the murder of the man he ousted in 1987, revolutionary hero Thomas Sankara.
Morsi drops dead in dock
Egypt's first democratically-elected civilian president Mohamed Morsi came to power in 2012 but was toppled a year later by the military after mass protests.
Mid-trial in 2019, Morsi collapsed and died during a court hearing.
UN experts said brutal prison conditions probably contributed to his death.
Thai's Serbian exile
Thailand's army seized power in 2014 after months of demonstrations against the elected government of Yingluck Shinawatra, the sister of former prime minister Thaksin Shinawatra, himself driven out by a coup in 2006.
Yingluck was jailed but in 2017, with the kingdom still under junta rule, she furtively slipped out a few weeks before she was handed a five-year sentence for negligence over a costly rice subsidy scheme.
In 2019 a Serbian magazine published an image of a government document that said Yingluck had "obtained Serbian citizenship".