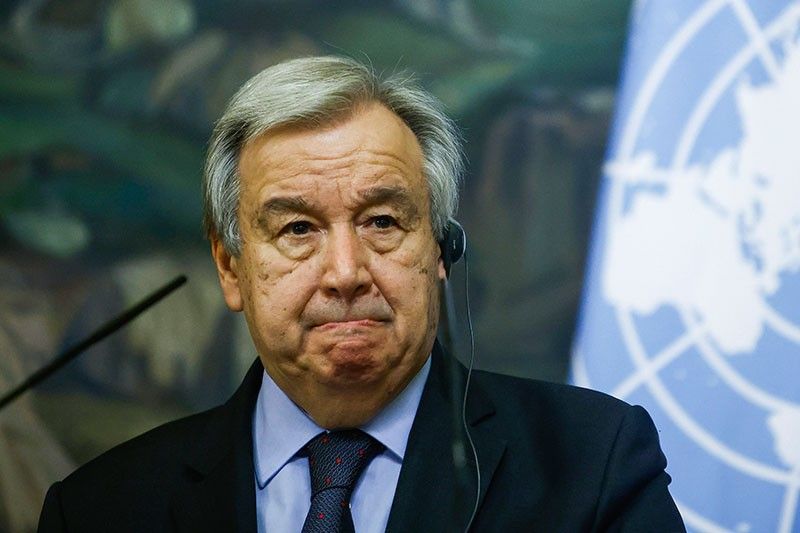 United Nations Secretary-General Antonio Guterres attends a joint press conference with Russian Foreign Minister following their talks in Moscow on May 12, 2021.
MAXIM SHEMETOV / POOL / AFP
UN chief 'dismayed', 'disturbed' by Israel strikes on Gaza
(Agence France-Presse) - May 16, 2021 - 9:34am
UNITED NATIONS, United States — UN Secretary-General Antonio Guterres was "dismayed" by civilian casualties in Gaza and "deeply disturbed" by Israel's strike on a building containing international media outlets, a spokesman said Saturday in response to reporters' questions.
The comments came as Israel pummeled the Gaza Strip with air strikes, killing 10 members of an extended family and demolishing the 13-floor Gaza building housing Qatar-based Al Jazeera and The Associated Press news agency, with Palestinian militants firing back barrages of rockets.
"The Secretary-General is dismayed by the increasing number of civilian casualties, including the death of ten members of the same family, including children, as a result of an Israeli airstrike last night in the al-Shati camp in Gaza, purportedly aimed at a Hamas leader," his spokesman, Stephane Dujarric, said in the written response to questions on the Israeli air strikes in Gaza.
Guterres was "also deeply disturbed by the destruction by an Israeli airstrike today of a high-rise building in Gaza City that housed the offices of several international media organizations as well as residential apartments," Dujarric continued.
"The Secretary-General reminds all sides that any indiscriminate targeting of civilian and media structures violates international law and must be avoided at all costs," he said.
Israeli air and artillery strikes on Gaza since Monday have killed 145 people including 41 children, and wounded another 1,100, health officials say, the worst violence in the region since 2014.
Palestinian armed groups have fired at least 2,300 rockets at Israel, killing 10 people, including a child and a soldier, and wounding over 560 Israelis. Israeli air defenses have intercepted many rockets.
US Secretary for Israel-Palestinian Affairs Hady Amr was to hold talks Sunday with Israeli leaders before meeting Palestinian officials to seek a "sustainable calm," the State Department said.
The UN Security Council was to meet Sunday to discuss the violence.
As It Happens
LATEST UPDATE: May 30, 2021 - 9:01am
More than 100 rockets were fired Monday from Gaza towards Israel by multiple Palestinian armed groups, Hamas Islamists who control the blockaded enclave said.
The Israeli army had earlier confirmed at least 45 rocket launches, most targeting areas near the Gaza border, but seven were directed towards Jerusalem.
The army later sent an update that the rocket fired had continued through the night. No Israeli fatalities have been reported. — AFP
May 30, 2021 - 9:01am
More than 1,000 rally in Washington in support of Palestinians and calling for an end to US aid to Israel.
The demonstration on the steps of the Lincoln Memorial came as a ceasefire that ended 11 days of intense fighting between Israel and the Islamist movement Hamas in the Gaza Strip has so far held.
"We are hoping to send a clear message to the United States government that the days of supporting the Israeli state without repercussions are over," one of the demonstrators, 39-year-old Washington lawyer Sharif Silmi, says as he stood in the crowd where many protesters held red, white, green and black Palestinian flags. — AFP
May 24, 2021 - 8:22pm
The United States' Secretary of State Antony Blinken departs Monday for a Middle East trip aimed at consolidating the ceasefire that brought 11 days of deadly bombardment between Israel and Hamas to a halt.
"Secretary Blinken will meet with Israeli leaders about our ironclad commitment to Israel's security," US President Joe Biden said in a statement.
"He will continue our administration's efforts to rebuild ties to, and support for, the Palestinian people and leaders, after years of neglect." — AFP
May 23, 2021 - 9:20am
The UN Security Council calls for "full adherence to the ceasefire" in the conflict between Israel and Palestinians in the Gaza Strip in its first statement since violence erupted on May 10.
Security Council members also stress "the immediate need for humanitarian assistance to the Palestinian civilian population, particularly in Gaza."
The statement received backing from the US delegation — which had blocked earlier drafts — only after the removal of a paragraph condemning the violence, a sensitive issue since it raised the question of blame. — AFP
May 21, 2021 - 9:27am
US Secretary of State Antony Blinken will travel to the Middle East "in the coming days," the State Department said Thursday after Israel and Hamas agreed to a ceasefire halting 11 days of fighting.
Blinken spoke with his Israeli counterpart Gabi Ashkenazi, who "welcomed Secretary Blinken's planned travel to the region, where the secretary will meet with Israeli, Palestinian, and regional counterparts in the coming days to discuss recovery efforts and working together to build better futures for Israelis and Palestinians," State Department spokesman Ned Price said. — AFP
May 21, 2021 - 7:13am
Ceasefire between Israel, Hamas officially comes into force. — AFP