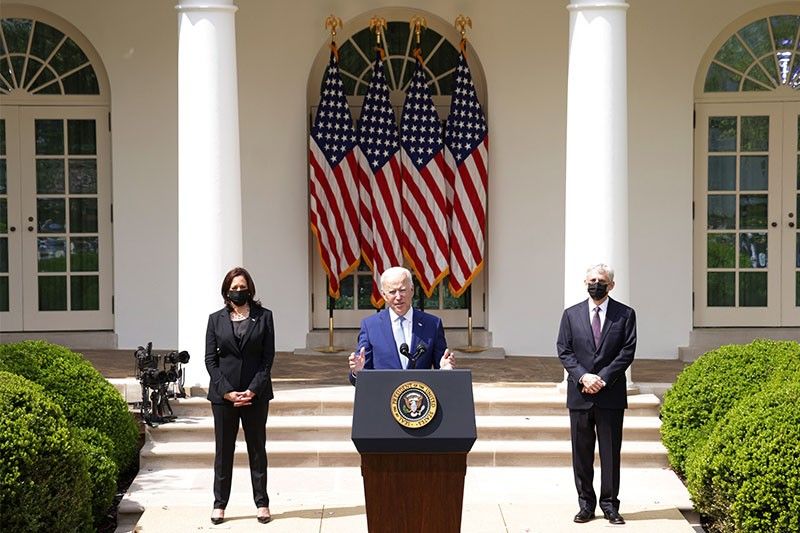 U.S. President Joe Biden speaks as Vice President Kamala Harris and Attorney General Merrick Garland listen during an event on gun control in the Rose Garden at the White House April 8, 2021 in Washington, DC. Biden will sign executive orders to prevent gun violence and announced his pick of David Chipman to head the Bureau of Alcohol, Tobacco, Firearms and Explosives.
AFP/lex Wong/Getty Images
Biden attempts to tackle US gun violence 'epidemic'
WASHINGTON, United States — President Joe Biden on Thursday branded US gun violence an "epidemic" and an "international embarrassment" at a White House ceremony to unveil his first attempt at getting the problem under control.
"This is an epidemic, for God's sake, and it has to stop," he said, calling shootings "a public health crisis."
"It's an international embarrassment," the Democrat, flanked by Attorney General Merrick Garland and Vice President Kamala Harris, told Congress members and gun control activists in the Rose Garden.
"Enough prayers," Biden said. "Time for some action."
Several hours after Biden's announcement, a gunman opened fire at a Texas cabinetry plant where he was employed, killing one person and sending four others to the hospital in critical condition. No motivation was immediately known.
With Congress unable to agree on broad new gun regulations, like stricter background checks for gun buyers, Biden announced six executive measures which he said would help tamp down the crisis. Republicans immediately attacked the proposal, with the party's senior leader in the House of Representatives, Kevin McCarthy, warning of "unconstitutional overreach."
In addition to relatively modest moves on the politically hyper-sensitive issue, Biden used his Rose Garden speech to announce the nomination of David Chipman, a gun-control proponent and former law enforcement officer, as head of the Bureau of Alcohol, Tobacco, Firearms and Explosives.
Reflecting the lack of unity in Washington around anything to do with firearms restrictions, the ATF — a key agency in the fight against gun violence — has not had a Senate-confirmed director since 2015.
Biden's six measures included a proposed rule to "stop proliferation of ghost guns," as firearms built from home kits are known. The White House says these homemade weapons are especially of concern because they have no serial numbers and cannot be traced after being used in crimes.
Another proposed rule will be tightening regulations on arm braces designed to stabilize pistols, a device used by the man who killed 10 people in a Colorado grocery store last month. Under the rule, pistols with braces would be classified as short-barreled rifles, putting them under stricter control.
Other measures include boosting support for agencies involved in tackling community violence and ordering the first comprehensive report on firearms trafficking in the United States since 2000.
Nearly 40,000 Americans die each year from shootings.
While mass shootings like recent killings in Colorado, Georgia and California attract most attention, more than half of the annual death toll is due to suicide.
Biden: ban 'assault weapons'
Biden said his proposals were just a start and urged Congress to take on far-reaching measures, like added background checks and ending the sale of powerful rifles often used in mass killings.
"I know that the conversation about guns in this country can be a difficult one. But even here, there is much more common ground than anyone would believe," he said.
"The idea that we have so many people dying every single day from gun violence in America is a blemish on our character as a nation."
Despite Biden's appeal, there is ferocious opposition to banning powerful weapons like the AR-15, a semi-automatic resembling the US military M16 rifle.
It has become notorious as both the tool of choice in many mass shootings and a hugely popular item for sports shooters and legal gun enthusiasts.
Biden successfully backed an assault weapons ban in 1994 when he was a senator. The law expired a decade later, however, and has never been renewed, with Republicans increasingly rigid in opposing what they depict as an attack on the more than two centuries-old constitutional right of citizens to have weapons.
"President Biden's executive actions today do two things: appease the far left and infringe upon our Second Amendment right to bear arms," Representative Robert Aderholt of Alabama tweeted, echoing the skepticism of numerous Republicans.
"They want to take your guns," said another Republican lawmaker, Ohio's Jim Jordan.
McCarthy vowed his party would "strongly oppose and pursue every option — be it legislative or judicial — to protect the right to keep and bear arms."
In March, after the shooting spree in Colorado, Biden said he wanted Congress to pass "common sense steps" to restrict firearms. But asked whether he could get enough votes, he replied: "I don't know."
As It Happens
LATEST UPDATE: May 8, 2021 - 2:04pm
Joe Biden takes office as the 46th president of the United States with an optimistic call for unity, vowing to bridge deep divides and defeat domestic extremism two weeks after a violent mob tried to undo his election victory.
On a frigid but sunny day at the very Capitol building that was assaulted on January 6, Biden was sworn in moments after Kamala Harris became America's first woman vice president, closing the book on Donald Trump's tumultuous four years.
"Democracy is precious, democracy is fragile and at this hour, my friends, democracy has prevailed," Biden says before a National Mall that was virtually empty due to the ultra-tight security and a raging COVID-19 pandemic that he vowed to confront immediately. — AFP
May 8, 2021 - 2:04pm
The United States added just 266,000 jobs in April -- a quarter of the number expected -- in a surprise setback for President Joe Biden's efforts to revive an economy blighted by the COVID-19 pandemic.
The weak hiring also pushed the unemployment rate up slightly to 6.1%, according to the Labor Department's monthly employment report released Friday.
The data defied economists' upbeat predictions that widespread Covid-19 vaccines and government relief measures would allow businesses to return to normal and add one million jobs last month. — AFP
May 6, 2021 - 8:01am
President Joe Biden says that America's Republicans face an identity crisis and a "mini-revolution" after Donald Trump's turbulent presidency.
The Democrat, who defeated Trump last November and had pledged to work with Republicans if he could, said the opposition has lost its way.
"It seems as though the Republican Party is trying to identify what it stands for and they're in the midst of a significant mini-revolution," he tells reporters at the White House. — AFP
May 4, 2021 - 10:15am
President Joe Biden announces, after coming under fierce criticism, that he was raising the maximum number of refugees allowed into the United States this year to 62,500 — up from the 15,000 cap imposed by his predecessor Donald Trump.
The change follows backlash from allies over Biden's earlier decision to keep the Trump-era limits -- a politically costly moment of confusion that stood out in a White House notable for its iron discipline in its first three months.
"This erases the historically low number set by the previous administration of 15,000, which did not reflect America's values as a nation that welcomes and supports refugees," Biden says in a statement. — AFP
May 3, 2021 - 12:10pm
Britain this week hosts the first face-to-face meeting of G7 foreign ministers in two years, joined by US Secretary of State Antony Blinken, as world powers tackle pandemic recovery plus growing tensions with Russia and China.
The Covid-secure gathering in London will prepare the ground for a G7 summit in southwest England next month, which will mark Joe Biden's inaugural visit to Europe as US president. Both events will also be joined by Indian leaders.
Many of the G7 nations have rallied to India's aid as the world's most populous democracy confronts a terrifying surge of coronavirus cases, although the pandemic is ebbing elsewhere in the West thanks to mass vaccination drives. — AFP
April 30, 2021 - 8:21am
US President Joe Biden meets with longtime ally and Democratic icon Jimmy Carter as he visited the southern state of Georgia to pitch his huge spending plans.
It was their first face-to-face encounter since Biden won the White House last November.
"They are such a powerful reminder that serving our country isn't limited to the office you hold," Jill Biden says afterwards in Duluth, Georgia, before introducing her husband at a rally. — AFP