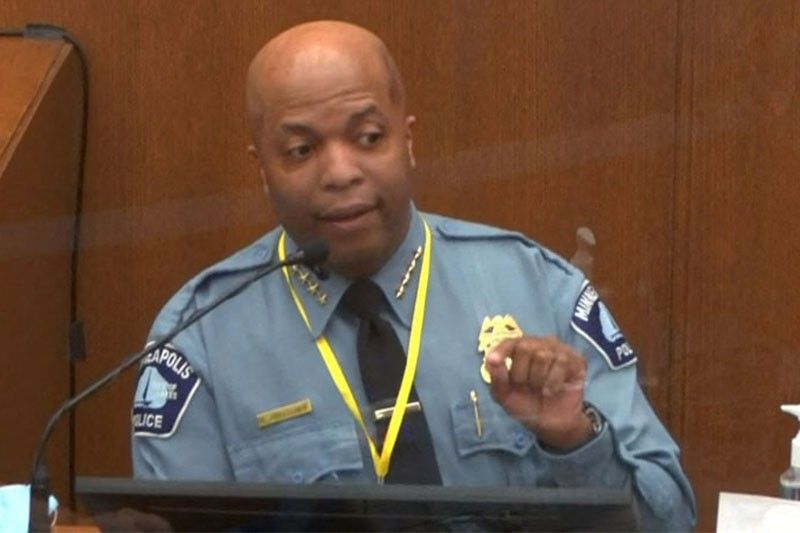 This screenshot obtained from pool video feed via Court TV on April 5, 2021, shows Minneapolis Police Chief Medaria Arradondo testifying during the trial of former police officer Derek Chauvin charged in the death of George Floyd in Minneapolis, Minnesota, on March 29, 2021.
AFP/ POOL VIA COURT TV/STR
Kneeling on Floyd's neck violated policy, 'values': police chief
(Agence France-Presse) - April 6, 2021 - 8:28am
MINNEAPOLIS, United States — Minneapolis police chief Medaria Arradondo testified on Monday that officer Derek Chauvin violated the department's training policies and its "values" by kneeling on George Floyd's neck after he had stopped resisting.
Arradondo, called as a prosecution witness at Chauvin's murder trial, said the use of force against Floyd was reasonable during the "first few seconds" of his May 25, 2020 arrest but it should have ended quickly.
"It is contrary to our training to indefinitely place your knee on a prone, handcuffed individual for an indefinite length of time," the police chief of the Minnesota city said.
"That in no way, shape or form is anything that is by policy," he said. "It is not part of our training and it is certainly not part of our ethics or our values.
"Once Mr. Floyd had stopped resisting, and certainly once he was in distress and trying to verbalize that, that should have stopped," Arradondo said.
The 45-year-old Chauvin, who is white, was seen in a video taken by a bystander kneeling on the neck of a handcuffed Floyd for more than nine minutes as the 46-year-old African-American man complained repeatedly that he "can't breathe."
Arradondo, 54, Minneapolis's first Black police chief, fired Chauvin and the three other officers involved in the arrest that led to Floyd's death the day after the incident.
The harrowing video of Floyd's arrest touched off protests against racial injustice and police brutality in the United States and around the world.
Chauvin has pleaded not guilty to charges of murder and manslaughter.
Another senior Minneapolis police officer, Inspector Katie Blackwell, testified on Monday about the training in the use of force that Chauvin and other officers received.
Blackwell, who headed the police training unit, was shown a picture of Chauvin kneeling on Floyd's neck and asked if that was an approved neck restraint.
"I don't know that kind of improvised position that is," she said. "It's not what we train."
'Hypoxia'
Eric Nelson, Chauvin's attorney, introduced video at one point that he said showed Chauvin's knee on Floyd's shoulder blade and not on his neck.
Prosecutors countered that the video depicted the moment when paramedics arrived and Chauvin had removed his knee from Floyd's neck to get up.
Also testifying on Monday was the doctor who treated Floyd when he was brought to the emergency room at the Hennepin County Medical Center.
Bradford Wankhede Langenfeld said Floyd was in cardiac arrest when he arrived and 30 minutes of efforts to revive him were unsuccessful.
He said a lack of oxygen was the most likely reason Floyd's heart had stopped beating.
"I felt that hypoxia was one of the more likely possibilities," Langenfeld said.
Prosecutors are seeking to prove that Floyd's death was due to asphyxiation while Chauvin's defense attorney claims it was due to illegal drugs in his system.
Langenfeld said the two paramedics who brought Floyd to the hospital did not mention any drug use or the possibility that he had overdosed.
Arradondo and Blackwell were the latest police officers to be called by the prosecution to testify against Chauvin.
Lieutenant Richard Zimmerman, the longest-serving officer in the Minneapolis Police Department, testified last week that Chauvin's use of force against Floyd was "totally unnecessary."
Zimmerman said he had reviewed bystander and police bodycam video of Floyd's arrest and Chauvin had violated department policies on the use of force.
"Pulling him down to the ground facedown and putting your knee on a neck for that amount of time, it's just uncalled for," Zimmerman said.
The first five days of the trial also featured emotional testimony from bystanders who witnessed the arrest and urged Chauvin to remove his knee from Floyd's neck.
The nine-woman, five-man jury hearing the case in a heavily guarded Minneapolis courtroom has also been repeatedly shown the graphic video of Floyd's arrest.
Chauvin faces up to 40 years in prison if convicted of the most serious charge — second-degree murder.
The other three former police officers involved in the arrest — Tou Thao, Thomas Lane, and J. Alexander Kueng — are to be tried separately later this year.
As It Happens
LATEST UPDATE: April 6, 2021 - 7:14am
Los Angeles, Philadelphia and Atlanta were among several US cities to announce curfews Saturday in a bid to stem violent anti-police protests breaking out across America.
A nighttime curfew was also implemented in Louisville, Kentucky as the United States continues to be rocked by demonstrators angry at the death of a black man during an arrest in Minneapolis on Monday.
George Floyd was handcuffed and died after a police officer knelt on his neck for nearly nine minutes, sparking the widespread protests against police brutality. — AFP
Photo: Demonstrators confront secret service police officers outside of the White House on May 30, 2020 in Washington DC, during a protest over the death of George Floyd, an unarmed black man, who died after a Minneapolis police officer kneeled on his neck for several minutes. Demonstrations are being held across the US after George Floyd died in police custody on May 25. Jose Luis Magana / AFP
April 6, 2021 - 7:14am
Minneapolis police chief Medaria Arradondo testifies that the neck restraint used by former police officer Derek Chauvin on George Floyd violated department policy.
Arradondo, testifying at Chauvin's murder trial, says the restraint was "not part of our policy, not part of our training, and it is certainly not part of our ethics or values." — AFP
March 14, 2021 - 10:36am
Demonstrators demanded justice and police reforms on Saturday as they marched on the one-year anniversary of the death of Breonna Taylor, a young Black woman mistakenly shot and killed by officers during a raid of her apartment.
"We got two different Americas. We got one for Black Americans and one for white Americans," Benjamin Crump, an attorney representing Taylor's family, told the crowd of hundreds in Louisville, Kentucky.
"We got to get justice for all our people in America."
The deaths of Taylor and George Floyd, a Black man who died under the knee of a policeman in Minneapolis, became a focus of a wave of protests last yea r against police abuses and racism in the United States. — AFP
March 8, 2021 - 7:09am
Bearing a replica coffin covered in red roses, thousands of people marched Sunday in the US city of Minneapolis, the day before trial proceedings begin for the white police officer charged with killing George Floyd, a Black man.
The diverse crowd mostly stayed silent, occasionally chanting "No justice, no peace!"
Floyd was 46 when he died of asphyxiation, as then-officer Derek Chauvin knelt on his neck for nearly nine minutes on May 25, 2020. His death triggered a nationwide protest movement against racism and police brutality.
Chauvin, who was fired by the Minneapolis Police Department, faces second-degree murder and manslaughter charges. — AFP
October 30, 2020 - 7:34am
Philadelphia's mayor said Thursday a curfew he had put in effect the previous evening over unrest that followed the police killing of a Black man would not be maintained for a second night.
Mayor Jim Kenney nonetheless called on residents to stay home except in case of emergency.
"There will not be a citywide curfew this evening," Kenney wrote on Twitter.
"However, we encourage residents to remain home, unless travel is necessary."
The curfew had been in effect overnight in Pennsylvania's largest city after unrest triggered by Monday's fatal police shooting of 27-year-old Walter Wallace, which was captured on video posted to social media.
Thousands of people had taken to the streets, with looting and violence breaking out. Fifty-seven officers have been injured, one seriously, a police spokesman said.
The two days of unrest have also seen 210 arrests. — AFP
September 24, 2020 - 9:40am
One police officer was shot in the US city of Louisville in protests after charges were filed against only one policeman involved in the fatal shooting in March of black woman Breonna Taylor, police says
A police spokeswoman confirms the incident to AFP, without offering further details.
The condition of the police officer was not immediately known, the local Fox affiliate WDRB reports. — AFP