In message to China, Biden to meet Australia, India, Japan PMs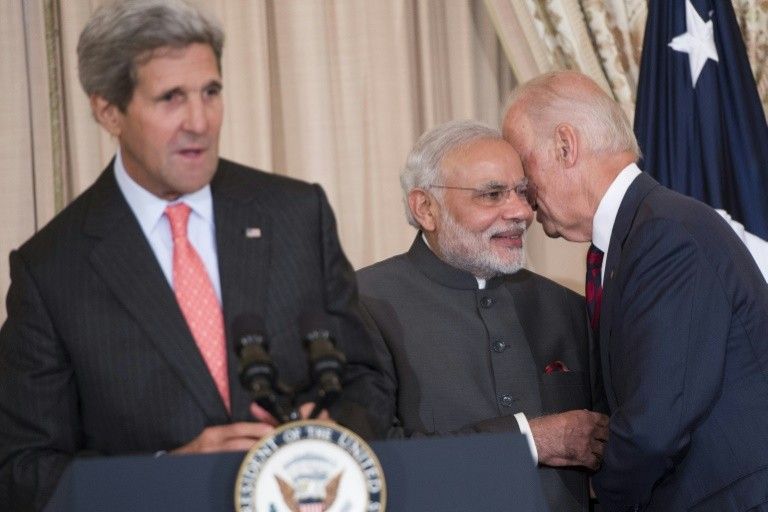 WASHINGTON, United States — US President Joe Biden will hold first-ever joint talks Friday with the leaders of Australia, India and Japan, boosting an emerging four-way alliance often cast as a bulwark against China.
It will be one of the first summits, albeit in virtual format, for Biden, who has vowed to revive US alliances in the wake of the disarray of Donald Trump's administration.
"That President Biden has made this one of his earliest multilateral engagements speaks to the importance that we place on close cooperation with our allies and partners in the Indo-Pacific," White House press secretary Jen Psaki told reporters Tuesday.
The meeting of the so-called "Quad" comes amid rising tensions with China, which is seen as flexing its muscle both in trade and security realms.
Australian Prime Minister Scott Morrison said that Biden was "taking this to another level."
"It will be an historic moment in our region and it sends a strong message to the region about our support for a sovereign, independent Indo-Pacific," Morrison told reporters.
Both Psaki and India, which earlier announced the participation of Prime Minister Narendra Modi, said that the talks would take up climate change and the Covid-19 pandemic -- two key priorities for Biden.
"The leaders will discuss regional and global issues of shared interest, and exchange views on practical areas of cooperation towards maintaining a free, open and inclusive Indo-Pacific region," the Indian foreign ministry said in a statement.
The talks, also involving Japanese Prime Minister Yoshihide Suga, will touch as well on promoting maritime security and "ensuring safe, equitable and affordable vaccines" to fight Covid-19 in Asia, the Indian statement said.
China's growing assertiveness
Japan said that Suga spoke separately Thursday to Modi and voiced alarm about China's "unilateral attempts to change the status quo in the East and China Sea" as well as the status of rights in Xinjiang and Hong Kong.
State Department spokesman Ned Price told reporters that the Quad was well-equipped to deal with the world's "urgent challenges" but, asked about China, said, the format is "not about any single competitor."
The summit follows talks on February 18 among the foreign ministers of the Quad when they pressed jointly for a restoration of democracy in Myanmar after the military ousted democratic leader Aung San Suu Kyi on February 1.
US officials cast the meeting as a key way of exerting pressure as India and Japan enjoy closer relationships with Myanmar's military -- which has historically counted on China as its main source of support.
The Quad foreign ministers, however, were careful not to make an explicit mention of China, which has voiced alarm at what it sees as an effort to gang up on its interests in Asia.
After Biden's election, Chinese state media had printed articles calling on India to end the Quad, seeing New Delhi as the most likely opponent.
But views have hardened in India after a pitched battle in the Himalayas last year killed at least 20 Indian troops. China has named four dead in confirmation that took half a year.
Australia has also shown growing willingness to participate in the Quad as relations deteriorate with Beijing, last year joining naval exercises with the three other nations off India's shores.
The Quad was launched in 2007 by Japan's then prime minister Shinzo Abe, who was alarmed at China's growing assertiveness around Asia.
Biden has pledged in general terms to continue his predecessor's hawkish line on China, including by pressing on human rights and territorial disputes.
But the Biden administration has promised what it considers a more productive approach that includes boosting ties with allies and finding limited areas for cooperation with Beijing such as climate change.
As It Happens
LATEST UPDATE: August 13, 2022 - 9:08am
Joe Biden takes office as the 46th president of the United States with an optimistic call for unity, vowing to bridge deep divides and defeat domestic extremism two weeks after a violent mob tried to undo his election victory.
On a frigid but sunny day at the very Capitol building that was assaulted on January 6, Biden was sworn in moments after Kamala Harris became America's first woman vice president, closing the book on Donald Trump's tumultuous four years.
"Democracy is precious, democracy is fragile and at this hour, my friends, democracy has prevailed," Biden says before a National Mall that was virtually empty due to the ultra-tight security and a raging COVID-19 pandemic that he vowed to confront immediately. — AFP
August 13, 2022 - 9:08am
US lawmakers adopt President Joe Biden's sprawling climate, tax and health care plan -- a major win for the veteran Democrat that includes the biggest ever American investment in the battle against global warming.
Passage in the House of Representatives along strict party lines came after approval of the bill in the Senate by a razor-thin margin, with Vice President Kamala Harris casting the tie-breaking vote.
Biden quickly hailed the adoption of his plan, which includes a $370 billion investment aimed at bringing about a 40 percent drop in greenhouse gas emissions by 2030. — AFP
August 11, 2022 - 2:26pm
US Secretary of State Antony Blinken is due to hold talks with Rwandan President Paul Kagame on Thursday, facing calls from campaigners to pressure Kigali over its human rights record and alleged support of rebels in the neighbouring Democratic of Congo.
Blinken arrived late Wednesday in Rwanda, the final stop of a three-nation trip to Africa, hot on the heels of a visit to the continent by Russian Foreign Minister Sergei Lavrov.
The US diplomat has sought to woo African nations, which have largely steered clear of backing Washington against Moscow in the Ukraine war, by calling for an "equal" partnership with the continent.
His visit comes after an unpublished independent investigation for the UN, seen by AFP last week, said Rwandan troops had attacked soldiers inside the DRC and aided M23 rebels, a primarily Tutsi rebel group.
The M23 has captured swathes of territory in eastern DRC in recent months, causing tensions to spike between Kigali and Kinshasa, which has repeatedly accused Kagame's government of backing the notorious militia.
In the DRC on Tuesday, Blinken said the United States was "very concerned by credible reports that Rwanda has supported the M23," adding that he would discuss the issue with Kagame, whose government has consistently denied the claims.
In a statement released Monday, Human Rights Watch called on Blinken to "urgently signal that there will be consequences for the government's repression and abuse in Rwanda and beyond its borders". -- AFP
August 8, 2022 - 7:49am
The US Senate passes Joe Biden's ambitious climate, tax and health care plan -- a significant victory for the president ahead of crucial midterm elections.
Voting as a unified bloc and with the tie-breaking vote cast by Vice President Kamala Harris, Democrats approved the $430-billion spending plan, which will go to the House of Representatives next week, where it is expected to pass before being signed into law by Biden.
The plan, crafted in sensitive talks with members on the right wing of his Democratic Party, would include the biggest US investment ever on climate -- $370 billion aimed at effecting a 40 percent drop in greenhouse gas emissions by 2030. — AFP
July 15, 2022 - 9:55am
US President Joe Biden "welcomes and commends the historic decision" by Saudi Arabia to lift restrictions on all carriers using its airspace, an apparent gesture of openness towards Israel, a White House statement says.
"This decision is the result of the President's persistent and principled diplomacy with Saudi Arabia over many months, culminating in his visit today," US National Security Adviser Jake Sullivan says in the statement.
He says Biden, who will land in Saudi Arabia for a controversial visit later Friday, "will have more to say on this breakthrough later today." — AFP
July 10, 2022 - 3:22pm
US Secretary of State Antony Blinken on Sunday hailed Thailand's role in the renewed US push in Southeast Asia, a key area of competition with China, on a trip where he also sought new ideas on how to restore democracy in Myanmar.
Signing an agreement pledging to keep expanding ties, Blinken pointed to Thailand's embrace of a new US-led economic plan for Asia as well as its efforts on climate change.
In Thailand, "we have an ally and partner in the Indo-Pacific of such importance to us in a region that is shaping the trajectory of the 21st century, and it is doing that every single day", Blinken said after talks with Foreign Minister Don Pramudwinai.
Thailand is America's oldest ally in Asia, famously offering elephants to Abraham Lincoln during the Civil War, but has also increasingly worked with a rising China. — AFP