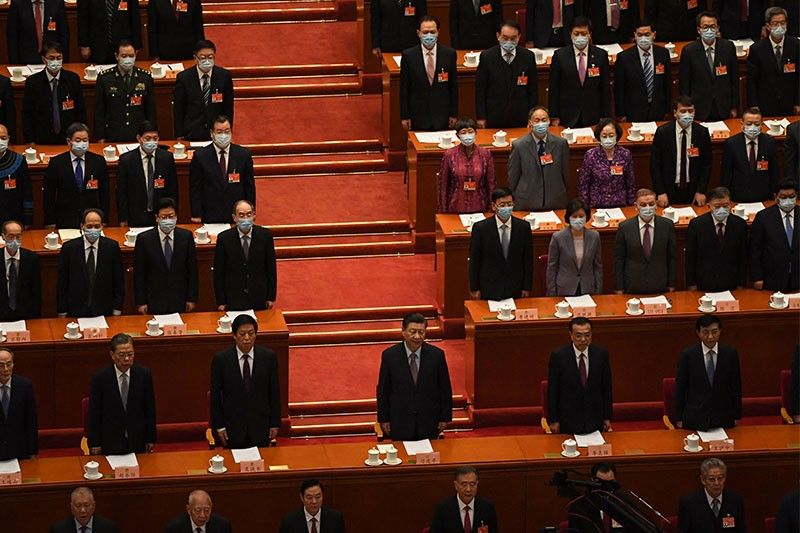 Chinese top leaders, from left to right, Vice President Wang Qishan, Politiburo Standing Committee member Zhao Leji, National People's Congress Chairman Li Zhanshu, Chinese President Xi Jinping (C), Premier Li Keqiang, Politiburo Standing Committee member Wang Huning, arrive for the opening ceremony of the Chinese People's Political Consultative Conference (CPPCC) at the Great Hall of the People in Beijing on March 4, 2021.
AFP/Leo Ramirez
Hong Kong tops agenda as China readies for annual Congress
(Agence France-Presse) - March 5, 2021 - 8:07am
BEIJING, China — Chinese Premier Li Keqiang will address his nation on Friday, kicking off an annual legislative session that is expected to further tighten Beijing's grip on Hong Kong.
China has ushered in a sweeping crackdown against critics in the semi-autonomous financial hub after huge and often violent pro-democracy protests rocked the city in 2019.
As thousands of delegates gathered for China's week-long National People's Congress (NPC), official news agency Xinhua said late Thursday the attendees would mull a draft measure on "improving the electoral system" of Hong Kong.
The territory dominated headlines during last year's NPC session when delegates endorsed a tough security law designed to stamp out dissent there.
Chinese state media has run editorials in recent weeks saying "electoral loopholes" will be plugged, while officials have said only "staunch patriots" — those loyal to the ruling Communist Party — should be involved in governing Hong Kong.
Dozens of Hong Kong dissidents were jailed on Thursday for subversion in the broadest use yet of the security legislation enacted by Beijing last year.
The annual gathering of roughly 3,000 delegates, held in the cavernous Great Hall of the People in Beijing, is China's biggest political event of the year.
It is a highly choreographed display meant to drive home the unquestioned domestic power of the Communist Party while updating China and the world on the government's economic, political, environment and foreign policy priorities.
The event opens with China outpacing other major economies after bringing the coronavirus pandemic, which first emerged on its soil, under control through draconian lockdowns and mass testing.
The centrepiece is the annual report by Li — China's equivalent of a "state of the nation" address — which is expected to start shortly after 9:00 am (0100 GMT).
Economic growth target
Li traditionally uses the lengthy speech to reveal an annual growth target for the world's second-largest economy.
But he broke with precedent last year, providing no benchmark due to the "great uncertainty" of the pandemic, which also had pushed back the legislative session for two months, the first delay in decades.
China's economy has rebounded since, however, and some key industrial provinces have already begun announcing local growth targets.
The pandemic is now largely under control within its borders, though questions linger about Chinese missteps that allowed it to spread globally.
Tight restrictions remain, especially in Beijing during the Congress session.
Planned or potential legislation includes a proposed revision to wildlife protection laws that would permanently ban eating most wildlife, amid the belief that the pandemic came from an animal host.
There also is a proposal to tighten data protection in a country that has embraced facial recognition, mobile payments and other digital solutions, but with attendant fears of identity theft.
Bills are nearly always overwhelmingly approved by the party-controlled chamber.
As It Happens
LATEST UPDATE: April 8, 2021 - 8:37pm
Millions march in Hong Kong in a powerful rebuke of an extradition law feared to expose them to China's capricious justice system.
April 8, 2021 - 8:37pm
China on Thursday accused Britain of sheltering "wanted criminals" after prominent Hong Kong democracy activist Nathan Law said he had been granted political asylum there.
London and Beijing are at bitter odds over the fate of Hong Kong, with Britain accusing China of tearing up its promise to maintain key liberties in the former colony for 50 years after the handover.
Law said Wednesday he had been granted asylum in Britain, after fleeing semi-autonomous Hong Kong following the introduction of a sweeping new security law.
That provoked an angry response in Beijing.
"The UK is clearly a platform for Hong Kong independence agitators, and provides so-called shelter for wanted criminals," foreign ministry spokesman Zhao Lijian told reporters. — AFP
April 1, 2021 - 11:36am
Nine veteran Hong Kong activists face jail after they were convicted Thursday on unlawful assembly charges for their role in organising one of the biggest democracy protests to engulf the city in 2019.
The defendants include some of the city's most prominent pro-democracy campaigners, many of whom are non-violence advocates who have spent decades campaigning in vain for universal suffrage.
They are the latest group of democracy figures to be prosecuted as China oversees a sweeping crackdown on dissent in the restless financial hub.
Among them are Martin Lee, an 82-year-old barrister who was once chosen by Beijing to help write Hong Kong's mini-constitution, and Margaret Ng, a 73-year-old barrister and former opposition lawmaker.
Media tycoon Jimmy Lai, currently in custody after his arrest under Beijing's new national security law, was among those convicted. — AFP

March 12, 2021 - 8:56am
The United States on Thursday denounce China's approval of sweeping changes to Hong Kong's electoral system, saying Beijing was stifling democracy in the financial capital.
The rubber-stamp parliament's move is "a direct attack on autonomy promised to people in Hong Kong under the Sino-British Joint Declaration" before the handover of the territory in 1997, Secretary of State Antony Blinken says.
"These actions deny Hong Kongers a voice in their own governance by limiting political participation, reducing democratic representation and stifling political debate," Blinken says in a statement. — AFP
March 12, 2021 - 7:06am
The European Union warns China it could take "additional steps" as it condemned a vote by Beijing's rubber-stamp parliament for sweeping changes to Hong Kong's electoral system.
"The National People's Congress of the People's Republic of China adopted today a decision that will have a significant impact on democratic accountability and political pluralism in Hong Kong," EU foreign policy chief Josep Borrell says in a statement on behalf of the 27-nation bloc.
Thursday's vote includes powers to veto candidates running in the city as Beijing moves decisively to dismantle Hong Kong's democratic pillars after huge protests in the financial hub.
"The European Union regrets that the fundamental freedoms, democratic principles and the political pluralism that are central to Hong Kong's identity and prosperity are under increasing pressure by the authorities," the statement says. — AFP
March 4, 2021 - 8:58pm
A Hong Kong judge agreed to release 15 dissidents charged with subversion on Thursday as he began delivering a closely watched ruling at the end of a mammoth four day bail hearing.
"These 15 defendants, the court finds it has sufficient ground to believe that you won't commit acts endangering national security again during the period of bail," chief magistrate Victor So said.
The fate of the remaining 32 dissidents facing the same charges has not yet been addressed in the judge's ruling. — AFP