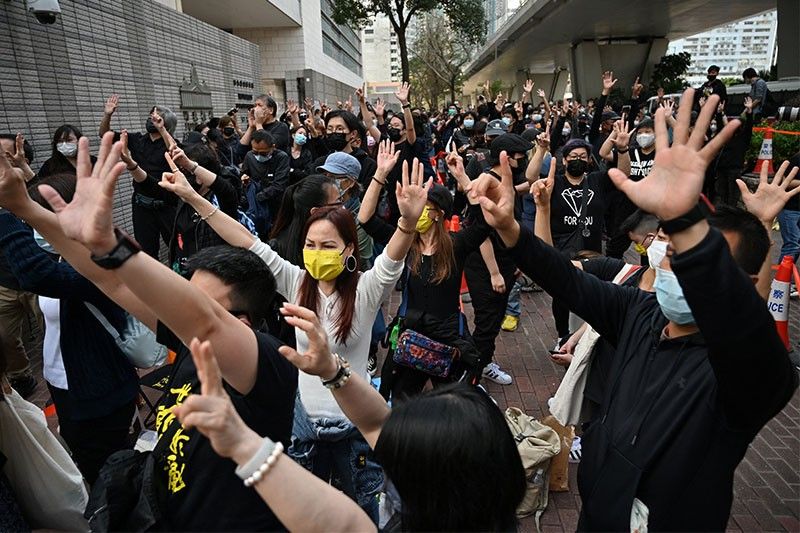 Pro-democracy supporters make hand signs outside the West Kowloon court in Hong Kong on March 1, 2021, ahead of court appearances by dozens of dissidents charged with subversion in the largest use yet of Beijing's sweeping new national security law.
AFP/Peter Parks
Supporters rally as Hong Kong dissidents charged with subversion
Su Xinqi
(Agence France-Presse) - March 2, 2021 - 7:34am
HONG KONG, China — A court hearing involving some of Hong Kong's best known dissidents was adjourned in the early hours of Tuesday after one of the 47 defendants charged with subversion fainted and was rushed to hospital.
The hearing, which began on Monday, sparked a resurgence of public defiance in Hong Kong unseen in months as hundreds of pro-democracy supporters gathered outside the courthouse to chant and flash protest symbols.
The dissidents were charged Sunday with conspiracy to commit subversion — the broadest use yet of China's sweeping security law imposed on the city last year. It criminalises any act considered to be subversion, secession, terrorism or collusion with foreign forces.
Court proceedings stopped around 1:45 am Tuesday local time when defendant Clarisse Yeung appeared to faint and collapsed.
Magistrate Victor So later announced that the hearing was adjourned until 11:30 am local time.
The defendants will be held by the Correctional Services Department, while the two hospitalised defendants will be under police custody, he said.
As the court adjourned, the defendants rose and gave a round of applause to their lawyers.
Beijing is struggling to quash dissent in semi-autonomous Hong Kong after huge and sometimes violent pro-democracy demonstrations in 2019.
Police are freely using China's national security law to crack down on dissent, while thwarting demos by invoking a ban on public gatherings of more than four people designed to help stop the spread of the novel coronavirus.
Nevertheless hundreds of pro-democracy demonstrators met outside the law courts to show their support for the dissidents.
Some chanted slogans including "Release all political prisoners" and "Liberate Hong Kong, revolution of our times" — the latter a slogan authorities have deemed illegal under the security law.
Many flashed the three-finger "Hunger Games" salute that has been embraced by fellow democracy campaigners in Thailand and Myanmar.
Police raised banners warning that an illegal gathering was taking place and that protesters' chants were breaking the national security law.
Officers later dispersed the crowd outside the courtroom citing Covid-19 restrictions. The demonstrators largely complied, with some heckling officers and chanting as they left.
'Jailed, exiled and charged'
Local district councillor Kwan Chun-sang was one of dozens who camped overnight to bag a spot at the front of the queue for the court's public gallery.
"Soon after the charges were laid yesterday I decided to come and spend the night here," he told AFP. "I would like to show my support for the pro-democracy activists."
A small group of pro-Beijing protesters held banners welcoming the subversion charges.
"Punish the traitors severely, enact the national security law and throw them all behind bars," one sign read.
The defendants represent a cross-section of Hong Kong's opposition, from veteran former pro-democracy lawmakers to academics, lawyers, social workers and youth activists.
So many have been charged that officials had to open up three other courtrooms to accommodate the overspill.
The alleged offence for those facing subversion charges was organising an unofficial primary last summer to choose candidates for the city's legislature, in the hopes that the pro-democracy bloc might take a majority and block government legislation.
Chinese and Hong Kong officials said this was an attempt to "overthrow" the city's government, and therefore a threat to national security.
The dissidents were arrested in a series of dawn raids in January and charged on Sunday with "conspiracy to commit subversion" — one of the new broadly defined national security crimes. They face up to life in prison if convicted.
International criticism
US Secretary of State Antony Blinken led international criticism of the latest charges, calling for the group's immediate release, as western powers accused Beijing of shredding the freedoms and autonomy it promised Hong Kong could maintain ahead of the territory's handover from the British.
Britain and the European Union said the charges showed the law was being used to target political dissent rather than threats to national security.
China's foreign ministry on Monday dismissed the criticism, saying Beijing "resolutely supports Hong Kong police... in upholding national security as well as Hong Kong's security and stability".
The security law has curbed dissent and radically transformed Hong Kong's relationship with the authoritarian mainland
Those charged under the law can expect to be held for months until their trial, as the law removes the territory's tradition of granting bail for non-violent crimes.
As It Happens
LATEST UPDATE: April 8, 2021 - 8:37pm
Millions march in Hong Kong in a powerful rebuke of an extradition law feared to expose them to China's capricious justice system.
April 8, 2021 - 8:37pm
China on Thursday accused Britain of sheltering "wanted criminals" after prominent Hong Kong democracy activist Nathan Law said he had been granted political asylum there.
London and Beijing are at bitter odds over the fate of Hong Kong, with Britain accusing China of tearing up its promise to maintain key liberties in the former colony for 50 years after the handover.
Law said Wednesday he had been granted asylum in Britain, after fleeing semi-autonomous Hong Kong following the introduction of a sweeping new security law.
That provoked an angry response in Beijing.
"The UK is clearly a platform for Hong Kong independence agitators, and provides so-called shelter for wanted criminals," foreign ministry spokesman Zhao Lijian told reporters. — AFP
April 1, 2021 - 11:36am
Nine veteran Hong Kong activists face jail after they were convicted Thursday on unlawful assembly charges for their role in organising one of the biggest democracy protests to engulf the city in 2019.
The defendants include some of the city's most prominent pro-democracy campaigners, many of whom are non-violence advocates who have spent decades campaigning in vain for universal suffrage.
They are the latest group of democracy figures to be prosecuted as China oversees a sweeping crackdown on dissent in the restless financial hub.
Among them are Martin Lee, an 82-year-old barrister who was once chosen by Beijing to help write Hong Kong's mini-constitution, and Margaret Ng, a 73-year-old barrister and former opposition lawmaker.
Media tycoon Jimmy Lai, currently in custody after his arrest under Beijing's new national security law, was among those convicted. — AFP

March 12, 2021 - 8:56am
The United States on Thursday denounce China's approval of sweeping changes to Hong Kong's electoral system, saying Beijing was stifling democracy in the financial capital.
The rubber-stamp parliament's move is "a direct attack on autonomy promised to people in Hong Kong under the Sino-British Joint Declaration" before the handover of the territory in 1997, Secretary of State Antony Blinken says.
"These actions deny Hong Kongers a voice in their own governance by limiting political participation, reducing democratic representation and stifling political debate," Blinken says in a statement. — AFP
March 12, 2021 - 7:06am
The European Union warns China it could take "additional steps" as it condemned a vote by Beijing's rubber-stamp parliament for sweeping changes to Hong Kong's electoral system.
"The National People's Congress of the People's Republic of China adopted today a decision that will have a significant impact on democratic accountability and political pluralism in Hong Kong," EU foreign policy chief Josep Borrell says in a statement on behalf of the 27-nation bloc.
Thursday's vote includes powers to veto candidates running in the city as Beijing moves decisively to dismantle Hong Kong's democratic pillars after huge protests in the financial hub.
"The European Union regrets that the fundamental freedoms, democratic principles and the political pluralism that are central to Hong Kong's identity and prosperity are under increasing pressure by the authorities," the statement says. — AFP
March 4, 2021 - 8:58pm
A Hong Kong judge agreed to release 15 dissidents charged with subversion on Thursday as he began delivering a closely watched ruling at the end of a mammoth four day bail hearing.
"These 15 defendants, the court finds it has sufficient ground to believe that you won't commit acts endangering national security again during the period of bail," chief magistrate Victor So said.
The fate of the remaining 32 dissidents facing the same charges has not yet been addressed in the judge's ruling. — AFP