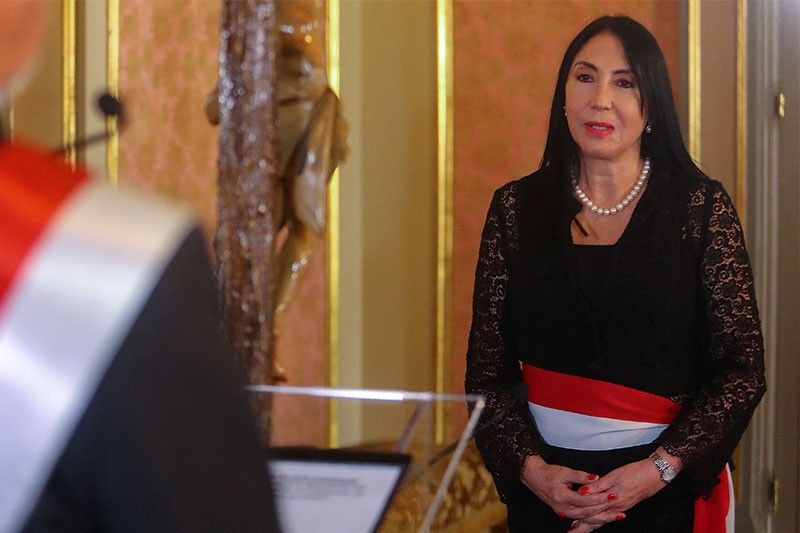 Handout picture released by the Peruvian presidency showing the then new Foreign Minister Elizabeth Astete during the inauguration ceremony of the new cabinet of President Francisco Sagasti, at the presidential palace in Lima on November 18, 2020. Astete presented her resignation on February 14, 2021 amid a political scandal after the complaint that former President Martin Vizcarra and other government high ranking authorities were vaccinated against COVID-19 months before immunization started in the country, public television reported.
AFP/Peruvian Presidency/Luis Iparraguire
Peru foreign minister resigns over early vaccination scandal
(Agence France-Presse) - February 15, 2021 - 3:07pm
LIMA, Peru — Peru's foreign minister resigned Sunday, the second top official to step down amid a growing scandal over politicians receiving Covid-19 vaccinations well before the general public.
The South American nation has been badly hit by the pandemic, with its hospitals overwhelmed and a targeted vaccination program for health workers rolling out only from February 8.
Public resentment over officials receiving vaccinations — despite there being no date for a wider immunization drive — has seen at least two government officials resign.
Peruvian media said that Attorney General Zoraida Avalos had opened a "preliminary investigation" against ex-president Martin Vizcarra and others responsible for the early vaccination of senior officials.
Top diplomat Elizabeth Astete tweeted Sunday that she had received the jab last month, calling it a "serious mistake" and saying she would not get a second dose.
Declaración pública. pic.twitter.com/yFbtGzjHMG

— Elizabeth Astete Rodríguez (@E_AsteteR) February 15, 2021
Health minister Pilar Mazzetti also stepped down last week following a newspaper report that former president Vizcarra had received a shot of the Chinese Sinopharm vaccine in October.
Peru only began its immunization drive, starting with health workers, in early February after receiving 300,000 doses of the vaccine.
There is still no date for a general vaccine rollout, but the government has said it intends to inoculate 10 million people by July.
Vizcarra, 57, received the jab just weeks before being impeached and removed from office on charges he was "morally incompetent."
The ex-president — who is now campaigning for a seat in Congress — admitted last week he and his wife had taken part in a vaccine trial, adding he had kept quiet about it as "volunteers have to maintain confidentiality."
Lima's Cayetano Heredia University, which is leading clinical tests of the Sinopharm vaccine, on Sunday denied Vizcarra had been a trial volunteer.
Vizcarra expressed "great surprise" at the university's statement, reiterating he had received two doses as a trial subject.
He insisted there had been no "administrative fault or crime," and warned his actions were being exploited by "enemies of the country."
The scandal has sparked outrage in the South American nation of 33 million, currently facing a second wave of the virus that has seen cases quadruple.
"It is not possible that in the midst of a crisis public office is used for personal gain. Investigation and punishment of those responsible is urgently needed," President of the Peruvian Congress Mirtha Vasquez told America TV.
Peruvian media has speculated there may be numerous officials who are already vaccinated, prompting Sagasti's chief of staff and 12 other ministers to state they have yet to be immunized.
The 76-year-old president was publicly vaccinated last Tuesday alongside health personnel.
Peru has recorded more than 1.2 million coronavirus cases and over 43,700 deaths.
As It Happens
LATEST UPDATE: April 16, 2021 - 5:21pm
Pharma giants Sanofi and GSK said on July 29, 2020, that they have agreed to supply Britain with up to 60 million doses of a potential COVID-19 vaccine. The agreement covers a vaccine candidate developed by France's Sanofi in partnership with the UK's GSK and is subject to a "final contract."
This thread collects some of the major developments in the search for a vaccine to ease the new coronavirus pandemic. (Main photo by AFP/Joel Saget)
April 16, 2021 - 5:21pm
The European Union is very unlikely to renew its COVID-19 vaccine contracts with pharmaceutical company AstraZeneca, a French minister says.
Denmark this week banned the use of AstraZeneca jabs over blood clot concerns, just as the EU said it was expecting 50 million Pfizer vaccine doses earlier than expected.
No final EU decision had been taken, French Industry Minister Agnes Pannier-Runacher tells RMC radio, but "it is highly probable" that no further AstraZeneca doses would be ordered. — AFP
April 16, 2021 - 1:03pm
The head of Pfizer says in an interview that people will "likely" need a third dose of his company's COVID-19 shot within six to 12 months of vaccination, while elsewhere defending the relatively higher cost of the jab.
CEO Albert Bourla also says annual vaccinations against the coronavirus may well be required.
"We need to see what would be the sequence, and for how often we need to do that, that remains to be seen," Bourla tells CNBC in an interview. — AFP
April 15, 2021 - 8:36am
A pause on all US vaccinations with the Johnson & Johnson Covid shot will continue for at least another week after members of a government-convened expert panel said Wednesday they needed more time to assess its possible links to a clotting disorder.
The Centers for Disease Control and Prevention (CDC) convened a meeting a day after authorities reported six cases of women developing brain clots along with low blood platelet counts, including one death, within two weeks of people getting the one-dose Covid-19 vaccine.
The shot has been given to some 7.2 million Americans, and participants at the meeting were told on Wednesday a seventh case involving a 28-year-old woman has been identified. — AFP
April 14, 2021 - 6:46pm
Russian President Vladimir Putin said Wednesday he has received the second dose of a vaccine against the coronavirus and said he hopes Russians follow his example.
"I want to inform you that right now, before entering this room, I also received the second vaccination," he said at a televised meeting. "I assume that you, taking care of yourself and your loved ones, will do the same and follow my example." — AFP
April 13, 2021 - 2:51pm
A leading local drugmaker says India has authorized the Sputnik V COVID-19 vaccine in a boost for the nation's inoculation drive as infection rates soar to record highs.
Russia's Sputnik V is the third vaccine to be approved by India after the Oxford-AstraZeneca vaccine and Covaxin, which was developed by Indian firm Bharat Biotech.
"We are very pleased to obtain the emergency use authorisation for Sputnik V in India," says G.V. Prasad, co-chair of pharmaceutical company Dr Reddy's Laboratories, in a statement. — AFP