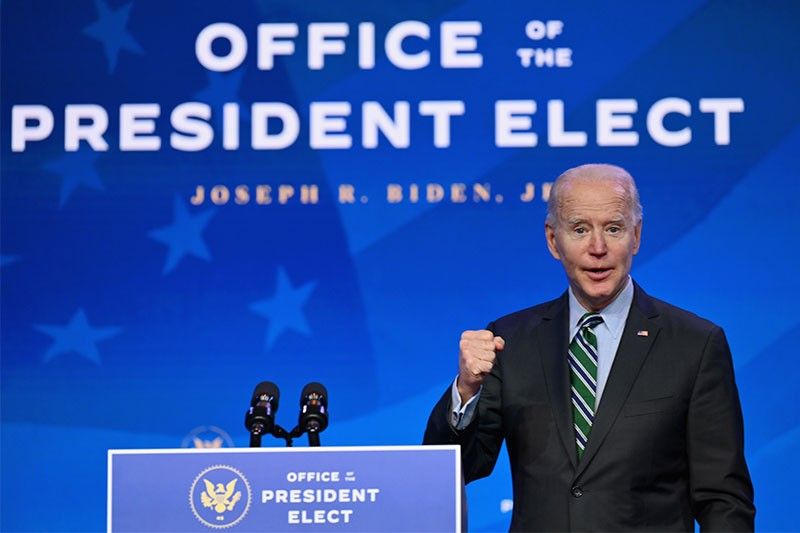 US President-elect Joe Biden introduces nominees for his science team on January 16, 2021, at The Queen theater in Wilmington, Delaware. Biden is nominating Francis Collins to continue as Director of the National Institutes of Health, Eric Lander as Director of the Office of Science and Technology Policy (OSTP), Alondra Nelson as Deputy Director of OSTP, Narda Jones as Legislative Affairs Director of OSTP, Kei Koizumi as Chief of Staff of the OSTP, Frances Arnold as Co-Chair of the President's Council of Advisors on Science and Technology (PCAST), and Maria Zuber as Co-Chair of PCAST.
AFP/Angela Weiss
Biden to sign executive orders on Day 1, amid high alert for inauguration
Anita Chang
(Agence France-Presse) - January 17, 2021 - 9:44am
WASHINGTON, United States — Joe Biden's top aide said Saturday the incoming president would sign about a dozen executive orders on his first day in office, as police fearing violence from Trump supporters staged a nationwide security operation ahead of the inauguration.
Authorities in Washington, where Wednesday's inauguration will take place, said they arrested a man with a loaded handgun and more than 500 rounds of ammunition at a security checkpoint, underscoring the tension in the US capital which is resembling a war zone.
However, the man's family told US media he was a security guard, rejecting the idea he was intent on causing harm.
Incoming Biden chief of staff Ron Klain said in a memo to new White House senior staff that the executive orders would address the pandemic, the ailing US economy, climate change and racial injustice in America.
"All of these crises demand urgent action," Klain said in the memo.
"In his first ten days in office, President-elect Biden will take decisive action to address these four crises, prevent other urgent and irreversible harms, and restore America's place in the world," Klain added.
As he inherits the White House from Donald Trump, Biden's plate is overflowing with acute challenges.
The US is fast approaching 400,000 dead from the Covid-19 crisis and logging well over a million new cases a week as the coronavirus spreads out of control.
The economy is ailing, with 10 million fewer jobs available compared to the start of the pandemic.
Biden this week unveiled plans to seek $1.9 trillion to revive the economy through new stimulus payments and other aid, and plans a blitz to accelerate America's stumbling Covid vaccine rollout effort.
On Inauguration Day Biden, as previously promised, will sign orders including ones for the US to rejoin the Paris climate accord and reverse Trump's ban on entry of people from certain Muslim majority countries, Klain said.
"President-elect Biden will take action — not just to reverse the gravest damages of the Trump administration — but also to start moving our country forward," Klain said.
500 rounds of ammunition
Meanwhile, Washington was under a state of high alert after a mob of President Donald Trump's supporters stormed the Capitol on January 6. The assault left five people dead, including a police officer.
Security officials have warned that armed pro-Trump extremists, possibly carrying explosives, pose a threat to Washington as well as state capitals over the coming week.
Thousands of National Guard troops have been deployed in Washington and streets have been blocked off downtown with concrete barriers.
On Friday night, police arrested a Virginia man at a security checkpoint where he tried to use an "unauthorized" credential to access the restricted area where Biden will be inaugurated.
As officers checked the credential against the authorized access list, one noticed decals on the back of Wesley Beeler's pick-up truck that said "Assault Life," with an image of a rifle, and another with the message: "If they come for your guns, give 'em your bullets first," according to a document filed in Washington, DC Superior Court.
Under questioning, Beeler told officers he had a Glock handgun in the vehicle. A search uncovered a loaded handgun, more than 500 rounds of ammunition, shotgun shells and a magazine for the gun, the court document said.
Beeler was arrested on charges including possession of an unregistered firearm and unlawful possession of ammunition.
But Beeler's father Paul told The New York Times his son had been working as a security guard on the Capitol grounds.
Asked if the younger Beeler supported a peaceful transition of power, Paul Beeler told the newspaper, "That's the reason he's there."
In addition to the heavy security presence in Washington, law enforcement was out in force in state capitals around the country to ward off potential political violence.
Mass protests that had been planned for the weekend did not materialize on Saturday, with security far outnumbering Trump supporters at several fortified statehouses, US media reported.
In St Paul, Minnesota, for example, hundreds of law enforcement officers, some armed with long guns, ringed the Capitol with National Guard troops providing backup.
The number of protesters totaled about 50.
As It Happens
LATEST UPDATE: February 14, 2021 - 11:51am
US President-elect Joe Biden unveiled plans Thursday for fighting COVID and injecting $1.9 trillion into a battered US economy, but already his ambitious first 100 days agenda is overshadowed by the looming Senate trial of his soon-to-be predecessor Donald Trump.
Biden promised "a new chapter" for the nation on the day after Trump became the first US president to ever be impeached twice, as the incoming Democrat sought to seize the narrative in a primetime address and get Americans looking forward again. — AFP
Photo: Angela Weiss/ AFP
February 14, 2021 - 11:51am
US President Joe Biden said Saturday that despite Donald Trump's acquittal in the US Capitol insurrection trial the charges against him are not in dispute and the attack shows "democracy is fragile."
"While the final vote did not lead to a conviction, the substance of the charge is not in dispute," Biden said after the Senate voted 57-43 to acquit Trump in his second impeachment trial.
"This sad chapter in our history has reminded us that democracy is fragile. That it must always be defended. That we must be ever vigilant," Biden said in a statement after Trump's trial on charges he incited the mob that overran Congress on January 6. — AFP
February 5, 2021 - 8:11am
A Democratic-led US House voted Thursday to discipline a congresswoman who embraced QAnon conspiracy theories, capping weeks of mounting turmoil over holding to account a lawmaker whose extremist rhetoric caused a rupture in Republican ranks.
By a modestly bipartisan vote of 230 to 199, Georgia conservative Marjorie Taylor Greene, a fierce supporter of former president Donald Trump, was stripped of her two committee assignments, even hours after she took to the House floor to express regret for spreading misinformation. — AFP
February 3, 2021 - 12:59pm
US President Joe Biden paid his respects Tuesday at a solemn memorial in the Capitol to the policeman who died of injuries he suffered there last month in an attack by Donald Trump's supporters.
With the First Lady at his side, Biden bowed his head and rested his hand on the tabletop bearing the ashes of officer Brian Sicknick, who was given the rare honor of lying in honor at the building housing the United States Congress.
Sicknick was reportedly struck in the head with a fire extinguisher while struggling with the rioters who swarmed through the halls of Congress as they tried to undo Biden's election victory over Trump.
The 42-year-old member of the force that protects the ground of the Congress returned to his office where he collapsed and was taken to the hospital, according to the Capitol Police.
He died the next day, they said, bringing the death toll from the violent attack to five. — AFP
January 26, 2021 - 9:39am
The US House of Representatives formally presented an article of impeachment to the Senate on Monday accusing Donald Trump of inciting the storming of the Capitol, triggering the first-ever impeachment trial of a former president.
In a solemn procession, the nine House impeachment managers silently walked the article of impeachment through the same ornate halls of Congress overrun by Trump supporters on January 6 and delivered it to the secretary of the Senate.
Trump's Senate trial is to begin the week of February 8. — AFP
January 21, 2021 - 4:21pm
China on Thursday urges a new era of relations between Beijing and Washington, as President Biden's inauguration brought an end to the fractious term of Donald Trump.
"With cooperation from both sides, the better angels in China-US relations will beat the evil forces," foreign ministry spokeswoman Hua Chunying tells a press briefing. — AFP