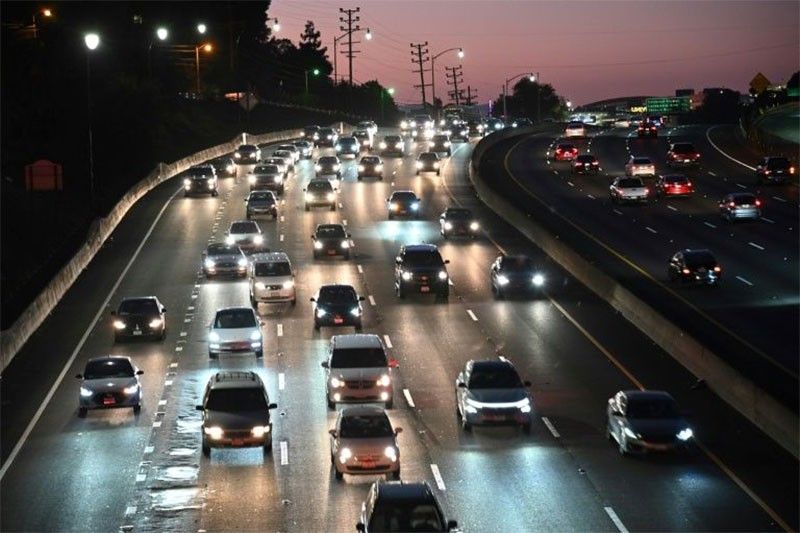 The analysis showed richer nations had depleted nearly a third of Earth's carbon budge since 1990.
AFP
Richest 1%'s emissions twice that of poorest 50%: analysis
Patrick Galey
(Agence France-Presse) - September 21, 2020 - 8:22am
PARIS, France — The richest one percent of people are responsible for more than twice as much carbon pollution as the poorest half of the world's population — 3.1 billion people — new research showed Monday.
Despite a sharp decrease in carbon emissions due to the pandemic, the world remains on pace to warm several degrees this century, threatening poor and developing nations with the full gamut of natural disasters and displacements.
An analysis led by Oxfam showed that between 1990 and 2015, when annual emissions ballooned 60 percent, that rich nations were responsible for depleting nearly a third of Earth's carbon budget.
The carbon budget is the limit of cumulative greenhouse gas emissions mankind may produce before rendering catastrophic temperature rises unavoidable.
Just 63 million people — the "one percent" — took up nine percent of the carbon budget since 1990, research conducted for Oxfam by the Stockholm Environment Institute found.
Highlighting an ever-widening "carbon inequality", the analysis said the growth rate of the one percent's emissions was three times that of the poorest half of humanity.
"It's not just that extreme economic inequality is divisive in our societies, it's not just that it slows the rate of poverty reduction," Tim Gore, head of policy, advocacy and research, told AFP.
"But there is also a third cost which is that it depletes the carbon budget solely for the purpose of the already affluent growing their consumption."
"And that of course has the worse impacts on the poorest and least responsible," Gore added.
The 2015 Paris climate deal commits nations to limit global temperature rise to "well below" two degrees Celsius above pre-industrial levels.
But emissions have continued to rise since then, and several analyses have warned that without a thoroughly re-tooled global economy prioritising green growth, the pollutions savings due to Covid-19 will have an insignificant mitigating impact on climate change.
With just 1C of warming so far, Earth is already battling more frequent and intense wildfires, droughts and super storms rendered more powerful by rising seas.
Gore said governments must put the twin challenges of climate change and inequality at the heart of any Covid-19 recovery plan.
"It's clear that the carbon intensive and highly unequal model of economic growth over the last 20-30 years has not benefited the poorest half of humanity," he said.
"It's a false dichotomy to suggest that we have to choose between economic growth and (fixing) the climate crisis."
Commenting on the Oxfam report, Hindou Oumarou Ibrahim, an environment activist and president of the Association for Indigenous Women and Peoples of Chad, said that climate change could not be tackled without prioritising economic equality.
"My indigenous peoples have long borne the brunt of environmental destruction," said Ibrahim.
"Now is the time to listen, to integrate our knowledge, and to prioritise saving nature to save ourselves."
As It Happens
LATEST UPDATE: October 4, 2020 - 1:56pm
At current levels of greenhouse gas emissions, Earth could warm by 1.5 degrees Celsius (2.7 degrees Fahrenheit) as early as 2030, the Intergovernmental Panel for Climate Change says in a landmark report.
"Global warming is likely to reach 1.5C between 2030 and 2052 if it continues to increase at the current rate," the report concluded with "high confidence."
Earth's surface has warmed one degree Celsius (1.8 degrees Fahrenheit)—enough to lift oceans and unleash a crescendo of deadly storms, floods and droughts—and is on track toward an unliveable 3C or 4C rise.
October 4, 2020 - 1:56pm
With tender care, Sepp Rieser adorns the bulky heads of his reluctant cows with flower wreaths, adds some more fir twigs, and adjusts the large bells around their necks.
"I've been doing this since I was a little boy," Rieser says of the ancestral tradition in which cattle are decorated for their journey from the high Alpine Gramai pasture in Austria's western Tyrol state, where they graze all summer long, to the valley below where they'll spend the harsh winter months.
To Rieser, the festivities surrounding this journey to the village of Pertisau in the Karwendel mountains are as important as his birthday or Christmas.
Images of Jesus and the Virgin Mary feature in the adornments of his 90-strong herd, reflecting the region's strong Catholic heritage.
But it could soon be a relic of the past: Sweeping economic changes as well as climate change are taking their toll on the landscape and threatening the future of the tradition as well as its bovine stars. — AFP
September 30, 2020 - 7:57pm
Some of Europe's biggest car giants including BMW and Jaguar Land Rover use leather linked to deforestation in South America, threatening the most vulnerable tribes, environmental NGO Earthsight says Wednesday.
It claims the automakers buy leather for vehicle interiors initially sourced from cattle ranching on illegally razed land in a part of Paraguay that is home to one of the world's last tribes with no contact with the outside world.
The London-based organization says the leather from the Paraguayan Gran Chaco, a region rich in biodiversity that is home to jaguars and giant anteaters, enters the auto industry supply chains via Italian tanneries.
The region's forests are being destroyed faster than any others in the world, it noted. — AFP
September 8, 2020 - 8:32pm
World powers must pull together and retool their economies for a green future or humanity is "doomed", UN chief Antonio Guterres has warned, telling AFP that failure to control the coronavirus pandemic illustrates the danger of disunity.
Before the virus struck, 2020 was billed as a pivotal year for the plan to dodge the bullet of catastrophic global warming, with high profile summits planned to catch a wave of public alarm over the future of the planet.
The coronavirus crisis may have shunted climate into the sidelines as nations launched unprecedented shutdowns to try to slow its spread, but Guterres said the need for climate action was more urgent than ever.
In a searing assessment of the international response, Guterres said the pandemic should sharpen governments' focus on cutting emissions, urging them to use the crisis as a springboard to launch "transformational" policies aimed at weaning societies off fossil fuels. — AFP
March 8, 2020 - 4:22pm
As a child, Nguy Thi Khanh used to lie in the grass in her Vietnamese village and watch toxic emissions from nearby coal plants float past like clouds.
Today she is one of the few voices in Vietnam taking on the industry -- a rare female climate crusader pushing for renewables in a country where dirty energy is on the rise.
At 43, she has already founded Green ID, Vietnam's best-known environmental NGO, convinced the government to reduce some of its coal targets, helped spark a national conversation about rising air and water pollution, and won international plaudits for her work.
But it is not without risks: Dissent is not tolerated by the Vietnamese government and many activists have wound up in jail for speaking up against authorities. -- AFP
March 8, 2020 - 10:24am
New analysis by the Nestpick 2050 Climate Change City Index says Bangkok could be hardest hit by global warming.
And while it is not alone facing such a threat — Venice, New Orleans, and Jakarta are predicted to be underwater by 2100 — it does have a secret weapon in its battle to negate the impact of a hotter planet: renowned architect Kotchakorn Voraakhom who preaches mindful development over mindless construction.
"We are talking life and death in this situation," says the 39-year-old who is hoping to bring Bangkok back from the brink, as scientists warn extreme weather — flooding and droughts — could ravage the city, leaving as much as 40 percent submerged in the next decade.
Kotchakorn says: "I don't want to face it with fear. At this moment we have a chance to make change... We have to do it right now to show the coming generations that this is possible. It is not about sitting and waiting and doing the same thing." — AFP