US now says asymptomatic people don't need virus test after exposure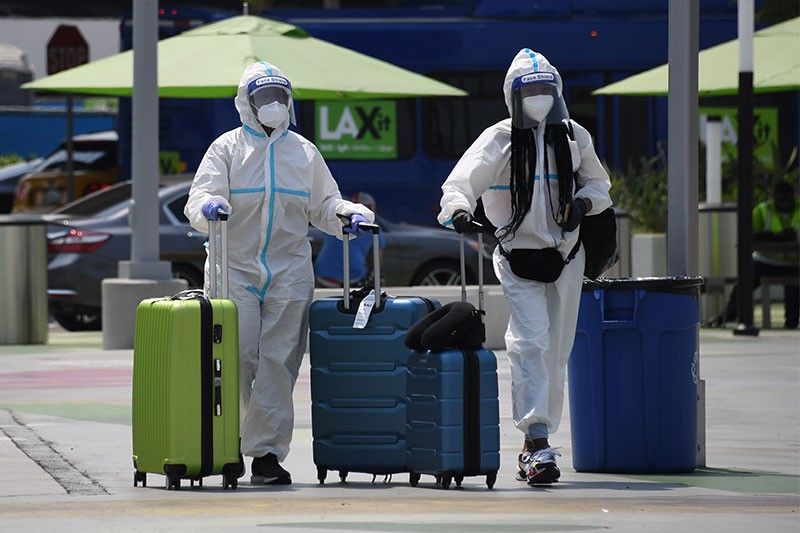 WASHINGTON, United States — After previously encouraging people without Covid-19 symptoms to get tested if they have been exposed to someone diagnosed with the virus, US health authorities have abruptly reversed their position without a clear explanation.
The changes in guidance were quietly made to the Centers for Disease Control and Prevention (CDC) website on Monday amid US media reports of political interference from the White House.
President Donald Trump has repeatedly said that the US should do less testing, and blamed testing for making it appear as though the country is doing poorly against the pandemic.
This is not true: though the US is testing at a high level, that is because its outbreak is worse than any other country in the world, with more than 5.8 million confirmed cases and almost 180,000 deaths.
The CDC's site previously said: "Testing is recommended for all close contacts of persons with SARS-CoV-2 infection.
"Because of the potential for asymptomatic and pre-symptomatic transmission, it is important that contacts of individuals with SARS-CoV-2 infection be quickly identified and tested."
The site now says: "If you have been in close contact (within 6 feet) of a person with a COVID-19 infection for at least 15 minutes but do not have symptoms, you do not necessarily need a test unless you are a vulnerable individual or your health care provider or State or local public health officials recommend you take one."
Fauci critical
In a call with reporters, senior health department official Brett Giroir said, "The new guidelines are a CDC action. As always, guidelines received appropriate attention, consultation and input from (coronavirus) Task Force experts."
Giroir did not elaborate on what new evidence had led to the guidance.
But he said that the documents had been seen by other senior officials including the widely respected Anthony Fauci, who leads the National Institute of Allergies and Infectious Diseases.
Fauci later denied this, telling CNN: "I was under general anesthesia in the operating room and was not part of any discussion or deliberation regarding the new testing recommendations.
"I am concerned about the interpretation of these recommendations and worried it will give people the incorrect assumption that asymptomatic spread is not of great concern. In fact, it is," he added.
Fauci had surgery last Thursday to remove a vocal cord polyp.
The CDC has previously emphasized that between 40-50 percent of people with Covid-19 are asymptomatic, and therefore getting tested is important to stop the spread of the virus.
Many other health experts also reacted with dismay.
"I still can't make sense of @CDCgov change in guidance," tweeted Leana Wen, a professor at George Washington University and former health commissioner of Baltimore.
"An estimated 40-50% of people with #covid19 are asymptomatic. Those exposed to the virus need to know to protect their family members & the public. One has to wonder: is this change because we don't have enough tests?"
I still can't make sense of @CDCgov change in guidance. An estimated 40-50% of people with #covid19 are asymptomatic. Those exposed to the virus need to know to protect their family members & the public. One has to wonder: is this change because we don't have enough tests? pic.twitter.com/BfdaPDO9zF

— Leana Wen, M.D. (@DrLeanaWen) August 26, 2020
Both The New York Times and CNN quote officials saying that the CDC was instructed to change its guidelines following pressure from the president.
The Trump administration has previously been accused of pressuring the CDC to change its guidance on reopening schools, weighting its recommendations heavily in favor of in-person learning.
The political neutrality of the Food and Drug Administration was also questioned this week when its chief, Stephen Hahn, joined Trump in misrepresenting a key statistic about the effectiveness of blood plasma.
As It Happens
LATEST UPDATE: October 19, 2021 - 6:57pm
Follow this page for updates on a mysterious pneumonia outbreak that has struck dozens of people in China.
October 19, 2021 - 6:57pm
The novel coronavirus has killed at least 4,902,638 people since the outbreak emerged in China in December 2019, according to a tally from official sources compiled by AFP.
At least 241,039,700 cases of coronavirus have been registered. The vast majority have recovered, though some have continued to experience symptoms weeks or even months later.
The figures are based on daily reports provided by health authorities in each country.
October 16, 2021 - 6:03pm
Russia on Saturday tops 1,000 deaths over 24 hours for the first time since the start of the coronavirus pandemic, with the country's jab drive at a standstill and few restrictions in place.
An official government tally showed 1,002 deaths and 33,208 new infections, setting a high for both fatalities and cases for the third day in a row.
The surging outbreak has come with just 31 percent of Russians fully inoculated as of Saturday, according to the Gogov website, which tallies Covid-19 data from the regions. — AFP
October 12, 2021 - 1:53pm
Elated Sydneysiders celebrate the end of almost four months of coronavirus lockdown, putting behind them a period of "blood, sweat and no beers" in Australia's largest city.
Sydney's more than five million residents were subjected to a 106-day lockdown, designed to limit the march of the highly transmissible Delta variant.
With new infections now falling -- New South Wales state recorded 496 cases on Monday -- and more than 70% of over-16s fully vaccinated, the city is dusting off the cobwebs. — AFP
October 11, 2021 - 8:38pm
The Kremlin on Monday described Russia's COVID fatality toll as "high" and the country's vaccination rate as "unacceptably" low, even as it rejected new restrictions so as to protect the economy.
Officials on Monday registered 957 new deaths from Covid-19 over 24 hours, bringing the country's total fatalities to 217,372 -- the highest toll in Europe -- even as authorities are accused of downplaying the severity of Russia's outbreak.
Under a broader definition of deaths linked to the virus, the Rosstat statistics agency said Friday that by the end of August more than 400,000 people in Russia had died with the coronavirus.
The growing toll from the virus comes as Russia's jab drive has stalled. As of Monday, just over 30 percent of Russians had been fully vaccinated, according to the Gogov website, which tallies COVID-19 data from the regions.
"Yes, indeed, the level of vaccinations we have is small, unacceptably small," Kremlin spokesman Dmitry Peskov told reporters, saying that this is the reason for "such a high mortality rate." -- AFP
October 9, 2021 - 10:45am
A major study shows that cases of depression and anxiety surged by more than a quarter globally during the first year of the pandemic, especially among women and young adults.
In the first worldwide estimate of the mental health impact of COVID-19, researchers estimated that 2020 saw an additional 52 million people suffer from major depressive disorder, and an additional 76 million cases of anxiety.
These represent a 28- and 26-percent increase in the two disorders respectively, according to the study, published in The Lancet medical journal. — AFP