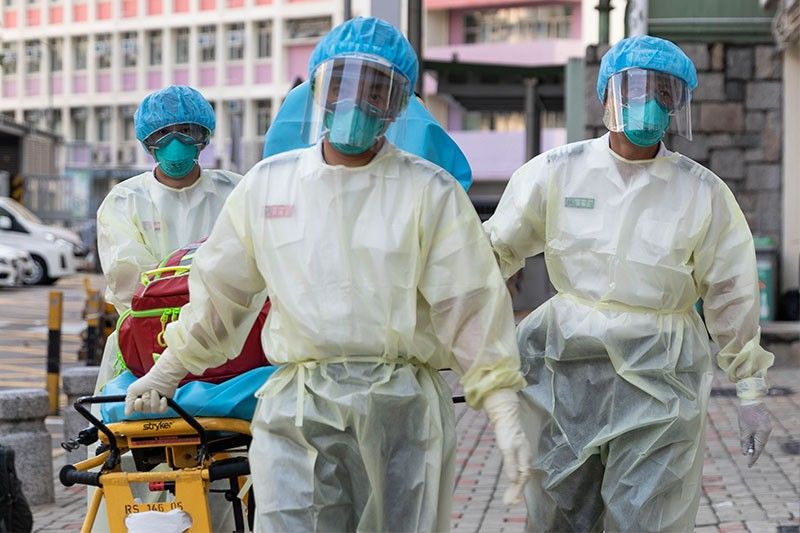 Medical staff wearing personal protective equipment (PPE) as a precautionary measure against the COVID-19 coronavirus approach Lei Muk Shue care home in Hong Kong on August 23, 2020.
AFP/May James
Hong Kong: First 'proven' case of COVID-19 reinfection
Marlowe Hood
(Agence France-Presse) - August 25, 2020 - 7:27am
PARIS, France — Researchers in Hong Kong Monday identified what they said was the first confirmed case worldwide of COVID-19 reinfection, raising questions about the durability of immunity, whether acquired naturally or with a vaccine.
"Our study proves that immunity for COVID infection is not lifelong — in fact, reinfection can occur quite quickly," said Kelvin Kai-Wang To, a microbiologist at Hong Kong University's Faculty of Medicine and lead author of a forthcoming study that details the findings.
"COVID-19 patients should not assume after they recover that they won't get infected again," he told AFP in an interview.
Even people who have shaken off the virus should practice social distancing, wear masks and practise hand washing, he advised.
They should also get tested if suspect symptoms appear.
The case came to light when a 33-year old resident of Hong Kong passed through mandatory screening earlier this month at the Hong Kong airport on his way back from Europe. The so-called PCR swab test was positive.
This came as a surprise because the man had contracted -- and recovered from -- a COVID infection four-and-a-half months earlier, and was assumed to have immunity, especially after such a brief time since the infection.
To find out whether he had suffered a relapse or had been infected anew, To and his team sequenced the two virus strains and compared their genomes, or genetic coding.
The two viral signatures were "completely different", and belonged to different coronavirus lineages, or clades.
The first closely resembled strains collected in March and April, and the second strain matched the virus found in Europe -- where the patient had just been visiting -- in July and August.
"The virus mutates all the time," said To. "It is very unlikely that the patient would have gotten the second virus during the first infection."
The fact that a blood sample -- taken shortly after the positive test at the airport -- showed no antibodies is a further indication that the second virus had not been lingering unnoticed for months.
"This is certainly stronger evidence of reinfection than some of the previous reports because it uses the genome sequence of the virus to separate the two infections," said Jeffrey Barret, a senior scientific consultant for the COVID-19 Genome Project at the Welcome Sanger Institute, commenting on the study.
Broader implications
Up to now, there have been many cases of suspected re-infection, but none were able to rule out the possibility that the virus has remained latent and reemerged after weeks or months.
But experts differed as to how alarmed the world should be by the new findings, which will be published in the peer-reviewed medical journal Clinical Infectious Diseases.
"This is a worrying finding for two reasons," said David Strain, a clinical senior lecturer at the University of Exeter Medical School.
"It suggests that previous infections are not protective. It also raises the possibility that vaccinations may not provide the hope that we have been waiting for."
If antibodies don't provide lasting protection, "we will need to revert to a strategy of viral near-elimination in order to return to a normal life", he added.
In the same vein, To said that scientists developing vaccines should look not just at the immune response, but at the duration of protection from infection.
But other researchers suggested that the case uncovered was far more likely to be extremely rare.
"It is to be expected that the virus will naturally mutate over time," said microbiologist Brendan Wren of the London School of Hygiene & Tropical Medicine.
"This is a very rare example of re-infection and it should not negate the global drive to develop COVID-19 vaccines."
Barrett agreed.
"This may be very rare, and it may be that second infections -- when they do occur -- are not serious," he said.
Indeed, the reinfection of the Hong Kong patient was complete asymptomatic.
But this could also mean that such an outcome may be more common than suspected, said To.
"People don't get tested all the time after they recover, especially if they have no symptoms," he said by phone.
As It Happens
LATEST UPDATE: January 19, 2021 - 9:04pm
Follow this page for updates on a mysterious pneumonia outbreak that has struck dozens of people in China.
January 19, 2021 - 9:04pm
The novel coronavirus has killed at least 2,041,289 people since the outbreak emerged in China in December 2019, according to a tally from official sources compiled by AFP at 1100 GMT on Tuesday.
At least 95,476,360 cases of coronavirus have been registered.
These figures are based on daily tolls provided by health authorities in each country and excludes later re-evaluations by statistical organisations, as has happened in Russia, Spain and Britain.
On Monday, 9,002 new deaths and 512,975 new cases were recorded worldwide. — AFP
January 18, 2021 - 9:27pm
The novel coronavirus has killed at least 2,031,048 people since the outbreak emerged in China in December 2019, according to an AFP tally from official sources at 1100 GMT on Monday.
More than 94,964,590 cases of coronavirus have been registered. Of these, at least 57,817,100 are now considered recovered.
These figures are based on daily tolls provided by health authorities in each country and exclude later re-evaluations by statistical organisations, as has happened in Russia, Spain and Britain. — AFP
January 18, 2021 - 6:45pm
Nearly three million people were put under lockdown in China Monday after a surge in coronavirus cases linked to a travelling salesman in the country's northeast.
While China has largely brought the virus under control, a sharp rise in cases in the past few weeks has prompted fresh lockdowns, travel restrictions and multiple rounds of mass testing.
Monday saw three million residents of two cities in northeastern Jilin province placed under new measures, as China reported 109 new infections. — AFP
January 16, 2021 - 2:04pm
India is set to begin one of the world's largest coronavirus vaccination drives Saturday as the pandemic spread at a record pace and global COVID-19 deaths surged past two million.
The World Health Organization has called for accelerating vaccine rollouts worldwide as well as ramping up efforts to study the sequencing of the virus, which has infected more than 93 million people globally since it was first detected in China in late 2019.
India, home to 1.3 billion people, has the world's second-largest caseload, and the government has given approvals to two vaccines -- though one is yet to complete clinical trials -- aiming to inoculate around 300 million people by July. — AFP
January 16, 2021 - 10:26am
US Secretary of State Mike Pompeo alleges there were COVID-like illnesses among staff at a Chinese virology institute in autumn 2019, casting further blame on Beijing as health experts arrived in the country to probe the pandemic's origins.
The top US diplomat in a statement urged the World Health Organization team that landed Thursday in Wuhan, where COVID-19 was first detected, to "press the government of China" on the "new information."
"The United States government has reason to believe that several researchers inside the (Wuhan Institute of Virology) became sick in autumn 2019, before the first identified case of the outbreak, with symptoms consistent with both COVID-19 and common seasonal illnesses," Pompeo says. — AFP