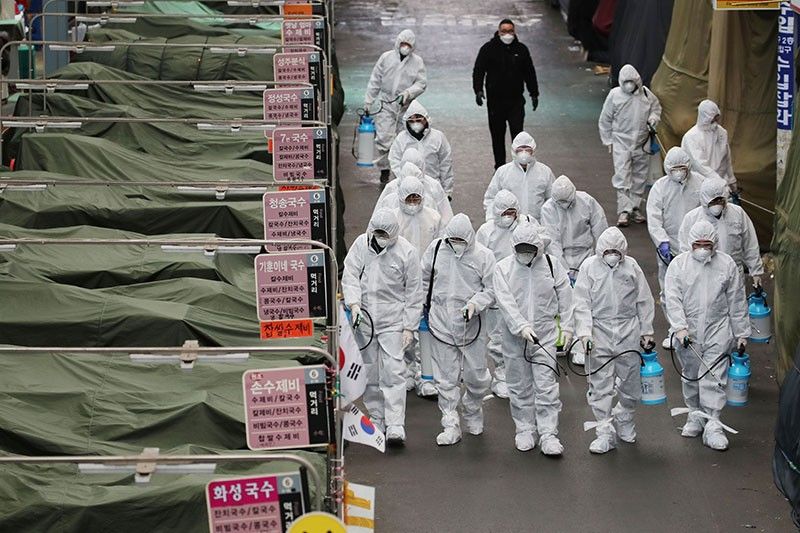 Market workers wearing protective gear spray disinfectant at a market in the southeastern city of Daegu on February 23, 2020 as a preventive measure after the COVID-19 coronavirus outbreak. South Korea reported two additional deaths from coronavirus and 123 more cases on February 23, with nearly two thirds of the new patients connected to a religious sect. The national toll of 556 cases is now the second-highest outside of China.
AFP/Yonhap
Spread of coronavirus confirms WHO fears, say experts
PARIS, France — The sharp rise in cases and the geographical spread of the coronavirus outside China confirm WHO fears over dealing with the crisis, experts warned Sunday as they appealed for ever greater vigilance.
"There has been a profound shift in the direction that COVID-19 (new coronavirus) is taking over the past 48 hours," said Professor Devi Sridhar, Director of the Global Health Governance Programme at the University of Edinburgh Medical School.
"The WHO and its member state governments now need to be thinking about transitioning from containment to mitigation, ie. reducing the negative impacts of continued transmission," Sridhar warned.
On Friday, World Health Organization (WHO) chief Tedros Adhanom Ghebreyesus had already sounded the alarm, saying the window to stem the virus was shrinking.
"We are still in a phase where containment is possible... our window of opportunity is narrowing," he warned, adding if countries did not quickly mobilise to counter the virus spread, matters could get "messy."
He also warned that Africa's poor health infrastructure left it vulnerable to the COVID-19 disease, which has spilled out of China to more than 25 countries.
Those fears have been compounded by three fatalities in recent days in Italy -- where some 50,000 people are in lockdown -- eight in Iran and six in South Korea.
The WHO has expressed concern at the apparent emergence of cases without a clear epidemiological link to China, where it emerged.
'Anywhere in the world'
"It's what we call the passage to community transmission," said Professor Arnaud Fontanet, specialist in epidemiology of emerging diseases at France's Pasteur Institute.
"That renders controlling it much more difficult and presages the risk of its introduction beyond China."
Cases in both Lebanon and Canada appear to have emanated from Iran, for example, while, in Italy, scientists are puzzled that they cannot trace a link between several cases of sufferers with no apparent links to infected persons.
"What is happening in Italy and South Korea and Iran could happen anywhere in the world," said Sridhar.
Nathalie MacDermott, lecturer at King's College London, said "the evolving situation in South Korea, Iran and Italy is very concerning.
"There has been the expectation that some countries might develop person to person transmission of SARS-COV2 following an imported case of infection from an affected country.
"What is concerning is the lack of clear contact with such an individual in initiating clusters in these three countries, and particularly in Iran and Italy."
MacDermott urged all countries to take prompt action "to try and contain these clusters before there is dissemination to large proportions of the population."
"I think this is a new phase" in the propagation of the virus as new chains of transmission emerge from previously undetected cases, says Eric D'Ortenzio, epidemiologist at France's Inserm medical research institute.
He likewise urged increased surveillance for any potential emergence of home-grown cases as well as areas known to be already affected by the outbreak.
As It Happens
LATEST UPDATE: March 30, 2020 - 8:18pm
Follow this page for updates on a mysterious pneumonia outbreak that has struck dozens of people in China.
March 30, 2020 - 8:18pm
Indian authorities struggled Monday to help millions left jobless by a crippling coronavirus lockdown, potentially undermining efforts to stop the virus ravaging the world's second most-populous nation.
Since the lockdown began on Wednesday, hundreds of thousands of labourers have been heading back from cities where they worked to their home villages, some walking hundreds of miles and with little money or food.
The exodus has raised worries that those returning may spread coronavirus into rural areas, particularly with authorities resorting to cramming people onto buses and into relief camps and homeless shelters. — AFP
March 30, 2020 - 7:23pm
China Ambassador Huang Xilian: Chinese medical expert team will come to the Philippines to assist fighting COVID-19
On 30 March 2020, Ambassador Huang Xilian had a phone call with Secretary Francisco Duque III of Department of Health (DOH).
Both sides exchanged views on the cooperation between China and the Philippines in fighting against COVID-19.
Ambassador Huang informed that the Chinese government will dispatch the Chinese medical expert team to the Philippines upon the request of Philippine government.
The main task of the medical expert team is to help the Philippines fight against COVID-19, by providing technical advice on epidemic prevention and control as well as sharing medical treatment experience.
Ambassador Huang also appreciated the active role that Secretary Duque and DOH had played in the course of preparation and assured Secretary Duque that the Embassy will continue to work closely with DOH to facilitate relevant arrangements of the medical expert team.
Secretary Duque expressed his appreciation and gratitude for China's support to the Philippines in battling the epidemic and looked forward to the arrival of the Chinese medical expert team.
He also pledged that DOH would actively further coordinate with the Embassy to make sure the work of the medical expert team goes smoothly.
March 30, 2020 - 12:58pm
China will send a medical team to the Philippines to help in its fight against the new coronavirus.
Philippine Ambassador to China Chito Sto. Romana confirmed that Beijing is readying a medical team to help the country.
"The medical team... they are underway to go to the Philippines shortly and there is continuous airlift of medical supplies from China," Sto. Romana said at the Laging Handa briefing via phone patch.
March 30, 2020 - 12:05pm
Locally-developed test kits for COVID-19 will be available starting April 4, the Department of Science and Technology says.
The DOST will manufacture 1,300 test kits good for 26,000 tests which will be distributed to the Philippine General Hospital, Makati Medical Center, The Medical City, Vicente Sotto Memorial Medical Center, Southern Philippines Medical Center, and Baguio General Hospital.
Manila HealthTek, meanwhile, will manufacture and sell test kits good for 94,000 tests that will be sold at around P1,300 per kit.
March 30, 2020 - 9:31am
The Department of Health denounces reports of health workers around the country being attacked physically and being refused access to basic services, blocked and fined at checkpoints and evicted from their homes.
"These acts cannot be tolerated," the DOH said in a statement released Sunday night.
The health department said it is mobilizing its own team to get more details and hold perpetrators of attacks against health workers liable. They will also report the incidents to the Inter-Agency Task Force on COVID-19 for proper investigation and resolution.