China virus cases pass 70,000 as WHO mission begins
February 17, 2020 | 8:46am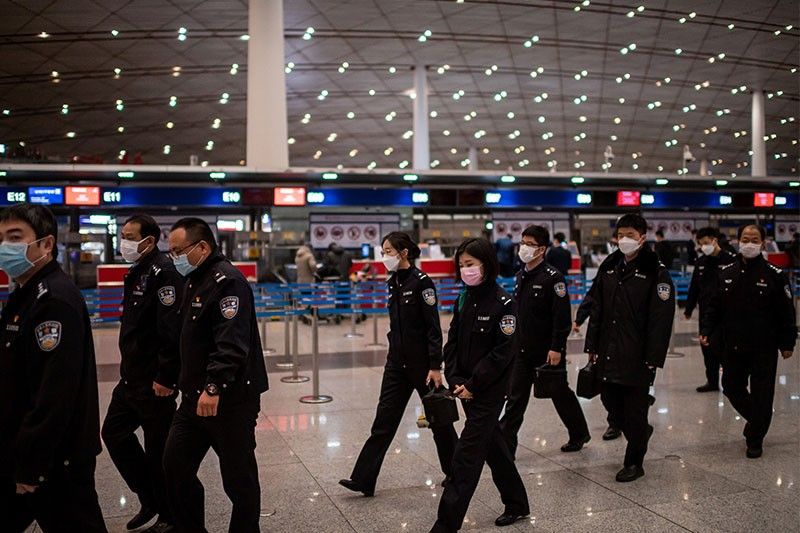 BEIJING, China — The number of people infected with the new coronavirus in China passed 70,000 on Monday as international experts began meetings with their Chinese counterparts on how to tackle an epidemic that has caused global concern.
The death toll jumped to 1,765 in mainland China after 100 more people died in Hubei province, where the virus first emerged in December before spreading across the country and overseas.
Worries about its spread remain high and the epidemic's reach was highlighted by the US announcing that more than three dozen Americans from a cruise ship quarantined off Japan were infected.
The number of new cases of the COVID-19 strain spiked last week when officials in Hubei changed their criteria for counting cases to include people diagnosed through lung imaging.
The number of new cases in the province on Monday was around 100 higher than those on Sunday but still sharply down from those reported on Friday and Saturday.
The latest figures came as the head of the World Health Organization said international experts in a WHO-led joint mission had arrived in Beijing and had had their first meeting with their Chinese counterparts.
"We look forward to this vitally important collaboration contributing to global knowledge about the #COVID19 outbreak," Tedros Adhanom Ghebreyesus said on Twitter.
Mi Feng, National Health Commission spokesman, said Sunday that slowing case numbers nationally showed that China was controlling the outbreak.
But Tedros has warned it is "impossible to predict which direction this epidemic will take".
The UN health body has also asked China for more details on how diagnoses are being made.
Tightening movement
The scale of the epidemic ballooned on Thursday last week after authorities in Hubei changed their criteria for counting cases, retroactively adding 14,000 cases in a single day.
Chinese authorities have placed about 56 million people in Hubei and its capital Wuhan under quarantine, virtually sealing off the province from the rest of the country in an unprecedented effort to contain the virus.
Even as China insisted the epidemic was under control, Hubei authorities announced on Sunday a tightening of movement across the province.
This includes broad instructions that residential compounds and villages be "sealed off" from unnecessary visitors, with tenants' outings "strictly managed".
Local authorities elsewhere in China have also introduced measures to try and stop the virus spreading.
Beijing's municipal government has enacted a rule requiring people coming to the capital to self-quarantine for 14 days, according to official media.
Outside mainland China, Taipei officials reported the island's first death from the new coronavirus on Sunday, as a 61-year-old man from central Taiwan with underlying health problems but no recent overseas travel history died in hospital.
He is the fifth person outside of the mainland to die from the virus, with the other deaths in the Philippines, Hong Kong, Japan and France.
The biggest cluster outside China is on a quarantined cruise ship off Japan, with 355 infections confirmed.
A top US health official on Sunday said 40 Americans from the ship have become infected and would be treated in Japan.
Other Americans left the Diamond Princess into the early hours of Monday for chartered jets that would fly them home -- and into further quarantine.
Social stability
The virus spread last month as millions travelled across China for the Lunar New Year holiday, which was extended to try to prevent more infections.
People have slowly started to return to work in the past two weeks, though many are doing their jobs from home and schools remain closed.
With the government facing criticism over its handling of the crisis, Chinese President Xi Jinping said the government must "increase use of police force" during the crisis. He made the comments in a February 3 speech published by state media on Saturday.
A number of local officials have been sacked for their role in mishandling the outbreak.
As It Happens
LATEST UPDATE: September 21, 2021 - 6:52pm
Follow this page for updates on a mysterious pneumonia outbreak that has struck dozens of people in China.
September 21, 2021 - 6:52pm
The novel coronavirus has killed at least 4,696,559 people since the outbreak emerged in China in December 2019, according to a tally from official sources compiled by AFP.
At least 229,008,620 cases of coronavirus have been registered.
The vast majority have recovered, though some have continued to experience symptoms weeks or even months later.
September 20, 2021 - 8:29pm
The COVID-19 pandemic sped up the shift of innovation from Europe and North America towards Asia, UN world rankings showed Monday.
The Global Innovation Index 2021, from the United Nations' World Intellectual Property Organization, showed surging performances by South Korea and China.
"The pandemic has accelerated the long-term geographical shift of innovation activities toward Asia, even if Northern America and Europe continue to host some of the world's leading innovators," said WIPO.
While the top four in the global rankings remained the same as last year — with Switzerland leading for the 11th year running followed by Sweden, the United States and Britain — South Korea leapt five places to fifth.
The index found "substantial increases in brand values in Korea, in trademarks being filed, but also in cultural and creative services exports," index co-editor Sacha Wunsch-Vincent told reporters, citing the K-Pop phenomenon. — AFP
September 19, 2021 - 4:17pm
Australia's second-largest city will exit its coronavirus lockdown in late October if vaccine targets are met under an official roadmap released Sunday.
About five million people in Melbourne have been under stay-at-home orders since August 5, the sixth lockdown they have endured so far during the COVID-19 pandemic.
Officials in Victoria state, which includes Melbourne, announced those orders would be lifted when 70 percent of over-16s are fully vaccinated. They projected that target would be reached around October 26.
"Lockdown will end. The (limited) reasons to leave your home and the curfew will no longer be in place," Victoria premier Dan Andrews said, adding that a raft of restrictions would still be enforced.
Restaurants and pubs will be allowed to reopen but only with a maximum of 50 fully vaccinated people seated outdoors, while a ban on visitors to homes will remain in place. — AFP
September 17, 2021 - 7:07pm
The novel coronavirus has killed at least 4,667,150 people since the outbreak emerged in China in December 2019, according to a tally from official sources compiled by AFP.
At least 226,967,810 cases of coronavirus have been registered.
The vast majority have recovered, though some have continued to experience symptoms weeks or even months later.
September 14, 2021 - 8:48pm
Frontline health and social care workers, older people and the clinically vulnerable in Britain will start to receive a booster jab against COVID-19 from next week, the government says.
Health minister Sajid Javid tells parliament he had approved a recommendation from advisory body the Joint Committee on Vaccination and Immunisation (JCVI) to start the programme.
He also approved a controversial proposal to offer jabs to children aged 12-15 as concern mounts about the spread of the virus in schools. — AFP