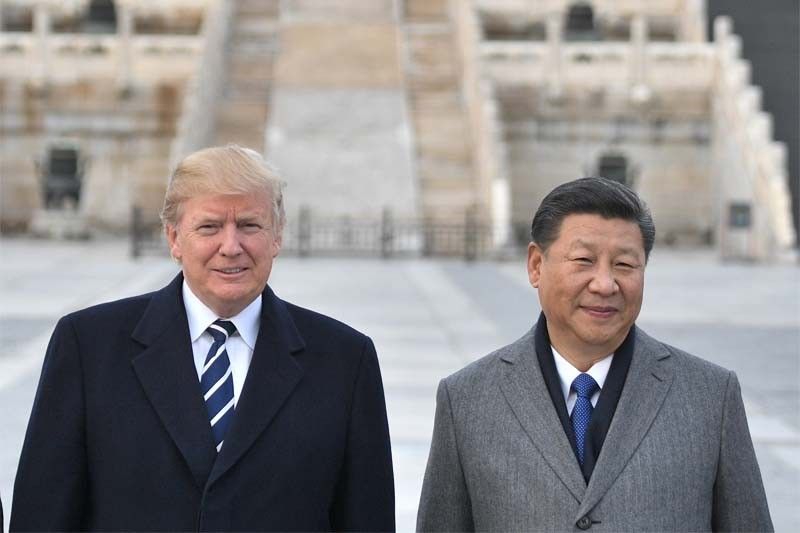 In this file photo taken on November 8, 2017, US President Donald Trump, and Chinese President Xi Jinping pose at the Forbidden City in Beijing. There is a "good possibility" President Donald Trump will reach an agreement later this week to resolve the US trade dispute with China, a White House official said November 27, 2018. Economic advisor Larry Kudlow told a media briefing "the president said there is a good possibility that we can make a deal and he is open to it."Trump is due to meet Chinese leader Xi Jinping in Buenos Aires later this week on the sidelines of the Group of 20 summit.
AFP/Jim Watson
China's Xi discusses coronavirus with Trump — state media
(Philstar.com) - February 7, 2020 - 12:19pm
BEIJING, China — Chinese President Xi Jinping spoke on Friday with US President Donald Trump on the novel coronavirus outbreak, emphasizing that Beijing has "spared no effort in fighting the epidemic", state media reported.
Xi told Trump on the phone that China was "fully confident and capable of defeating the epidemic", and that "the long-term trend of China's economic development for the better will not change", according to state broadcaster CCTV.
The viral outbreak, which is believed to have originated in central China late last year, has now infected at least 31,000 people and caused 636 deaths, mostly within China.
Local governments across China have locked down cities of tens of millions of people in response to the crisis, while global panic has risen over the more than 240 cases that have emerged in two dozen countries.
Xi called the fight to contain the virus a "people's war" and told Trump that China has implemented "nationwide mobilisation, comprehensive deployment and rapid response" along with "the strictest prevention and control measures" against the virus.
Xi's comments come hours after the death of a whistleblower doctor who was punished for sharing information about the virus prompted an immense outpouring of public grief and anger over how Chinese authorities have handled the crisis.